WHHS OMUN students share experiences with school board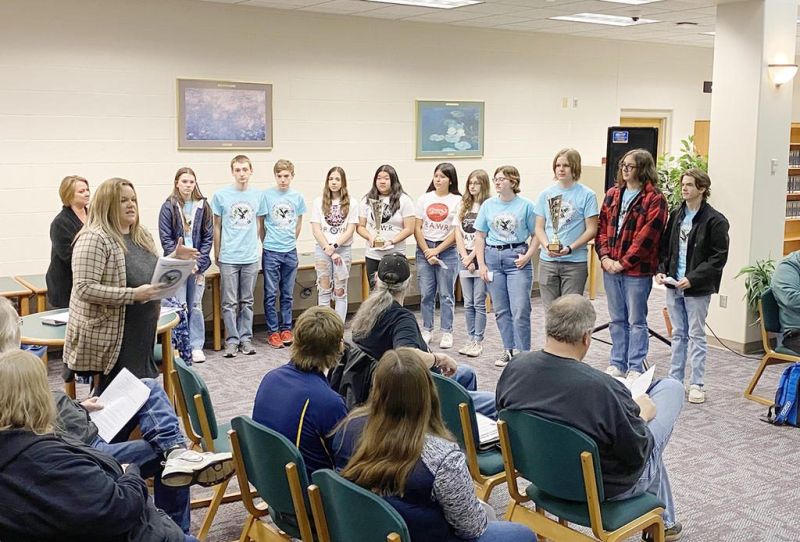 The annual Ohio Model United Nations Conference is an event that invites high school teens to represent different nations and tell its story to the masses of other students attending the event.
On Monday, Jan. 9 during the monthly West Holmes School Board meeting at the high school, the West Holmes High School members of OMUN got to share their story with the school board and others attending the event and brought along with them some hardware that has never before been earned by a West Holmes team.
West Holmes OMUN advisors Mindy Heffelfinger and Lisa Lang and many of the OMUN high school students attended the meeting and shared about their experience.
Heffelfinger said the students represented the nations of Ethiopia, India and Italy, and she honored each of the students who helped the team achieve global success.
Each team was asked to pick an issue their respective countries were struggling with and find a resolution to the problem.
The group from Ethiopia chose childhood marriage, a growing problem in that nation, where it is common in rural areas for girls age 14 to marry a man twice their age.
Their idea was to educate young women and others on the root causes of the problem and communities better understand the violations taking place.
The nation of India's experience was a winning one. Kaelyn Alvarado said they did a great deal of research to discover a topic that needed to be addressed. She said they eventually decided to explore the importance of registering children.
The group focused on Rights Are Worth Registering. Jevin Zheng said they made T-shirts and focused on providing the opportunity for youngsters in rural areas and lower-class members of the society to register, something they don't always get.
"Our idea was having more people register would allow the government of India to better accommodate their population," Zheng said. "Not being registered would basically make someone nonexistent under the law. It would also help eliminate child labor by providing proof of someone's age."
After presenting a speech and going through a hotly contested debate, the group passed its resolution 100%.
They then performed a traditional native dance that took them all the way to the semifinals and were one of only three teams to receive the Outstanding signature in the competition.
Team Italy went a step farther, becoming the first WHHS team to bring home a championship in the talent show.
Team member Kassidy Wencel said their resolution was focused on the rapid melting of glacial ice.
"It not only affects the nation of Italy but nations across the globe," Wencel said. "To prevent a number of disastrous and climate-related effects, we presented a solution built on the introduction of silica beads."
She said the beads are made from silica dioxide, an abundant resource found in sand. When the beads are placed on ice, they serve as a sun-ray reflector and help keep the ice from melting.
She said they did a great deal of research, and their debate time allowed them to discuss the topic and promote their solution.
Their talent showcase was a hit. Team member Zac Craft wrote a parody of Vanilla Ice's song "Ice, Ice, Baby," titled "Ice, Ice, Maybe," and it brought the OMUN crowd to its feet.
While Craft wrote and performed the song and fellow classmate Robert Yabroff arranged the music, the rest of the team members enhanced the song with an array of different instruments.
"It was a hit among our fellow delegates," Craft said.
Their act made it to the finals, where they faced off with the two-time defending champions from Perry High School, which represented the country of Jordan.
"We brought home the International Showcase Award for the first time in school history," Craft said.
A total of 19 WHHS students attended the largest global education program in the nation Dec. 4-6 in Columbus, where West Holmes senior Genna Miller served as a 2022 council president.
Ohio Model United Nations is designed to help teenagers gain greater understanding about the events of the world and how they can take a leading role as tomorrow's leaders on ways to build a better world.
The Ohio Model United Nations Conference is a mountaintop experience for many of the students.
The hope in attending is the students gain a passion about the world around them and it ignites their desire to help others and become good global citizens. It is a time for students to step outside of their comfort zone and learn to work together and believe in themselves as they engage in public speaking and debate.
"What a phenomenal group," Lang said. "Nineteen students, what a tremendous opportunity for West Holmes and these students. As you can see, their speaking skills and ability to be in front of more than 1,000 students and the networking they developed are incredible. We are grateful to all the support we received from the district, and it's wonderful these students have a chance to experience such an important event."
Lang said this accomplishment is truly like winning a state championship, and she and Heffelfinger were proud of each of the students.
Representing the nation of India were Alvarado, LeeAnna Madison, Audrey Mast, McKelvey McFarland and Zheng. Representing the nation of Italy were Connor Burchfield, Wyatt Carter, Craft, Memphis Jones, Sami Latouf, Wencel and Yabroff. Representing the nation of Ethiopia were Becca Bertram, Terrence Miller, Elijah Piatt, Riley Steiner, Cuylee Troyer and Caden Varnes.