Buehler's drive-thru soup event Oct. 13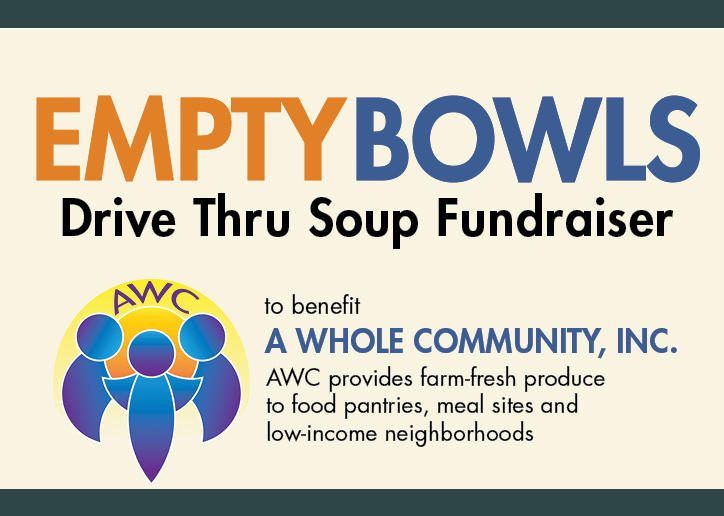 Buehler's Empty Bowls drive-thru soup event will be Tuesday, Oct. 13 from 3-6:30 p.m. at the Buehler's Milltown parking lot, 3540 Burbank Road, Wooster, and will offer a soup dinner (16-ounce soup, two dinner rolls and one pumpkin doughnut) for $10. Optional pottery bowls donated by Jack Rogers also will be available for an additional $10.
The proceeds from the event will assist A Whole Community Inc. with its community food project. AWC gathers surplus produce from local farms and shares with local food pantries, free meal sites and low-income neighborhoods to reduce food waste and increase farm-fresh produce to those in need.
A Whole Community Inc. is a 501(c)(3) public nonprofit organization that helps individuals, families and communities transition to wholeness. This is AWC's fourth year operating a community food project, which has three goals: reduce food waste; increase farm-fresh produce offered to those in need at food pantries, community meal sites and low-income neighborhoods; and increase nutrition.
In 2019 AWC received over 136,000 pounds of farm-fresh produce from 72 farms, which was delivered to 55 food pantries, free meal sites and low-income neighborhoods that fed over 5,000 individuals monthly (mid-June through mid-October).
For more information on A Whole Community Inc., visit www.AWCinc.org or like A Whole Community Inc. on Facebook.
"We are grateful for this opportunity to partner with Buehler's Fresh Foods on this event, which will ultimately help feed those in need locally," said Karen Potter, executive director for A Whole Community Inc. "This year has new challenges in many ways for many people. I appreciate the creativity of Buehler's staff in coming up with a way to make this event safe with social distancing while raising funds to help others. Buehler's Fresh Foods cares about their community."
"We are thrilled to partner with A Whole Community to provide food for this unique fundraising event. We're thankful to be able to help raise money to feed individuals in our local community that are in need," said Jennifer Hudson, director of marketing at Buehler's Fresh Foods.