4-H community honors 2022 Junior Fair Board Members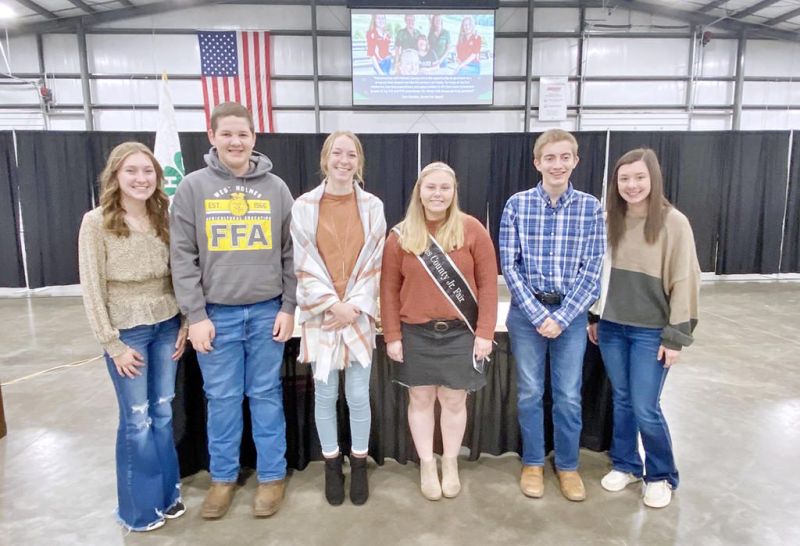 Holmes County's leaders have continually expressed their thoughts that tomorrow's leaders in the county are rising and accomplishing great things even as young adults, and nowhere is that more evident than in the ranks of the Holmes County Junior Fair Board, where many teens have voluntarily taken on some major roles in seeing the Holmes County Fair grow and prosper.
During the annual Holmes County 4-H Volunteer Recognition Banquet that took place at Harvest Ridge on Thursday, Nov. 17, several of those future leaders were honored for their contributions to the fair, where a packed house in the expo center expressed appreciation.
The 2022 Outstanding Junior Fair Board Member awards were presented to Garrett Fowler, Olivia Gerber, Andi Schuch, Becca Schuch, Jarrett Schafer, Ashley Tate and Brianna VanSickle, each of the members contributing critical roles to the junior fair board's effort to enhance the fair.
Presenting the awards was fellow junior fair board member Brianna VanSickle, who said, "Throughout the years members like myself participate in many different activities and events to support not only the Holmes County Fair, but the Holmes County 4-H program."
"Our board was amazing this year, and it was really hard to pick a couple because the whole team did great things, and they set a great example across the state as to what a junior fair board should be," said Janessa Hill, Ohio State University Extension of Holmes County educator and Holmes County 4-H advisor. "You all go above and beyond."
Hill then brought each of the nominees forward, acknowledging their individual accomplishments in benefiting the team.
She said Fowler's efforts in the fair's Celebrity of Showman event were impressive. He emceed the event and kept the crowd involved and entertained throughout the event.
"If you had told us at his interview that he would be up there stealing the show and making it an awesome time, we probably would have (doubted it)," Hill said of Fowler. "He definitely came out of his shell."
In introducing Gerber, Hill said, "Sale nights were filled with Gerber stepping in to fill many various roles. Olivia had a lot to do at this year's fair, and she was continually stepping in and did a fantastic job of helping her teammates out, and we appreciate all she did."
Hill noted Andi Schuch's commitment to building and growing the junior fair board's Facebook page. She also said Schuch made for plenty of excitement at each of the themed meetings for the group, where she always provided a spark of excitement with her creativity and costume creations.
"The enthusiasm this young lady brings is huge," Hill said. "She's a great team player who pulls more than her fair share of the weight."
Becca Schuch is one of those idea kids who makes things happen that end up being memorable. She was the one who created the Celebrity Showman event. Hill said Schuch came to them and asked what she could do to enhance the fair two years ago, and Hill and Ella Lorenz simply sat back and watched Schuch go to work.
"We let Becca be Becca," Hill said. "She continually sets the tone and has encouraged other members on the board to share their ideas and implement them. If we need anything done, she has been one of our go-to leaders, start to finish."
Schafer was honored as a first-year board member, and his biggest asset in receiving this honor was because of his selfless attitude. Hill said Schafer continued to offer his help in any way possible throughout fair week, and that is something he does on a regular basis.
"He was always there, for both the junior and senior fair board members, always ready to step in and take on whatever task needed to be done," Hill said. "Jarrett set a great example for all first-year members coming in of how to do the things that are expected."
Tate, the lone absentee of the awardees because she is in college, was praised by Hill as being one of the most energetic, positive members. A longtime board member said of Tate, "She set a great example for all of our board members, and we are going to greatly miss her."
As for VanSickle, Hill said she is the ultimate team player, often working behind the scenes to benefit others. She said her ability to build team morale was a game-changer.
"Whenever there are stressful situations, Brianna always has a smile on her face, she's fantastic on the microphone at the sale and has capably filled the shoes of some key members who have moved on."
Hill said with so many quality young people serving on the junior fair board, Holmes County is blessed to have so many potential leaders ready to step in and assume large roles as they grow into adulthood.