Actor's Playground preparing for a frantic 24-hour run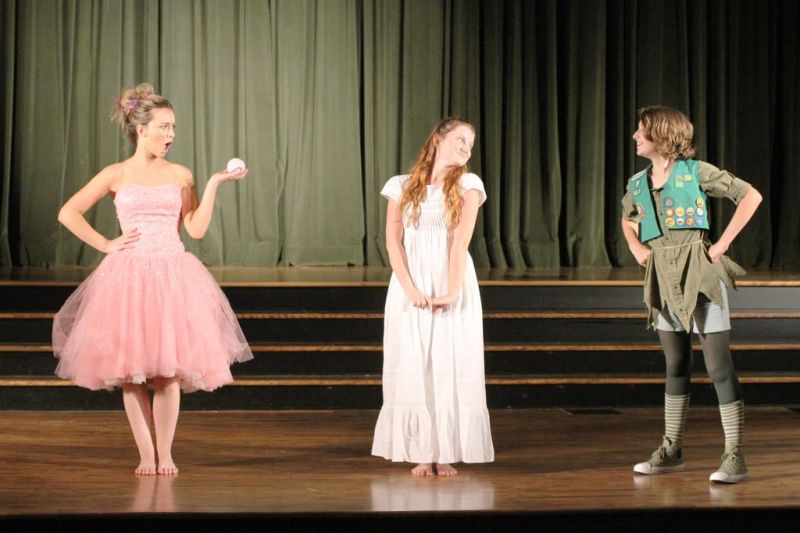 While The Actor's Playground isn't staging a full-scale musical this summer as usual, it will still hold a large event as a final celebration, one simply known as the 24-hour musical. It will take place July 20 at Berlin Christian Fellowship.
Recently Chloe Torrence, director, producer and creator of The Actor's Playground in Berlin, received a job offer she couldn't refuse. Thus The Actor's Playground as it stands today will not be moving forward as is.
"I graduated in April from the University of Pittsburgh and have been offered a job in California, so The Actor's Playground will cease to exist the way it does now," Torrence said. "While we are still planning to perform with the Fairytale Entertainment branch of the company, our summer musicals will no longer be an annual occurrence."
Torrence's departure left her wanting to do something extraordinary and unique. Thus the 24-hour musical was created.
"It will be different from anything the community has seen before," Torrence said. "While in Pittsburgh, I served as the president of the Musical Theatre Club, and we performed a 24-hour musical every year. Most recently I directed a production of 'Mamma Mia!' in 24 hours."
Choosing a musical that felt comfortable and more importantly doable for the younger kids was the decision that had to be made, so Torrence went back to her roots and decided to go with an old tried-and-true musical in "Seussical," which she directed as a then-student in 2014 at Hiland High School.
"It's loads of fun, has a lot of up-tempo and fun music, and will be a perfect finale," Torrence said.
Auditions for the event will be held July 14, and Torrence will spend one week casting and organizing the show. Anyone wishing to try out for a part may do so by logging on to the website at www.taplayground.com, where they can sign up for an audition time slot as well as fill out the audition information form. Audition sign-up will end July 13.
All of those who are chosen from auditions will arrive at Berlin Christian Fellowship at 6 p.m. on July 19. The roles for the show will be announced then, and the performers won't know who is playing who until that very moment. Twenty-four hours later, it will be lights, camera, action for "Seussical."
"Consider it the big reveal," Torrence said.
After roles are assigned, Torrence and the cast will spend the following 24 hours blocking, choreographing, painting and building sets, designing lighting, creating costumes, and learning the entire show with a few breaks for sleeping and eating. It is going to be all show, all the time for a very short period of time.
"In the past it has proved to be a beautiful team-building and bonding experience, not to mention hilarious, and I look forward to it having the same results with the youth of our wonderful community," Torrence said.
This type of project doesn't require a full budget, but in order to do the show legally, The Actor's Playground needs to purchase the rights for the show, which amounts to several thousand dollars. Torrence said she is going to bring in some friends from school to help create the production.
"I am also planning on bringing in several young professionals from the Pittsburgh Theatre Community to assist in leading this massive undertaking," she said. "We hope to have 100-150 people involved, and we are also looking for funds to feed and costume them all. Any donation, no matter how big or small, will help us get closer to the amount needed to make it happen."
In addition to these basic funding needs, this event will be a fundraiser for a student involved in their programs. She is seeking funding to train her service dog to aid her and her family in times of crisis.
"I hope to use this opportunity to begin more conversations in our community about the importance of mental health and how we can speak about improvements in a positive light providing more resources to our struggling young people," Torrence said. "We would not be able to operate without the generosity of our supporting and wonderful community."
If anyone would like to donate to this undertaking, they may do so by emailing Torrence at theactorsplayground@yahoo.com or calling 330-231-7883. Checks can be sent to 5660 County Road 203, Millersburg, OH 44654.
Berlin Christian Fellowship is located at 5382 County Road 201, west of Berlin.
Anyone wishing to order tickets may do so by logging on to the website. All tickets are $10 online or at the church when purchased presale, or $15 at the door. Berlin Christian Fellowship is open Monday-Friday from 9 a.m. to 5 p.m.