Arlen Glick runs to inspire others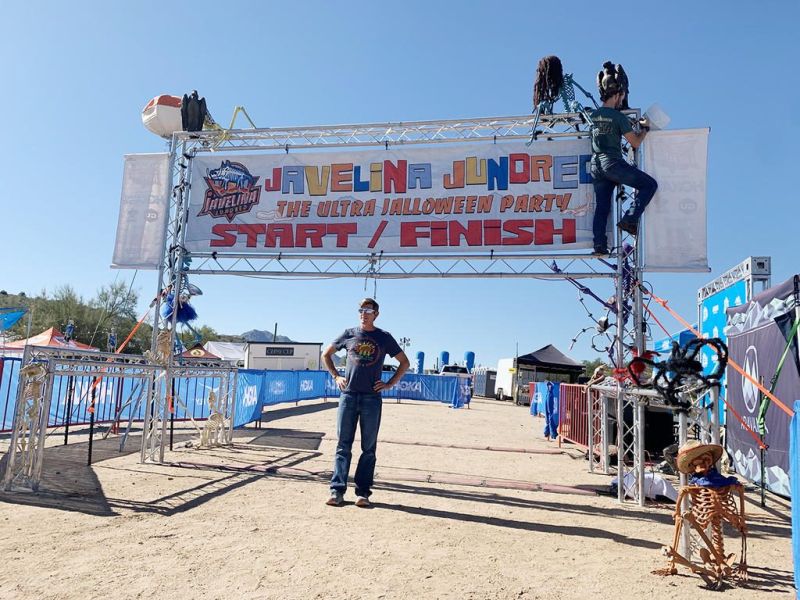 For a guy who competes at a pretty high level, Arlen Glick is not very competitive, and he wouldn't have it any other way.
Glick has set sail on quite a career in the ultra marathon world, rising quickly in the national rankings despite getting a fairly late start in his running career. What has transpired since he began running is a career that has brought him to among the best runners in the sport.
"Obviously, those of us who do these things are wired a little differently," Glick said. "That's one of the neat things about our sport. I think it's intriguing to watch and witness what the human body can endure, way beyond what people can usually endure. But what I have realized is that I am willing to fight to the bitter end to find out what happens. I think you quit learning when you give up, even if you're having a bad day. By finishing, you're going to learn valuable insight about yourself."
Glick has set course records at the Mohican and Burning River 100-mile runs this past year and won the Javelina Jundred 100 in Arizona, in the process earning himself a golden ticket into Western States 100 on June 25. What is so important about that? The Western States is the most prolific, oldest and well-known ultra race in the USA. He is the current men's USATF 100-mile champion.
Getting to where he is today didn't come by accident. It took a great deal of work and relentless pursuit of a vision that has driven Glick to be at his best on race day.
"It's kind of like you're playing a game of chess with yourself, and you have to outsmart your own brain," Glick said. "That's intriguing, but it is how people get through their own doubts."
Just an Average Joe
Glick considers himself an average, everyday kind of person, which is why he believes anyone can accomplish anything they set their mind to.
"Everything I do is extremely intentional," Glick said. "When I first started doing this, I never gave a second thought to ever competing. I never even knew there were competitions out there for this. I really did this to create a healthy lifestyle and fend off old age by taking steps before I got there."
Glick slid into a hobby in which he felt very comfortable. He said he found running 10 miles was not difficult for him, so he began upping the ante.
"That number seemed daunting at first, but it really became fun to run that distance," Glick said. "Eventually, I upped my miles and started to get into road races."
He realized then that he was good at the sport, and he said he was always thirsting to run greater distances. 5ks became half-marathons, then marathons, 50- to 62-mile ventures and finally the ultra races, where he feels very much at home.
"The 100-miles was what really set me apart, and that is where my focus is," Glick said. "I thought I was getting to my peak a few years ago, but my times kept getting faster."
The individual is more than one
According to Derrick Miller, who is part of Team Arlen and serves as his pacer over the final 25 miles of an ultra race, Glick is a machine when it comes to running. He said in the Javelina Jundred 100 in Arizona, temperatures soared to near 100 F with a blazing sun beating down on the runners. With a golden ticket on the line, Miller said what he witnessed while running with Glick those final 25 miles was astounding.
"He never looked phased," Miller said. "He never looked tired. He just kept grinding, and the last 20 miles he looked as fresh as when he started the race. It was incredible."
Miller said when he and Glick began running together, they were equals, but since then Glick has mastered the sport beyond anything Miller can imagine. After making the step from marathons to ultras, Miller said Glick simply found another gear altogether.
"That was when I became a member of Team Arlen," Miller said. "I found out that I was a lot slower in ultras. So it has been an honor to watch him use this gift God has given him to seemingly run effortlessly forever at paces that most people are grateful to run for 2 miles."
Team Arlen serves to pace with Glick from the 50-mile marker on, encouraging him, making sure he has the fluids and nutrition his body needs, and allowing Glick to focus on the tactical part of a run.
"Late in a run, an ultra runner can be at his wit's end, may need a pep talk or someone to walk him to his vehicle when he calls it quits," Miller said. "That's the amazing thing about Arlen: that walk never comes up. I'm usually just along for the ride."
Glick said he has no secrets to success. He said ultra running is simply mind over matter. He did say his team is a big part of his success and is grateful for their effort to help him succeed.
"They know exactly what I need and how I want to run," Glick said. "Derrick has been there for so many of my big moments. He has been a game-changer."
Finishing what he started
Glick knows he isn't the most athletic and gifted runner out there, but what he does have is a load of determination and willpower. Ultra races are daunting, even for the best competitors. From straight stretches to rugged terrain and serious headwinds, challenges abound, and throughout any race, runners are bound to drop out.
According to Glick, nearly 50% of the field will not complete a race, posting a DNF — Did Not Finish — next to their name. Oddly, he said the majority of those who DNF are among the world's best runners.
"The best athletes and most competitive guys can get caught up in the moment instead of trusting that everyone is going to blow up at some point," Glick said. "Pushing aside those moments is critical, and the great runners who don't do well tend to pull out because they aren't running well."
For Glick, quitting isn't an option, and he said that falls back on his competitiveness, or lack thereof, that allows him to shrug off the negativity that can set in when not performing well.
Glick said he is inspired by the huge events to which a great deal of preparatory work must be dedicated. He said he finds great satisfaction in the preparation and then ultimately the planning out and executing of the game plan.
"I'm of the mind-set that I am going to fight to the bitter end and finish things," Glick said. "I love putting in the work and executing the plan."
He said he is so intentional that he runs his race his way, choosing when to push, when to gear things back and how he wants to attack a course.
"I'm never driven by emotions, and that is largely because I'm not a competitive person," Glick said. "That allows me to run more relaxed than your competitive runner. If a guy challenges me, good for him. Go for it. I'm not going to change my plan because I know I'm prepared to run my race. I think my lack of competitive nature caters to a better performance at that distance. I don't want that DNF. I didn't come here to start; I came to finish, and I'm willing to suffer whether I do well or not."
Glick said his willingness to put aside his times and focus on finishing has led to overcoming many great runners and leading the way to the finish line.
He also said he is one of very few athletes who talk about competitiveness versus noncompetitiveness and how it affects the way people race.
"I think competitiveness can be a valuable tool, but for most runners, it is a disservice," Glick said. "There's this attitude of 'if I'm not going to win or run my best, I'm going to hang it up.' That's not who I want to be."
Lessons in running go beyond running
"I have definitely loved the journey," Glick said. "I'm excited to share that journey with others and encourage them to just start small and give running a try, because what I have learned from this sport has benefited me in so many other aspects of my life. I think I'm an average guy, and I want to be an inspiration to people in urging them to apply themselves and commit to something, anything they want to do, to see everything they can accomplish. They just can't let their mind tell their body what it can and can't do."
Glick will speak at the annual Go Eddie 5k fundraiser, which will take place May 21 from 4-9 p.m. at the Mt. Hope Event Center. He will host a Q-and-A and share about honing his skills to earn a spot among the nation's finest at his craft.