Blacksmiths convene in Winesburg for a date with the anvil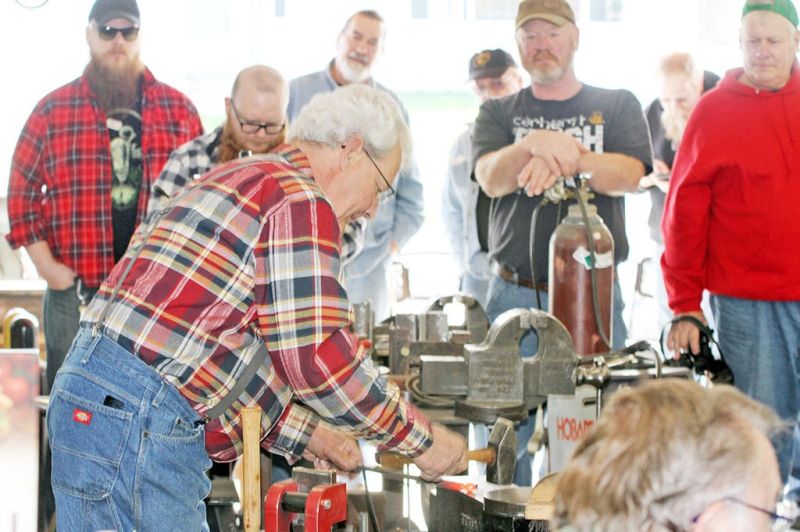 A common phrase that encourages people to get after something they are passionate about is "strike while the iron is hot."
For the blacksmith it seems as though the iron is always hot, and on Saturday, April 13 in Winesburg, a group of blacksmiths gathered to pursue their passion for blacksmithing.
Members of the Western Reserve Blacksmiths, who form a club of members from all over Ohio, came to Winesburg to participate in a demonstration featuring Winesburg native and local blacksmith Michael Martin, who is well known for his detailed grape arbor pieces.
Just getting on the Western Reserve Blacksmiths' schedule is quite a feat. The Winesburg Historical Society had to request a spot a year in advance, and they said they were thrilled to bring the group to Winesburg.
The club is headquartered in Burton, Ohio, east of Cleveland. While visiting, the members asked Martin questions and took plenty of video of his technique.
Western Reserve Blacksmith President Roy Troutman said the group continually tries to tour Ohio and generate interest, not only for its members, but also for anyone who has an interest in the history of the state and of blacksmithing.
"We try to have a meeting once a month in a different shop all over Ohio and put on a demonstration," Troutman said. "We also do demonstrations at different festivals, at Civil War re-enactments and other events. We try to educate the public on blacksmithing. Once a week in the summer, we have an open time when people can come in and try it out and see if they like blacksmithing."
Troutman said each blacksmith features their own flair and techniques. He said at the annual Southern Ohio Forge & Anvil Festival in Troy, Ohio, more than 1,000 blacksmiths from beyond Ohio and even from Europe get together to fellowship, watch and learn.
"Some of these blacksmiths have a real modern look while others stay with a very traditional Colonial style," Troutman said. "It is a beautiful art form that allows blacksmiths to be very creative in whatever style they want to pursue. The fun part about these demonstrations is that we all share the same passion for blacksmithing, which makes it fun to get together."
The Western Reserve Blacksmiths club wants the younger generations to recognize the artistry and craftsmanship and get involved.
"These are all blacksmiths from all over the state, and we were excited to be able to present a demonstration right here in Winesburg and do a number of other things like tour a couple of different places like the bicycle museum and our restoration shop," Wengerd said.
The Winesburg blacksmith building was built in 1847 and torn down and rebuilt in the late 1960s. The Winesburg Historical Society purchased the land to rebuild the shop and a church, and Wengerd said they were excited to rebuild part of Winesburg's past.
"There was enough history there that we wanted to save it historically," Wengerd said.
Wengerd said his first experience with the blacksmith shop was when he was a child and his wagon broke. His grandfather told him not to worry; the local blacksmith could fix the problem.
"As a little kid I was very fascinated by the blacksmith and watching him work," Wengerd said.
John Whitmer, former owner of Whitmer Store, was the great-great-grandchild of Adam Schott, the blacksmith who started the shop in 1847. Schott's son Charles then later took over the business.
As Martin prodded the hot coals, pulled glowing wrought iron from the fire and pounded out an almost melodic cadence with hammer and anvil, it was evident blacksmithing was alive as both an art and trade.