Wayne Board of DD hopes to continue mission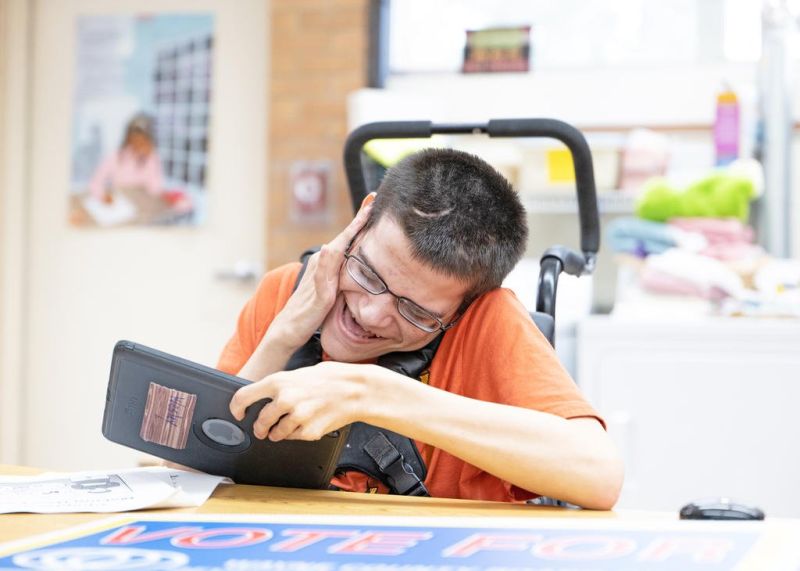 Aaron Bernstein, director of education services with the Wayne County Board of Developmental Disabilities/Ida Sue School, has a favorite story he likes to share to help explain to people the kind of work the board does.
"We had a student with a significant disability that caused him great difficulty in being out in crowds or social gatherings of more than just a couple people," Bernstein said. "After our intervention the family shared with us that they were finally able to take the student out to dinner with them at a restaurant — something they never thought they'd be able to do."
Bernstein said that shows what the mission of the agency is: to help families enjoy what most take for granted and open doors for students to enjoy an enhanced quality of life for their entire lifespans.
The Wayne County Board of Developmental Disabilities operates programs in support of early intervention, Ida Sue School, service and support administration, family services, community employment and transportation services. These programs assist children and adults with developmental disabilities to live, work and play within their communities. The board provides funds or services to approximately 740 individuals across their entire lifetimes.
The mission of the Wayne County Board of Developmental Disabilities, in partnership with enrollees, families, staff and the community, is to provide choices and options based on individual and family preferences, enabling a quality of life satisfying to the individual in learning, living, working and participating in the community.
Working toward this mission, early intervention provides services to children under the age of 3. The staff consists of an early intervention specialist, physical therapist and assistant, occupational therapist, and speech therapists. The manner in which early intervention services are provided is family-centered and individually designed with the strengths and needs of each family in mind. Services are provided in the child's natural environment, utilizing a coaching model as determined by the needs of the child and family through team assessments.
School-age classrooms are self-contained rooms staffed by instructors and aides who offer specialized instruction in academics, communication, self-care skills, environmental and community skills, fine arts, physical development, and vocational skills. Specialists work together with the classrooms to provide appropriate activities for the students in the areas of PT, OT, speech and physical education. The school has primary, intermediate and secondary classrooms focusing on students with severe to profound developmental disabilities, severe autism and students with high medical needs.
Several of the school's classrooms are located in the public schools throughout the county. Services are provided to each student following their IEP in these classrooms in a collaborative model with the host school.
Bernstein said the goal is to return students to their home districts and nondisabled peers.
The staff of the Wayne County Board of DD believes all individuals should have a place to work in the community, earning at least minimum wage, as their first choice (not their only choice) of service.
The organization is working hard to build resources, to develop partners in the community and to find jobs for all those who express this dream.
"We believe very strongly that work is a major area where we can make a difference in their lives while also contributing to the local community," Bernstein said.
Bernstein said the organization has worked with employers such as the Wooster Community Hospital in a community partnership.
"The more doors we can open, the better," Bernstein said. "Our kids can't do everything well, but when we find that one thing they can do, they do it with a passion. Programs like the one with the hospital help our students have the opportunity to become parts of their community."
Bernstein said they are always looking for grants to expand services with no cost to the community.
One example is a grant to work with the Ohio Coalition of Autism Low Incidence.
"We were able to get one staff member trained and credentialed to be a low vision expert. We have a number of visually impaired students, so that's a great development in how we can help those individuals," he said.
The board has a renewal of a 1-mill, five-year levy on the ballot in the 2020 election.
"It's important to point out that this is not a new tax," said Ken Kelly, the community transitions manager. "It's a renewal which will generate more than $2 million annually for five years. It comes down to about $35 a year for the owner of a $100,000 home."
Kelly said using the taxpayer dollars, they can leverage $3.5 million in federal money. "If we lose the levy, it would make it much harder to meet our individuals' needs," he said. "I hope we can gain the solid support we've always had from the community; we've never failed a levy yet."