Wayne County Airport employees ready for anything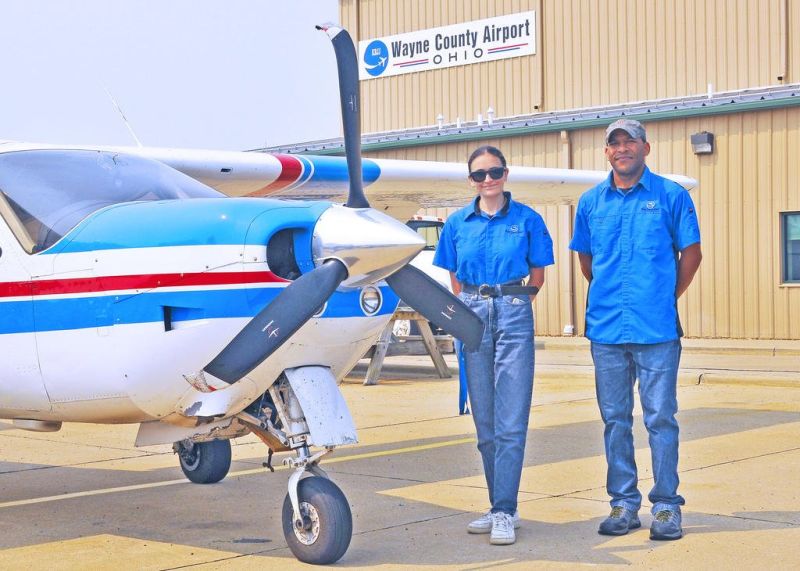 It is essential airports, even local ones, run like a well-oiled machine. To accomplish that, technicians need to be ready for anything — and they are.
There is fuel to test, maintenance to schedule, flight plans to check and safety guidelines to follow.
Recently, when an aircraft's landing gear malfunctioned, Wayne County Airport line technicians Matt Smucker and Diana Semilia were prepared. Fortunately, the incident was relatively minor; there were no injuries, and the taxiway was reopened within hours.
According to Semilia, a Cessna Cardinal 177 RG landed successfully and began navigating down the runway when the front retractable landing gear malfunctioned, causing the aircraft to nosedive, forcing its propellers to dip onto the runway.
"I didn't hear anything," Semilia said. "The aircraft was traveling so slow after it landed that nothing sounded out of the ordinary. I went outside and noticed that it was off of the runway."
Semilia immediately contacted Smucker, and the pair began running down their checklist of emergency procedures.
"Our top priority was to determine if the pilot was OK," Smucker said. "He was out walking around the aircraft and didn't appear to have any injuries."
Smucker and Semilia then assessed the condition of the aircraft.
"We determined that it wasn't leaking any fuel, so there wasn't any danger of fire or anything," Smucker said.
With the plane resting on its nose, the pair had to determine the best way to maneuver the aircraft off the runway as quickly as possible.
"We closed the runway immediately because the aircraft was impeding traffic flow," Smucker said. "We filed a Notice to Airmen with the FAA so other pilots would know not to land here. Then we started contacting the appropriate organizations to report the incident."
After Smucker filed the report, permission was granted to move the aircraft. "After we determined that the pilot was safe and there was no other danger, our next priority was restoring operations to the airport," he said. "We were down about three hours in total."
Smucker said the next steps would be to offer assistance to the pilot to get the plane restored. "We don't get involved with the actual repair," he said. "We only offer our resources to the pilot."
Smucker said there was no impact to Metro Life Flight, which is based at the airport and provides around-the-clock helicopter service for the transport of patients to nearby hospitals.
Wayne County Airport was named the 2020 Airport of the Year by the Ohio Aviation Association. Visit it online at www.wayneairport.org.
Dan Starcher is a public communications specialist for the Wayne County government.