Fredericksburg Community Library celebrating 25th year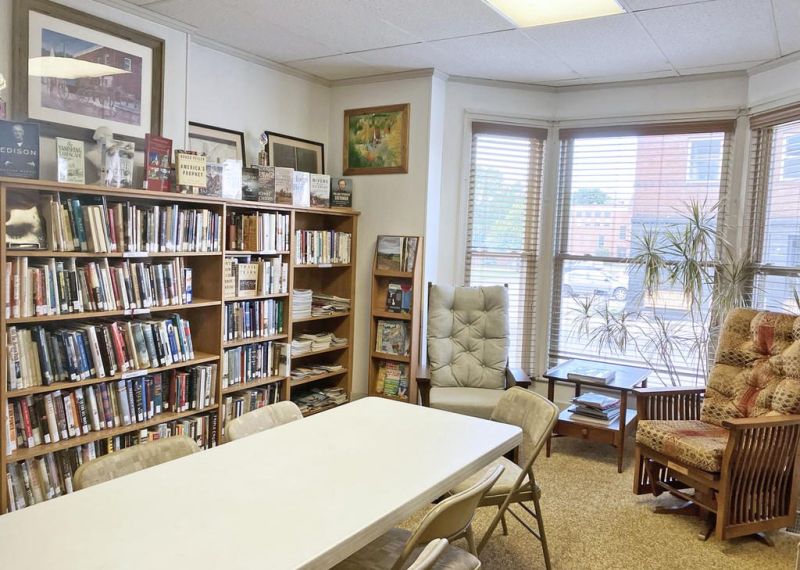 Twenty-five years ago in the bucolic village of Fredericksburg, the prayers of four moms were answered.
Jane Braddock, Jane Slater, Kathy Topp and Claudia Ward had been meeting each week for a few years to pray for the area children. One of their concerns was youngsters going home after school to an empty house, with both parents working. The women determined a library would be the ideal place for the children, so they approached Ivan Weaver, owner of Ivan Weaver Construction, who also owned the historic 1909 Smith building on the village square, a spot the women considered ideal for a library.
Weaver had questions, so the ladies set out to find answers, visiting area libraries, researching nonprofits and getting others involved. They also established a goal for the funds they would need to raise to get a library off the ground. After presenting their findings to Weaver, he agreed to rent the building to them and set about remodeling it, including making it handicap accessible and donating the shelving. A call for books went out, the donations began pouring in and in 1998 the doors of the Fredericksburg Community Library opened.
Braddock of Fredericksburg has served as director of the library since opening day. She is one of many volunteers who keep the small, independent library going, as it depends on financial support from grants and individuals, businesses and organizations.
One of those sources is Simply Hand Made, a small, nonprofit gift shop located in the village's century-old jail building at 208 N. Mill St. The shop resulted from discussions between library board members seeking sustainable funding for the library and library patrons interested in opening a shop featuring the work of local artisans and craftspeople. The shop opened in 2016, with its profits funneled to the library.
The library's annual events are in full swing, with Art in the Park taking place Saturday, June 3 from 10 a.m. to noon in the lot next to the Fredericksburg Presbyterian Church. For all ages, the event includes nature crafts, face painting and story time and serves as the kickoff to the library's summer reading program.
The Library Roll is the library's annual fundraiser. Bicycle riders from all over Ohio and neighboring states pay to ride and choose their routes, which vary from 18-62 miles and meander through Holmes and Southern Wayne counties including the Rails-to-Trails path. Lunch is provided at rest stops, and upon completion the riders are treated to homemade fry pies and ice cream. This year's Library Roll will take place Sept. 30.
The library has programming for people of all ages. Partnering with ReadAloud.org to celebrate the importance of reading to children, the library holds weekly story time for children with stories, music and art. It also hosts Explorers, an after-school nature program for kids in fourth grade through sixth grade. People trained as Ohio certified volunteer naturalists conduct the program, which involves classroom instruction and outdoor activities. The library also will kick off a home-school book club in September.
"We check out 600-700 books per month," Braddock said. "But our library is more than a place for books. It's an interesting, fun place for people to go."
Braddock said at any time she's been concerned about the library being sustained, someone has stepped up to fill the need. "The support we've received all these years is inspiring. The Amish community also is supportive in many ways, and they are faithful patrons," she said.
Beth Miller of Fredericksburg is a longtime patron of the library. "The library has been instrumental in helping my daughter flourish," she said. "It provides so many programs and resources to encourage not just literacy from a young age, but also community involvement, conservation, curiosity and responsibility."
Miller also is one of the artists whose work is featured at Simply Hand Made, as well as the store manager.
Braddock said she's in this for the long haul. "This is a passion for me," she said. "I believe that reading is the foundation of learning, and I believe in providing a place for life-long learning and community."
She hopes there will always be people willing to volunteer to continue the legacy of the library, and the library is always grateful for book donations of all kinds.
The Fredericksburg Community Library is located at 108 S. Mill St. It generally is open Mondays and Wednesdays from 10 a.m. to 2 p.m., Thursdays from 5-8 p.m., and other days as volunteers are available. Visitors are encouraged to first call to ensure the library is open. For more information call the library at 330-695-2420 or visit its Facebook page or website at www.fredlib.org.