Fun and fellowship set to begin again at Camp Luz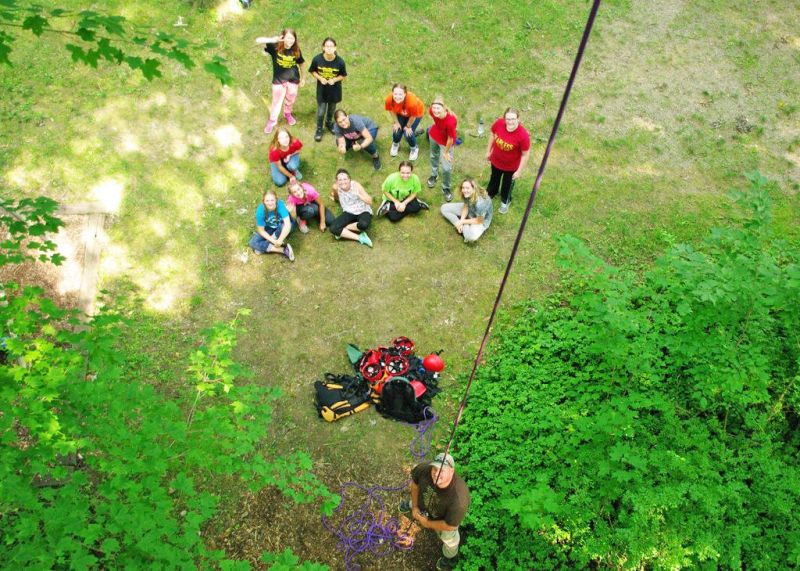 This coming summer the sounds of children will once again be heard at Camp Luz, 152 Kidron Road, Orrville.
After adding fresh paint, new bunk beds, and some new siding and roofs, Camp Luz director Andrew Michaels said, "After almost a year of waiting, we are ready to finally get some campers using the updated cabins. Last year was tough. It was the first time in our 66-year history that we did not host summer camps."
Starting with the youth camp for age 15-18 from June 13-17, Camp Luz will again be in person and overnight. "I am confident that we can provide a great summer program while minimizing risk of transmission," Michaels said, noting the camp has pulled guidance from the CDC, state and local health departments, and camping associations.
"Cabin groups will be limited to 10 (eight campers and two counselors), instead of 14 in a normal year," Michaels said. "Our program already spends lots of time outdoors, but we will be moving almost everything outside this summer including meals.
"Campers will still need to wear masks at certain times when they are around people who aren't part of their cabin group. We are also asking people to reduce contacts outside of their own household in the days leading up to camp, and we will be screening for symptoms every day."
Camp Luz is owned by the Ohio Mennonite Camp Association, a nonprofit organization made up of over 400 families.
"At Camp Luz we help people learn about and experience the love of God through Jesus Christ," Michaels said. "We have a ton of fun activities, but the core of our ministry is sharing Christ and building up the faith of everyone who comes here."
The theme this summer is "Rise Up: Know Your Identity" with the theme verse taken from Esther 4:14. "And who knows whether you have come to your royal position for such a time as this?"
Camp Luz was planning on this being the theme in 2020.
"It seems like those of us on the year-round team often end up living the theme in the months between when it is selected and when we actually get to share it with the campers," Michaels said. "This season has been no different as we have all been left asking how to be faithful with the positions of leadership here that God has entrusted us with during a really challenging time.
"Once the decision was made to not host summer camps (last year), we knew that we still wanted to do whatever we could to help families make the most of the summer and provide opportunities for faith formation."
Michaels said kits were sent to campers that included a T-shirt, mask, snack, craft projects, activities and a devotional.
To keep afloat financially, Camp Luz rented out its pool to groups of 10 or less, offered family getaways, reduced staffing, cut costs, made use of the PPP loan program and had some fundraisers.
"Ultimately, our supporters really stepped up to make the difference for us and helped us end the year in the black," Michaels said.
Camp Luz is still looking for some more summer staff, and the application can be found on the website at www.campluz.com.
"People don't sign up to work at camp to make a ton of money," Michaels said. "You do receive a weekly stipend, but the far bigger reward is the experience of growing with a community of people united in a common faith and purpose. Summer staff also learn the soft skills of leadership. These are skills that our summer staff carry with them into whatever career path they go down."
Camp Luz has a campership fund to help those needing financial assistance to pay for camp. "I strongly believe that money should never be the reason a child cannot attend one of our programs," Michaels said.
The summer schedule includes Boys and Girls Camp 1, June 20-24 for age 9-11; Mini Camp, June 27-30 for age 7-8; Grown Up & Me, July 1-2 for age 4-6 with an adult; Fledgling Camp, July 6-9 for age 8-10; Boys and Girls Camp 2, July 11-15 for age 9-11; and Jr. High Outpost, July 18-22 for age 12-14.
More information can be found at www.campluz.com or by calling 330-683-1246.