Grosjean inducted into Ohio Fair Managers Hall of Fame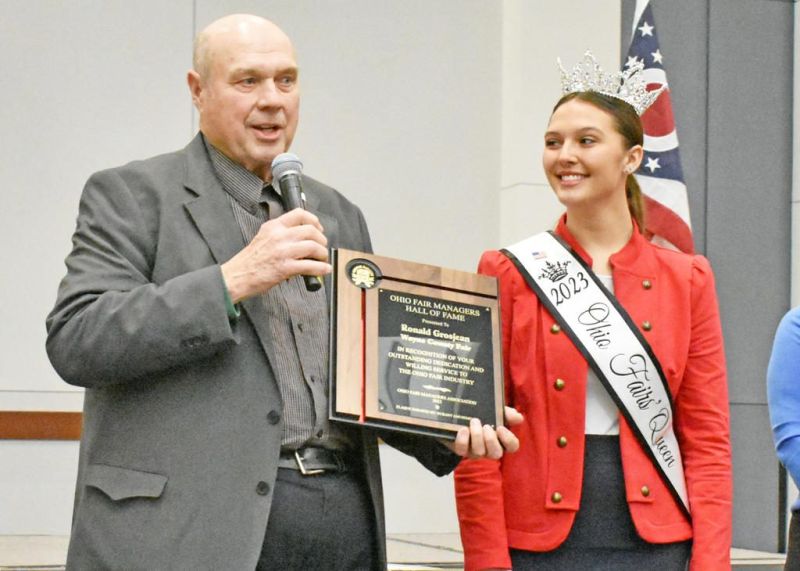 Ron Grosjean of Wooster has been inducted into the Ohio Fair Managers Hall of Fame as a tribute to a near lifelong dedication to the Wayne County Fair.
The award, created in 1998 to honor extraordinary leaders in the fair industry, was presented during the 98th Ohio Fairs Convention held recently in Columbus.
As one of six inductees, Grosjean thanked Wayne County Fair board members for the nomination and his wife Janie for her support over the years. He encouraged fair managers in attendance, saying, "It's really important to our young people to keep these (county) fairs going."
Grosjean served as a Wayne County Fair director for 43 years before retiring in 2021.
"We have been very fortunate to have some great board members through the years that show commitment and passion to the Wayne County Fair," fair secretary Matt Martin said. "Ron has risen to the top of that list. He has been a great example to those around him and has shown by example what it takes to serve our community. The board is proud to have the opportunity to nominate Ron for this award and share his accomplishments with the entire state."
During his time on the board, Grosjean saw 50% of the fair's facilities remodeled, updated and some replaced. The fairgrounds' Event Center is dedicated to him in recognition of his effort to plan and raise money for the project including personal contributions.
He chaired the board's parking and security committee for 37 years, helped start the shuttle wagon service to haul visitors back and forth from the main grounds to the parking area, and was instrumental in developing a new mobile stage that could easily be pulled around the track and into position for the grandstand shows. He also served on a committee that was responsible for revamping some areas of the fairgrounds to make them more handicapped accessible.
Grosjean also was instrumental in organizing Friends of the Wayne County Fair, a group that operates the Buckeye Agricultural Museum and Education Center across from the fairgrounds at 877 W. Old Lincoln Way. Grosjean serves as president of the board that oversees the museum housing more than 3,200 artifacts and relics of the past. It represents a passion of his to preserve and teach agricultural history.
In his role as emeritus Wayne County Fair director, Grosjean remains a strong resource for the fair and supports the event with a large display of antique farm machinery. Once a 4-H and FFA member who showed livestock at the fair, Grosjean now is in the stands watching his grandchildren show their junior fair livestock projects.
Grosjean joins two other former Wayne County Fair board directors in the Hall of Fame: Carl Schmid and Howard Stahl.