Laney Memorial Softball Tourney about more than competition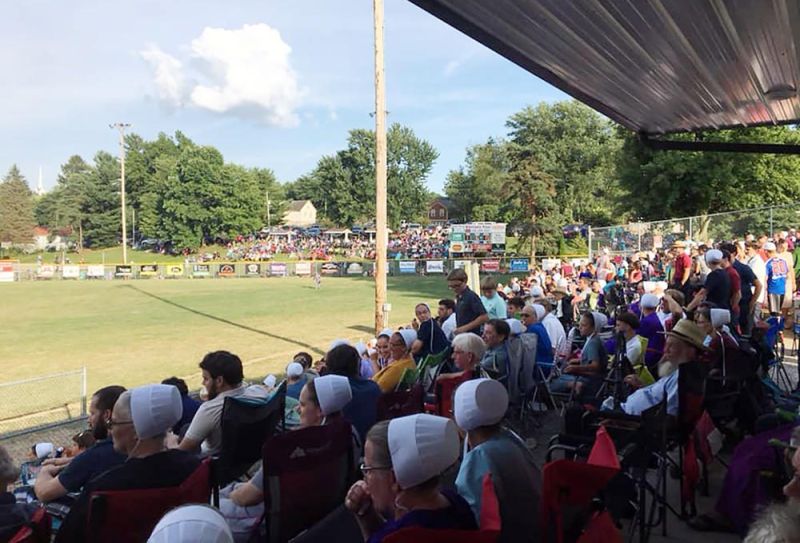 Seven years ago, a group of avid softball players put their heads together to create a fundraiser.
The Paul Laney tournament was founded in 2015, and while the joy and exuberance of playing softball unites the teams and the tournament, what truly bonds both players and fans together in this unique softball experience is the mission behind the games.
To be sure, softball games will be played, but the overriding goal is to help local families with large hospital bills through softball and to glorify God and help enlarge his kingdom by doing so.
The leadership team behind the tournament has built its foundation on I Corinthians 10:31, which states, "Whatsoever ye do, do all to the glory of God."
Since its inception the founders of the Laney tournament strive to have a clean and fun environment for softball teams and fans from multiple states including Ohio, Pennsylvania, Indiana and surrounding states.
According to Leroy "Peewee" Miller, "Our goal is to connect people who want help with people who need help. We've been very blessed over the past number of years. We have basically doubled the tournament each year with the number of families we have been able to help. We are just the hands and feet of the operation, and God has taken care of the rest."
The tournament is named in honor and memoriam of Paul Laney, a longtime scorekeeper at nationals. Several years ago, Laney passed away due to cancer, and several of the board members traveled to his funeral and became friends with the Laney family. Because of a mountain of medical bills, the men returned home and formulated a plan to raise funds to help the family.
Laney, who hailed from Tennessee, was a professional baseball and softball announcer known as "The Voice" and statistician for the Tullahoma Little League and Babe Ruth, as well as the softball nationals, where a number of local Holmes County teams ventured each year.
The idea the group came up with was a softball tournament, and it took off quickly. That first year they raised a large amount of funds for the Laney family, and the tournament has grown rapidly ever since.
"We have been so blessed and humbled by the outpouring of support and compassion from the community," Miller said.
That focus on helping others in need began in the tournament's first year when Paul Laney and his family were facing difficult times, but the tournament has since branched out to include many area families in need.
Each year the Paul Laney Tournament committee takes applications from others throughout the community who have seen a need elsewhere. Applications to submit a name to be considered for financial help will be made available during the week of the tournament.
The committee has gone to great lengths to try to make this weekend tournament a festive and entertaining time, packed with things to do for the whole family.
The tournament itself encompasses a total of 11 softball fields around the greater Holmes County area including Winesburg, Sugarcreek, Dundee, Killbuck, Berlin, Millersburg, Mt. Eaton and Dalton. The games will begin shortly after lunch on Friday, July 30, and then there will be softball, almost nonstop softball, over the next two days.
The weekend will include 42 men's teams, 16 16-U teams and close to a dozen women's teams. Because of the sheer number of teams joining the tournament, the games are played on multiple fields, but eventually, all of the play funnels to Winesburg Park Field, where the finals will take place, along with several other special moments.
Teams from near and far have penciled this tournament on their schedules, and with all of the entry fees, food and other donations, the committee raised enough last year to substantially aid eight area families.
"Our area is pretty unique, and we are blessed to be able to help others through something so many people have come to enjoy," Miller said. "We never thought when we started it would be this huge, and we always want our faith and our purpose to be a light to others."
One special moment will be the Friday evening contest at Winesburg Park between the Wounded Warriors Softball Team and a group of local firefighters at 6:30 p.m. and then a local legends team at 8 p.m. From battlefield to ballfield, this inspiring group of Wounded Warriors USA Patriots always brings their "A" game, and the team features plenty of talent in a game that should be very exciting and heartwarming.
"Make no mistake. These guys come to compete, play hard and win," Miller said of the Warriors.
The Warriors vs. firemen game will be sponsored by Palettes by Winesburg. "We were excited to bring them in because they are so inspirational."
In addition to the softball action on the field, a lineup of musical talent will perform on Friday, July 30 at Winesburg Park including local favorite John Schmid at 6 p.m., Matt & Nimmy at 7:15 p.m. and Allen Fisher at 8:30 p.m. Matt & Nimmy and Fisher hail from Pennsylvania.
There will be plenty of great food, drinks and smoothies being served all night long, so families can come and enjoy a night out either watching softball, listening to music or perhaps some of both.
Weather permitting, there will be a huge candy drop for the kids between the two Warrior games on Friday evening.
In addition, there will be a benefit raffle with prizes including a 60-inch Toro lawn mower, an 8-by-12-foot Miller Storage barn, a hunting blind, a Lake Erie fishing trip for six, a Yeti cooler filled with meat, a five-piece poly set of outdoor furniture, a magnum U16 E-bike and more. Tickets will be available throughout the tournament and online at www.laneytourney.com. All of the proceeds go to helping local families with medical bills.
For more information visit the tournament's website at www.laneytourney.com, where there will be live bracket updates and plenty of other information sharing the details of the event.