Life Skills winners reap more than just an award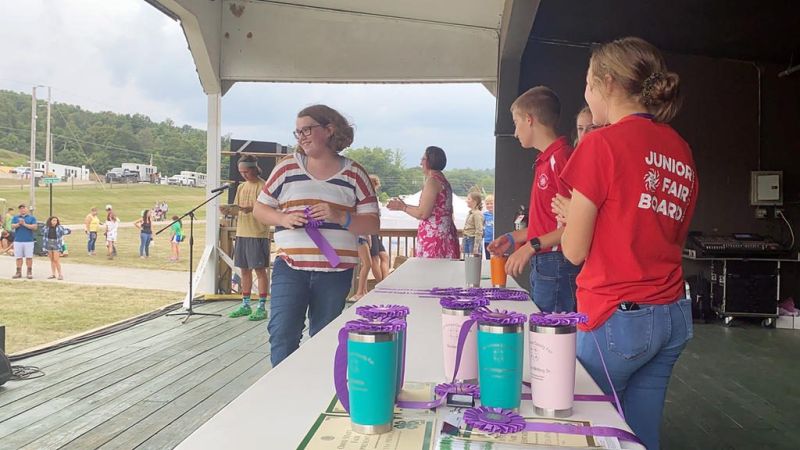 For every 4-H kid who invests time, money and effort into a 4-H Life Skills project during the summer, there is the allure of receiving a county award, earning a spot at the Ohio State Fair and winning a coveted clock at the state fair if they really perform well.
Those are all honorable achievements 4-Hers have striven to obtain for decades.
However, all awards and honors aside, what may be the biggest gains for these youth is the challenges that come with each skill and the reward of digging in, doing the work and completing the project.
On Monday, Aug. 9, Holmes County youth were honored at the annual Life Skills Project Awards and State Fair Delegates Presentation on the Stage on the Green at Harvest Ridge, kicking off the summer fair.
According to Janessa Hill, Ohio State University Holmes County Extension educator, the pride and satisfaction of a job well done is one of the main ingredients in a successful summer project.
"A lot of these projects take a lot of time, energy and effort, so many of these kids start their Life Skills projects back in winter when the weather is not great and really work hard to perfect and complete their projects," Hill said. "Oftentimes, these kids are juggling their skills projects with raising their fair animals, and it is a lot of hard work and time management, but we have some pretty amazing 4-H kids who want to work and show they can do just that."
Hill said it was incredible to see the county hand out another 55 award-winning project prizes this year, and seeing so many young people work toward a goal and not only complete their challenge, but also do it so well is a testament to the work ethic of Holmes County.
"There's a lot of learning real life skills in these projects that will go with them for many years to come," Hill said. "It's amazing how many opportunities they have to showcase all of these different pathways they can pick."
There are hundreds of 4-H Life Skills projects from which 4-Hers can choose, and Hill said each brings with it a unique set of skills kids must learn. Each Life Skills participant had to record their progress, and they talked about the joy and satisfaction of completing something new and challenging.
Jude Cerniglia, who served as emcee of the Holmes County Fair Life Skills presentation ceremony with siblings Noah and Grace, picked up yet a third clock award, the top honor for presenters at the Ohio State Fair.
This year's project was "Outerwear for Anywhere," and Cerniglia said tackling each Life Skills project is extremely satisfying.
"The awards are definitely nice," Cerniglia said. "For me, it is more about challenging myself to do something that most people can't do, and completing a project like that is something special."
Sara Berger was one of the young 4-Hers who worked hard to represent her county fair and 4-H club two times at the Ohio State Fair. Not only that, she also tacked on a grand champion market pen of three broilers at the Holmes County Fair and then turned around and won the grand champion junior market showmanship award, making it a thrilling start to this year's fair.
Berger said showing animals, doing the showmanship portion of the event and fulfilling her Life Skills projects, "Photography and Rockets Away," were all part of what makes 4-H and the county fair fun and challenging.
"I like showmanship because it isn't about your animal; it is about you and preparing to do what you need to do to be good at it," Berger said. "I picked Life Skills projects I thought I would enjoy, and I enjoyed taking on the challenge of something new."
Adleigh White was a state fair rep in both her "Quilting the Best Better" and "Grill Master" projects. She said diving into her quilting project at a late date only added to the stress of tackling a project, but it turned out it was well worth the effort.
"I accidentally put it in at the last second, and I was working on it the day before judging, and it was really stressful," White said. "These projects can be time-consuming and frustrating at times, but it is really satisfying to be able to put yourself fully into a project and complete something that challenges you. The awards that are out there for a 4-Her in these Life Skills projects are really good things to strive for, and to be able to represent your county and the fair at the state fair is incredible."
Emily Wise also was a two-time representative at the state fair, taking her projects, "The Laundry Project" and "Take a Break for Breakfast," to Columbus. She said the awards were nice, but for her, knowing she did a good job in taking on and completing her projects was what mattered the most.
"I took on some different projects and challenged myself and proved I could do them, and that makes me feel good," Wise said. "I wanted to choose projects that would help me help my family around the house, so that makes them very worthwhile."
Hill said the extension office will present an open house and kick-off evening next February to introduce the new year's crop of Life Skills projects. Youth must then be enrolled for a project by April 1 to qualify for the awards opportunities.