New eatery in familiar spot in downtown Wooster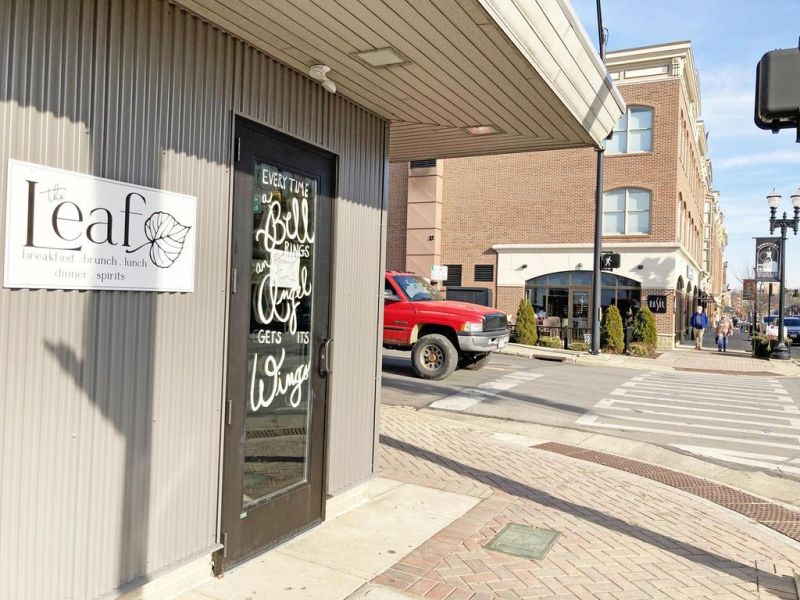 Located in downtown Wooster in the old location of The Parlor Restaurant, The Leaf opened on Dec. 11 in the fully redesigned restaurant space. Samantha and Jason Stine, owners of The Leaf, are taking a step-wise approach to opening, first serving dinner, next lunch, and finally breakfast and brunch.
Samantha Stine first reached out to The Parlor Restaurant owner Mike Chirdon at the beginning of the pandemic. According to Stine, Chirdon bought in to her vision and "everything fell in line," and soon the Stines were the official new owners. The Stines have previous experience in the restaurant industry as they also own The Green Leaf Restaurant on Cleveland Road in Wooster.
"I had been living with a concept of what I thought Wooster was lacking, both in terms of food and (dining) experience. We wanted to add value to downtown. We are very local and small business minded. We're really excited to be a part of downtown," Stine said.
The Wooster Area Chamber of Commerce also was pleased to welcome the new business to the community.
"We applaud Jason and Samantha Stine on their commitment to downtown and the community as they open a restaurant during extremely challenging times," said Samira Zimmerly, chamber president. "Their decision to move forward shows that they believe in the Wooster market and that they are dedicated to making this new venture a long-term establishment."
Zimmerly attended the restaurant's soft opening for invited guests in early December. Also in the audience was Main Street Wooster executive director Shannon Waller.
"I was lucky enough to be included in The Leaf's soft opening, so I got a sneak peek," Waller said. "It was a beautiful, delicious experience from the cool decor to the wonderful presentation. I enjoyed the duck drumette appetizer and the house salad with sherry vinaigrette dressing, and I was blown away by the tasty Duck Bolognese entree. I'll definitely be having that again, soon."
Stine spoke extensively about her vision for the cuisine.
"We have two classically trained chefs. Our food is real food. It's flavorful," she said. "We source our pasta from a small business in Cleveland called Flour. We make as much in house as possible. Like our Bolognese sauce, we make that from fresh tomatoes, and it's cooked all day."
Stine emphasized she aims to create a menu of diverse cuisine that is not offered at other locations in Wooster. She said she also intends to incorporate lamb dishes as a feature. They spent a week in December testing the breakfast and lunch menus.
"I'm insanely impressed with our chef (Cory Hoffman) and the pairings he has put together. Cory has introduced me to the art of culinary," Stine said.
The restaurant also has a liquor license. When entering into the restaurant, patrons view the full bar with displayed bottles and trimmed with holiday decorations. "I love signature cocktails," Stine said. "I always ask bars what they are known for. I like places where you feel rejuvenated when you go there and can't wait to see what's new. Because right now, we all need something to be excited about."
Stine clearly has an eye for design and a vision for incorporating the various elements — the cuisine, décor and lighting — into the restaurant experience. Each light fixture is unique, and every board in the restaurant is reclaimed from a barn in Ohio. Additional features include a full-size bicycle statue at the doorway and real horseshoes nailed to the bar at an angle so patrons can use them to hang their jackets and purses.
Thought went into each feature, even the design of the lights. "I wanted it to have a fairy tale feel with a mix of rustic and industrial," Stine said. "We relied entirely on local contractors. Working with them from design to construction was an awesome process."
Currently, the restaurant is using Facebook as its web presence, but once the official website is launched, Stine will list the names of contractors employed in the process.
The restaurant began serving dinners on Dec. 11 and lunches on Dec. 18. The goal was to have breakfast and brunch started by Dec. 25, as Stine loved the thought of starting with a brunch of gingerbread pancakes, French toast and other breakfast favorites on Christmas Eve, giving her an opportunity to create a positive experience for people during the holidays.
"I have always loved downtown Wooster, and being downtown is something magical. And Christmas is my favorite time of year, so it's funny our opening got pushed until now," Stine said.
The Parlor was a longtime favorite of area diners, but that was more of a breakfast/lunch crowd. With The Leaf they can try some new dining options in that old, familiar location.