Starkey retiring after 28 years leading WCCVB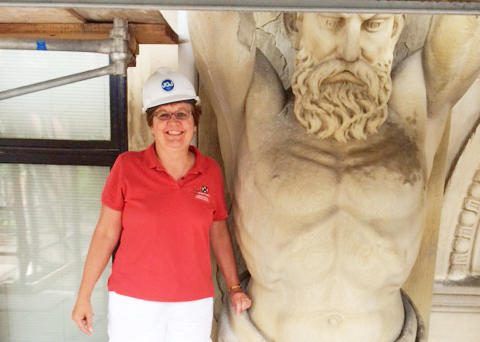 After nearly three decades of service to the community, the executive director of the Wayne County Convention & Visitors Bureau is headed off into the sunset for retirement.
Martha "Marty" Starkey has spent the past 28 years of her life helping visitors make the most of their trips to Wayne County. But even before taking her position with WCCVB, she worked for more than a decade in the travel industry, with this area being all she has ever professionally known. Now she said it is time to spend her life with the people she loves most, doing what she enjoys best.
"I have been in the tourism industry 40 years — that seems like a long time," Starkey said. "My husband is retiring at the end of July, so I didn't want to wait too long. The grandkids are always on my mind. They are only little once, and it is so much fun watching them grow up."
While her retirement won't be effective until later this year, Starkey has a few more months to finish up any projects and also reflect on all of the accomplishments she has made happen throughout her tenure in Wayne County tourism.
"Wayne County has definitely expanded its tourism product in the last 28 years," Starkey said. "We probably have about three times the hotel rooms we did when I came here in 1994. Also, the meeting space has increased, which allows us to bring in more groups and events.
"It takes the entire community to make tourism a success. Getting the people here is just the first step. They need to feel welcome, have a great time and feel like their visit was worth the investment they made."
Although much has been accomplished in the area of Wayne County travel and tourism during the past 30 years, Starkey said there is still so much she'd like to see happen here and hopes some of her ideas she didn't quite get to will be made possible in the near future.
"I have always said we are water deprived in Wayne County, meaning we don't have a huge lake or winding rivers," she said. "I would love to see Shreve Lake expanded into a tourist destination, maybe a few of those tree-house accommodations, that type of thing. I have always wanted to see a multi-day event that we would become known for, like Circleville, known for its Pumpkin Show. It has been in existence since 1903 and attracts 300,000 people every year. Pretty impressive for a town of 13,000."
And while she already believes Wayne County does a good job at ensuring each and every visitor enjoys their stay while in the area, she would like to see everyone have a wonderful experience when they spend their leisure time here.
"This is up to every one of us to make sure they experience our friendly hospitality and have the best possible visit to our area," Starkey said.
During her longtime commitment to Wayne County, Starkey has made quite a few allies in the community, working with them on a daily basis to better the marketing and overall offerings Wayne County has for visitors each and every day. One of those collaborators — and more importantly, a friend — is Wooster City Council President Mike Buytendyk, who said since he has known Starkey, he has always witnessed her hard work and dedication to Wayne County and its visitors.
"I always told Marty that there was no one more dedicated or anybody who worked harder to promote Wayne County than her," Buytendyk said. "She was a magician in taking a limited budget and achieving fantastic results for the Wayne County Convention & Visitors Bureau. Marty always had a smile as she went about her duties. Nothing gave her more pleasure than finding a new advertising outlet to showcase Wayne County, especially if she got it for a bargain rate.
"Marty put her heart and soul in making the Visitors Bureau the very best. Her retirement is well deserved, but she will leave big shoes to fill."
No successor to Starkey has been named yet, but because her retirement won't take effect until October, the WCCVB Board of Directors still has some time to find just the right person to fill the role.
"We haven't started the process yet, but that will definitely be coming soon," Starkey said. "The board of directors will hire the new person, and I would certainly be willing to help in any way they would like."
Much of Starkey's job during the past 28 years has involved her being out in the public eye, meeting with the many out-of-town visitors who come to the area each and every day. That, she said, will be one of the very many things she will miss the most about her career once she no longer reports to duty Monday through Friday.
"I really enjoy talking with the visitors that come in (to the WCCVB office) and ask questions," Starkey said. "I love hearing why they are here and where they are from. It's fun telling them all the things to do in our area. My past and present board of directors and all the great tourism people of Wayne County have made this job a pleasure. I sincerely hope the next person enjoys it as much as I have."