Ohio Amish Country Quilt Festival built on local tradition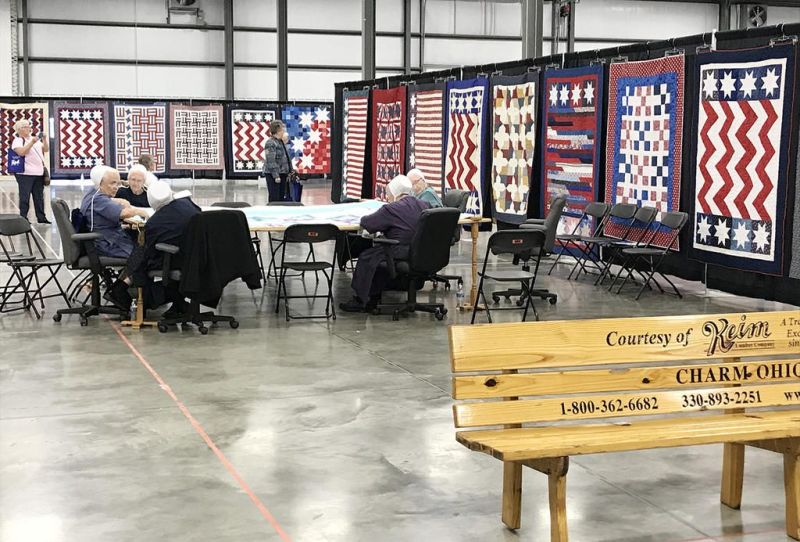 Row upon row of hanging quilts adorned the inside of the Mt. Hope event center during the annual Ohio Amish Country Quilt Festival Sept. 9-11. The idea of the show is to inspire quilters of all levels of competency to challenge themselves in their work, to ignite a greater passion in the hobby they share and to provide insight into new techniques and ideas.
And while there were visitors from all over Ohio and many from out of state, there is a certain Holmes County flair that describes the quilting landscape and the important role it plays in Amish Country.
Among the rows of hanging quilts were a set of tables. Seated at those tables throughout the three days were groups of women, many of them Amish, who sat quietly amidst the chaos and stitched.
This alone describes quilting and its role in Holmes County. Many of these Amish women have been quilting for decades, becoming seasoned professionals in their craft, displaying steady hands, a keen eye for design and an attention to detail that is almost beyond compare.
During their sewing circles, the women converse casually, almost as if their fingers that are darting in and out of the fabric with pinpoint precision are an afterthought. Yet when their work is done, it seems as though there isn't a stitch out of place.
That is why Amish hand-made quilts continue to draw interest, whether as a gift for someone, for people to use as their own or to hand down from generation to generation.
Joanne Hubbard has helped present this show for years and said these quilting bees provide social time where the women can convene and share in a common setting.
"They love what they do, and they enjoy doing it together," Hubbard said of the quilters. "They are homemakers who love getting together. It is a creative outlet, and it really brings them back to past generations, and people from outside this community can experience that when they see them here quilting. A lot of these women are finishing quilts that were started from a prior generation of quilters, and there is such a rich family tradition that is involved with quilting."
Hubbard said many quilters don't create quilts to sell but would much prefer quilting to share their lives and their love for others as gifts.
"Quilting has to be fun, and if it isn't, then it's time to put it away and find something else to do," Hubbard said.
Across the event center floor from the sewing women hung three rows of quilts that were lovingly crafted by local quilter Virginia Bauman, who passed away in 2020. To honor her legacy, they wanted to give her a large display of her work.
According to Ada Miller, owner of Lone Star Quilt in Mt. Hope, Bauman was one-of-a-kind, both in creativity and in her dedication to perfecting each stitch.
"She was a marvelous quilter who designed pieces and had such an amazing eye for detail," Miller said of Bauman. "Her quilting was immaculate, and we wanted to honor her for her life's work and the beauty she brought into the world through each one of her projects."
In another section of the showroom hung five generations of Holmes County quilts made from the hands of one family of Holmes County residents. The quilts included Betty (Smail) Johnson, who quilted from 1917-92. Next was Joanne (Johnson) Yoder, 1933-2008; Elizabeth (Smith) Smail, 1950-75; Betty (Yoder) Firebaugh, 1954; and the most recent addition from Reid Kaufman in 2014.
This served as a reminder to all visitors that the quilting tradition is one that is time-honored in Holmes County, and the art form has taken on great meaning to families as they pass along the skills and share the joy of the hobby together. To these families quilting is a means of connectivity.
Then there are the three women who started this event several years ago. The trio of Dawn Krier of Chestnut Ridge Sewing, Ada Miller of Lone Star Quilt Shop and Naomi Miller of Miller's Dry Goods created this show, and their expertise allowed so much of the tradition and expertise of Amish Country quilters to shine brightly. Their expertise and passion sets the stage for the show's success.
While many might see them as competitors, these three women willingly put aside that concept and focus on bringing people to the area to experience what a joy quilting can be. To them, the idea of promoting the art of quilting supersedes their own personal gain, and the goal is to get people to come to Holmes County and let them find their way from there.
"Friendly competition is good for all of us, and we all have our own unique styles that we bring, so when quilters come to Holmes County, they love traveling to each destination to explore," Ada Miller said. "We have always worked well together, and that makes it more enjoyable and convenient for people who come to Holmes County."
Berlin's own Corey Yoder was one of the teachers presenting seminars at the event, teaching class participants one of her newest block patterns and giving instructions.
The vast array of classes and vendors created a widespread opportunity for those in attendance to learn and grow.
"If we can inspire quilters from beginner to advanced, we have achieved our goal," Ada Miller said. "Quilting can be a real form of therapy that generations of families can carry on through life."
While the quilt show was created for people everywhere to enjoy, there is a unique tie to Holmes County that helps bring out the gifts and joy of a hobby and tradition that exemplifies Amish Country.