Hawks do what they do in advancing to baseball regionals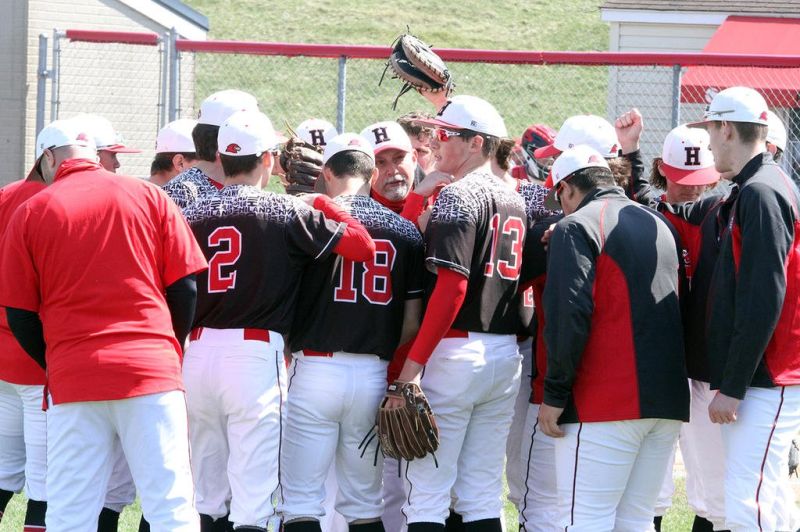 Hiland's pitching story this year is not different than it has been the past many years. Throw two studs out there and watch them demolish opposing batters as the Hawks plow through tournament play.
However, this year's duo is a bit unique in that they are more like fire and ice. Senior Casey Lowe is the flamethrower, using an overpowering fastball and a vicious curve ball to rack up strikeouts. Meanwhile, classmate Derrick Troyer is more finesse and street smarts, using his guile, pitching to contact and allowing his defense to dominate.
Both techniques seem to be working as the Hawks have fashioned a 26-4 record on the way to winning yet another district crown, Lowe striking out 10 in a 2-0 win over Shenandoah in the Div. IV district semi and Troyer picking up the win in a 3-0 win over Shadyside.
Troyer's gem moved Hiland into a Div. IV regional semifinal Thursday, June 3 at 5 p.m. against Howard East Knox at Lancaster's Beavers Field.
While the defense has been really good, head coach Chris Dages makes no bones about the fact that his two pitchers have been the stronghold leading to success.
"Our pitching delivered exactly what we expect of them," Dages said of Lowe and Troyer. "Both guys attacked. They worked ahead in the count and made great pitches when it mattered the most. What was just as good was that in both games our defense played clean baseball. A couple of key hits, and that was all we needed to advance."
While Hiland has made a living racking up district crowns, Dages said each one is special, and they won't ever take that for granted. This group talked early and often about bigger goals and state berths.
"We want to get to state and win it, and regionals is now step three in the process," Dages said.
In the 3-0 win over Shadyside, Troyer was cruising going into the seventh inning. Hiland had taken a lead by plating single tallies in the first, second and sixth innings, courtesy of RBI at-bats from Jared Hostetler, Nolan Yoder and Grant Miller, but Troyer allowed a runner to reach first on a single to start the seventh inning. The next batter laced a long fly ball to left field, where sophomore Isaac Yoder made what may have been what Dages described as the best defensive play of the season.
On a full spring with his back to home plate, Yoder chased down the bomb, reaching out at the last moment to snare the long fly and rob the hitter of not just extra bases, but it also sucked the very soul right out of Hiland's opponent.
"That was something special," Dages said of Yoder's catch. "He was going full speed and was about 10 feet from the fence when he lunged as high as he could, timed it perfectly and caught it with his back to the plate. It ignited us, and it just deflated them. They went from a serious rally to being done in a heartbeat."
That play loomed large as Shadyside's next two batters would single and walk. Troyer then got a harmless infield fly and a groundout to end the game, Yoder's sensational grab saving the day.
Hiland has played and won a pair of games at Canal Park in Akron, home of the Div. IV state championship games. The Hawks are hoping to slip through regionals and get another crack at playing at a field where they have played exceedingly well over the years.