Woods will become a Dragon after carving out her career at WHHS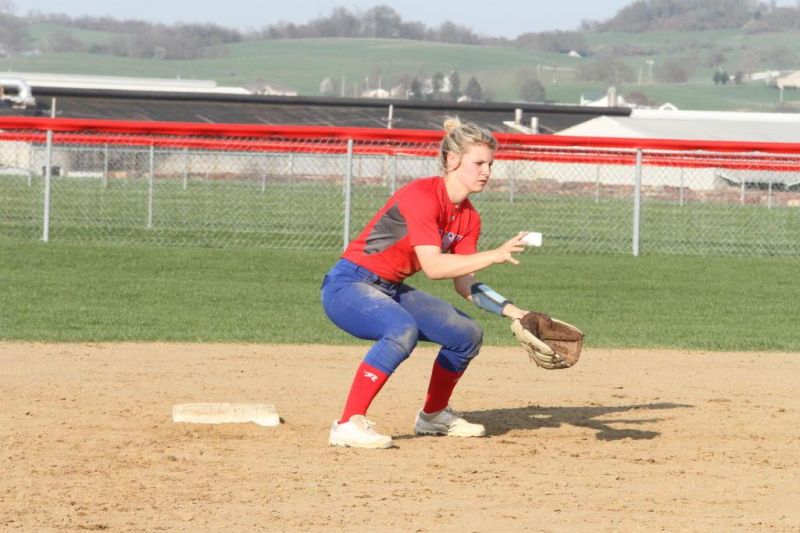 Maddie Woods is a dangerous softball player. Her drive, athleticism, and blend of speed and power make her a multi-purpose threat. She has put all of that together to build one of the greatest resumes in West Holmes High School softball history.
On Wednesday, Nov. 13 she celebrated with friends and family as she joined senior teammates Morgan Allen and Callie Cline in celebrating their college signings.
Woods could have taken her immense skill to any number of colleges, but in the end the allure of becoming a Dragon was due to the players themselves and the sense of camaraderie she felt from her very first visit moving forward.
"The program is unbelievable, and the girls there are awesome," Woods said of Tiffin's women's softball team. "They welcomed me right away. The coaches are like father figures to me, so the program was an amazing turn-on for me."
Woods said she has talked to the coaching staff at length about where they see her fitting in. Her main position as a Lady Knight has been as a shortstop, and she said that was where they told her they envision her playing, but because she is so athletic, Woods could slide into an outfield spot or play second or third, so just about anything is open for discussion when it comes to a spot.
"I am open to anywhere they need me to help the team," Woods said. "They have talked about me playing shortstop, but I will do whatever they ask because I am just excited about being a part of this program."
Going into her senior season, Woods has banged out a whopping 124 hits including 23 doubles, 14 triples and 16 home runs, meaning that 43 percent of the time she gets a hit, it's for extra bases. She currently has a career batting average of .473 with 127 runs scored and 76 runs batted in. However, her biggest asset is her speed, where she has terrorized opponents to the tune of 42 stolen bases over three years.
All numbers aside, Woods said she has been dreaming of the college game since she was little.
"I've been working toward this my whole life," Woods said. "I have always wanted to play college softball, and I am looking forward to it. It will be a shock at that level, but I think we will all get the proper training, and this group is more than ready for the next level because we've worked for it."
Woods will study sports management and said returning home is a possibility, but she is willing to go wherever a job would take her.
Woods said as she and her senior teammates gear up for their final year at West Holmes, they do so with great anticipation but with a little sadness, knowing this will be the final year of playing together after years of teaming up on travel teams and for the Lady Knights.
"Growing up with this group of seniors, we have been playing ball together since 8U and up," Woods said. "It's great to see us all succeeding and going to different places. It's been a dream for a long time."
Woods said the game has been a blast, amid sweat and tears and a lot of hard work. There also are the mental challenges of going through slumps and working to break out again, but she said through it all her teammates have been there for her and she for them.
"Things don't go right, and you have to keep pushing through, and these girls have always been there for me," Woods said. "Sometimes we will have a bad game and go to my house to hit for three hours. That is how we are made, and that is what we have learned to do to get better."
With the Dragons' current shortstop being a senior this year, it leaves the door wide open for Woods to step right in and make an impact for four years at Tiffin.