Youthful Hiland Hawks show signs of maturity in beating Titans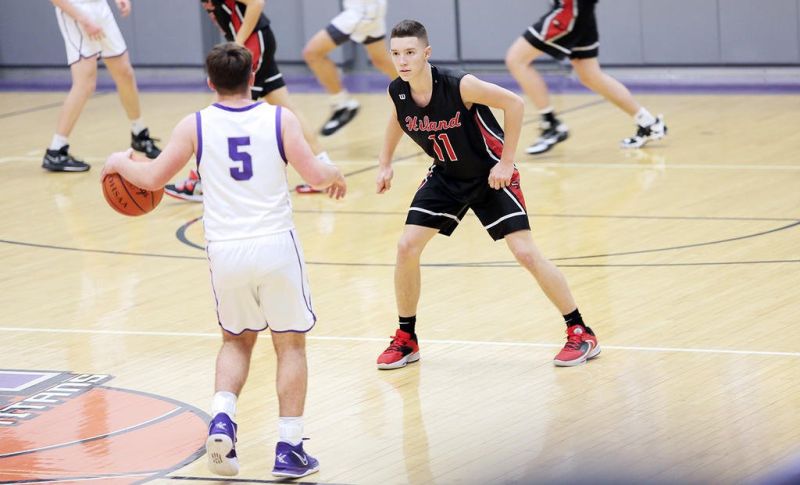 When the current basketball campaign began, Hiland had just one returning starter in Sammy Detweiler. Head coach Mark Schlabach was hopeful some new faces would emerge to fill key roles.
As the season reached its midpoint with a Jan. 10 trip to The Pit to take on an 8-4 Triway team, it was a bit of a crossroad moment for Hiland, especially with uncertainty surrounding Detweiler, who had suffered a badly bruised wrist two games prior.
After missing the game against Indian Valley three days earlier, Detweiler shrugged off the injury and suited up, and when his teammates realized he was back, they seemed exponentially inspired.
"I thought our kids battled really hard defensively, and that got our offense going, and then Sammy did his thing," Schlabach said. "Sammy is the emotional leader of this team. Tonight, when the kids saw he would play, it made a world of difference."
What resulted was a Hiland uprising that saw them seize control in the second half, with Schlabach utilizing a 10-deep rotation that flew all over The Pit on defense in a 53-34 victory.
"When your record is 6-6, kids can go one of two ways," Schlabach said. "They either give up on improvement or get desperate. Tonight, our kids played desperate basketball. I hope we are finally gelling. It was good to see."
With Hiland's depth and quickness playing a dominant role, the Hawks laid down some serious defense and quickly put a ton of distance between themselves and the Titans, and Hiland's depth paved the path to success as they continually harassed the Titans into numerous miscues and rushed shots that led to some easy buckets.
With the spirited play of his troops off the bench, it appears as though Schlabach is seeing his hopes come to fruition as players step up to fill much-needed roles.
After an early 6-2 Triway lead, the Red and Black pushed back and took the lead when Nick Wigton came off the bench to supply an offensive boost. His triple and drive shot the Hawks to a 13-8 first-quarter lead.
Hiland's depth and quickness continued to haunt the Titans as the Hawks inched to a 25-18 half-time lead.
After a stunning first half, the best was yet to come for Hiland.
Triway freshman Brayden Holt opened the third period with a pair of scores to close the lead to 25-22.
That would be the final highlight for the Titans. Several Hiland bursts would highlight a nearly perfect second half for the Hawks. The first came with 3:57 left in the third quarter. Hiland hadn't scored over the first four minutes, but that changed in a hurry when the Hawks reeled off 12 unanswered points led by Alex Miller and Alex Yoder.
That was just the beginning.
A Detweiler steal followed by a Yoder dunk made it 29-22. Miller's three free throws and his trey and Phin Killy's driving score pushed Hiland to a 37-22 lead through three quarters.
Then Detweiler simply took over.
The ultra-smooth junior guard executed consecutive drives to start the fourth quarter, quickly adding a jumper and two 3-pointers, and suddenly, Hiland's lead had bulged to 49-28. Titans' leading scorer Zach Miller hit two free throws, but Wigton finished off two straight fast-break scores to make it 53-30, and it was time for both coaches to empty the benches.
The offensive output was directly related to the intense defensive pressure the Hawks laid down, smothering Triway and making life miserable for the Titans.
"We had Phin Killy on one of their top scorers in Brayden Holt most of the game, and he did a nice job again, "Schlabach said. "(Phin) is pretty physical and probably our best athlete. Then Sammy went toe to toe with Zach Miller and pretty well neutralized him."
The big advantage aside, what really pleased Hiland's head coach was the way he got contributions across the board.
The speed and quickness of Detweiler, Killy, Carson Habeger and Alex Miller highlighted the style of pressure defense Schlabach has built his program around and found success.
"Connor Beachy had a great game," Schlabach said. "Jack Hershberger gave us a tremendous first half when Alex got in foul trouble. Nick Wigton gave us a tremendous game."
Schlabach said in giving many players the opportunity to contribute, the first half of the season should pay dividends over the second half and into tournament play.
"The guys were locked in tonight," Schlabach said. "We can play that tenacious style of defense when we have 6-foot, 7-inch Alex Yoder to protect the rim."
Detweiler scored 20 points to pace the Hawks while Wigton added a career-high 17. Zach Miller led Triway with 13 points.