Enchanted Forest makes learning just like magic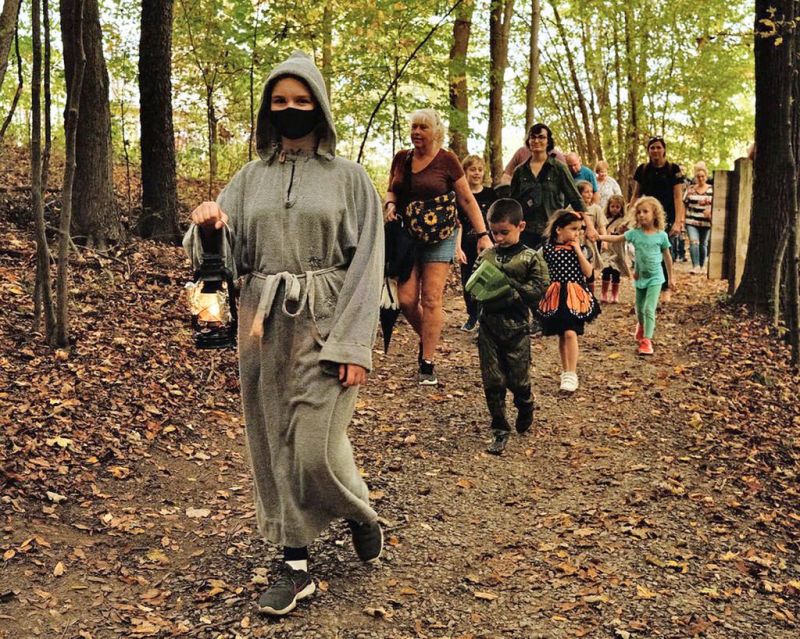 The trail at The Wilderness Center will be turned into a magical forest during its popular Enchanted Forest event Oct. 7 at 6:30 p.m. and Oct. 8 at 8:30 p.m. Volunteer "fireflies" carrying lanterns will lead families along the pumpkin-lit trail through the woods where delightful characters await to share stories of life in the woodlands.
"Mouse will tell you how she has to rebuild her house sometimes because creatures get into her home and she has to rebuild it," said Tiffany Leeper, development coordinator for TWC. "Possum brags about his kids, how much he loves them and all of the ways that he and his partner take care of their little possum pack. They're kind of like little skits."
Lest you be lulled into a cuteness overload, be aware: These costumed characters have important lessons to impart about nocturnal species and the interconnectedness of all life.
"For instance, Salamander talks about how he can absorb pollution through his skin," said Leeper. "So he tells everyone how important it is to keep our waterways safe and how families can do help do that. I's a wonderful connection, because children are actually seeing how their actions will impact this specific creature in the forest. As adults, it's easier for us to see how this happens. But with children, having a person dressed up as a salamander explaining what you can do to help him really makes a big impact."
Hikers will also meet Spider and Tree Frog along the way. Afterward, refreshments will be served, and the astronomy building will be open, where a powerful telescope brings faraway stars closer to earth.
According to Leeper, the length of the trail is less than half a mile and the entire trip through the forest takes about 45 minutes. Leeper said they recommend not using strollers on the trail during the evening event on Sunday. Children may wear non-scary costumes to the event, if desired.
Leeper offered a few additional tips including:
—dressing for the weather
—wearing comfortable shoes
—taking younger children to the afternoon event on Saturday, as some children may become frightened in the dark forest.
"I do want to stress, though, that this is not any in any way a Halloween event, so there's nothing spooky about it," Leeper said.
The cost to attend is $10 per person, with children age 2 and under free. "This is a fundraiser for all of our educational programs, and we do offer those programs for free," Leeper said. "Attending this event helps us provide out programs for free for people of all of all ages to enjoy."
Volunteers still needed
Leeper said the center is still in need of volunteers for the event. "Being a firefly and leading the group out on the trail is really as easy as carrying a lantern and making sure everybody stays on the trail," she said. Volunteers also are needed to help with refreshments and to carve pumpkins.
Leeper said a number of young people are volunteering. "Actually some of our characters this year are being played by high school students who have come to this as kids."
The Wilderness Center is located at 9877 Alabama Ave. SW in Wilmot. Hours of operation are Tuesday through Saturday from 9 a.m. to 4:30 p.m. and Sunday from 11 a.m. to 4 p.m. A list of clubs and a full calendar of events can be found at wildernesscenter.org.