New members added to Hall of Distinction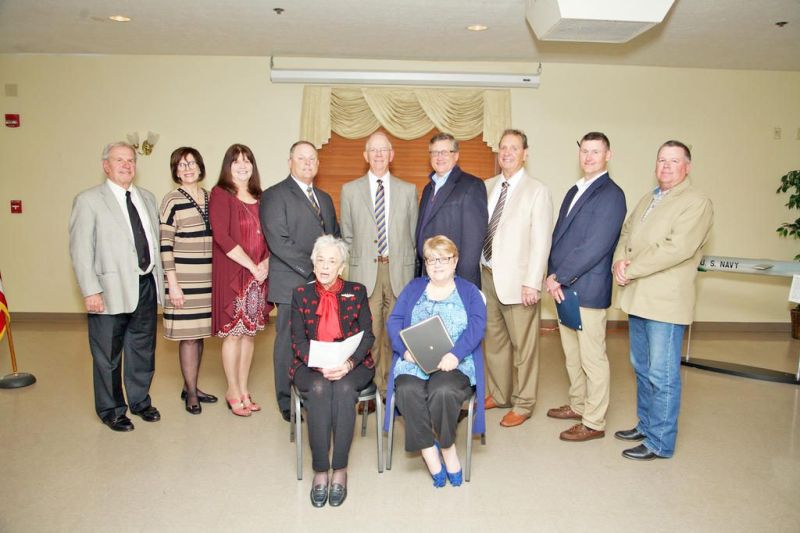 When the Dover Historical Society created its Hall of Distinction six years ago, its goal was to honor individuals from the entire spectrum of human endeavors, the common bond being Dover.
The class that was inducted into the Hall of Distinction on April 28 at the Tuscarawas County Senior Center was another example of that goal. The class of five individuals included a military man, a sports person, an environmentalist, a business man/politician and a man who dates back to the time of Jeremiah Reeves.
James Rees was a co-worker of Reeves and helped him with all his business dealings. Accepting the induction honor on his behalf was Patty Feller, who noted that beyond the business help Rees gave Reeves, he also did all the woodwork in the Reeves home.
Eugene "Cheese" Hanhart was a Dover businessman who for a period of time was the chairman of the Ohio Democratic Party. His grandson, Dave Hanhart, thanked the DHS for the honor and also congratulated all the other inductees. He said his grandfather's two passions were politics and Tuscarawas County. He told a few stories of a time when civility and respect were shared between the two political parties.
Nancy Yockey Bonor thanked everyone for the honor given her brother, Capt. Harry Merwin Yockey, Jr. He not only had a distinguished military career, but also was instrumental in developing the Tomahawk cruise missile program.
Norma Johnson was inducted because her gift to the area of a conservation center has increased the interest and knowledge of countless people in the environment.
James Render, whose 400 victories coaching high school football places him in the top 25 of high school football coaches of all time, accepted his award himself. He said he always felt lucky to have grown up in Dover. He mentioned many people who mentored him in his youth and said, "Many of them are on this list," referring to the list of past inductees. He said no award will mean more to him than the one from his home town of Dover.
At the end of the ceremony, a Person of the Year award was presented to Jim Gill, director of the Dover Public Library. This was the first time for this award. It developed from a discussion about individuals from Dover who accomplished something special during the past year.
Gill had conducted a fundraising campaign for several years and then in the past year took that money and renovated the interior of the Dover Public Library.
The award will only be offered when the Dover Historical Society deems it appropriate.
Over 50 people attended the sixth annual induction ceremony, which brought the total number of honorees to 35.