Triway bowling teams want to keep success rolling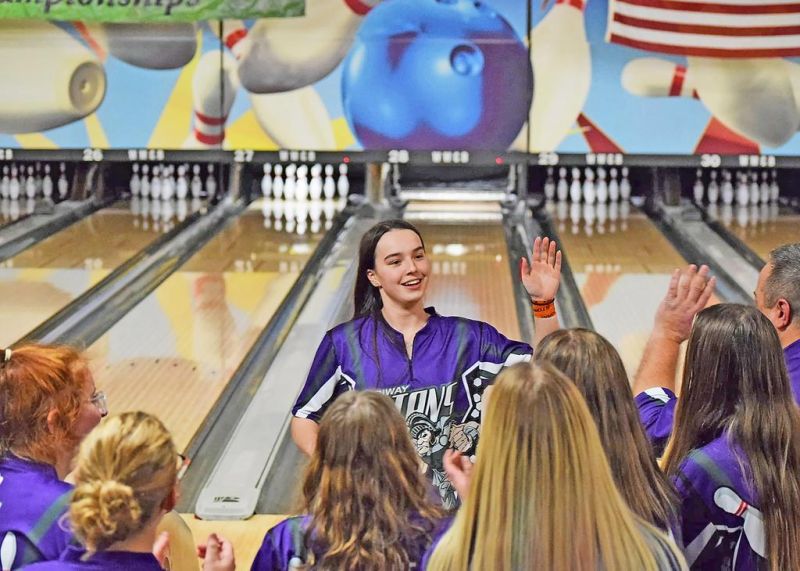 Since bowling became an official OHSAA sport in 2007, Triway High School has made its mark statewide on both the girls and boys side.
Last year was no different. The Titan girls finished fifth among Ohio's Division II schools, and the boys were seventh. Both squads have plenty of pieces back to make another run to state this season.
Girls
Two years ago the Titan girls claimed the ultimate prize, capturing the state title, while Emma Yoder set the Div. II state individual record with a score of 718 to win the individual crown.
Yoder is back to cap her career — she was eighth last year and earned second-team All-Ohio honors — as is senior classmate Addy Meshew. All Meshew did at the 2022 state tourney was roll a 663, the seventh-highest three-game series in Div. II girls bowling state tournament history, to place second as an individual and earn a spot on the All-Ohio first team.
Although coach Corby Anderson lost four letter winners from a year ago, Yoder and Meshew give him a pair of pillars to build on his four-year record of 57-7, including 38-1 in the Stark County Conference.
"Our two seniors will be our strong spots on the team," said Anderson, whose Titans were 16-2 overall last season and a perfect 10-0 to win the SCC National Division title. "Addy averaged 197 last year and could be nine to 10 pins higher this season. Emma averaged 214 last year and should improve by maybe five to six pins this season."
A third returning letter winner is Kennedy Finley, a junior Anderson expects to improve on her 171 average last season, and he named freshman Raya Fiesler and junior Dana Armstrong as varsity newcomers with promise.
The goal, he said, is to go undefeated and win the SCC National Division title again.
"Keeping our concentration and focus will be our strength, and teaching all the newcomers that same thing will be the key to our success," Anderson said. "We still have a strong core, but with losing two 2-year starters, it will take a couple of the newcomers to step in and give us a solid seven to eight bowlers."
Boys
Veteran Triway boys bowling coach Vince Yoder had a squad full of veterans on his team last year too, one which he steered to a seventh-place finish at the Div. II state tournament.
With a career record of 169-29, which includes a 114-11 Stark County Conference mark, Yoder is counting on that tradition to help this year's team grow up quickly.
"We lost a lot of experience with seven seniors graduated," Yoder said, "but we do, however, have some key parts of the team that remain. That will be important when building a solid foundation for this year's team.
"Sometimes the newness of going to varsity is a good thing. I think there will be some nerves, but the new athletes will fall into place and follow the three core members of our team returning from our state run last year."
A year ago the Titans went 17-1 overall and ran the table in the SCC National Division at 10-0.
And despite the graduation losses, Triway's top bowler Aeron Meshew is back for his senior season. "He has lots of experience and has been our best player since he was a freshman," Yoder said of Meshew, 17th in the state as an individual last year.
Also back are senior Owen Fiesler, a starter since his freshman year, and junior Max Fiesler. Expected to make contributions are senior Jacob Yoder, junior Zach George, sophomore Jonathon Eikleberry and freshman Davin Merckle.
"(We'll have) inexperience, nerves, but that won't last too long. Learning as you go along sometimes makes it all work out," Yoder said. "I believe we will win the (conference) again this year. We have a long legacy, and the boys want to continue it."