Unexpected crew pushes Hawks through to Div. III golf district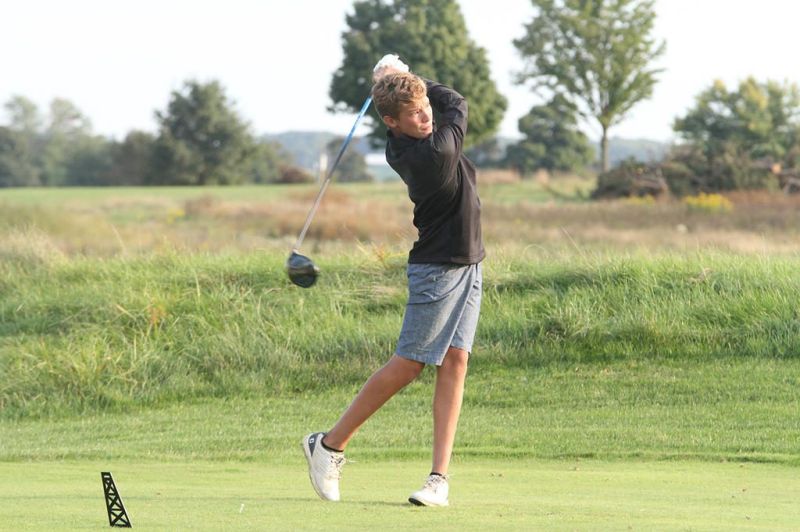 With four of their top-six players returning from a Div. III state championship last season, the Hiland Hawks golf team was more than ready to try to defend its title this year. In a season full of fantastic finishes and great performances from both individuals and the team, the Hawks were poised to go into sectional tournament play with their eyes on the major prize again.
Then something very unforeseen struck and put all of that in danger.
Several days before the sectional tournament was slated to take place at Cambridge Country Club on Wednesday, Sept. 30, three of Hiland's top-four golfers were forced into quarantine because of their proximity to a classmate who had been diagnosed positive with COVID-19.
The news was devastating to players Carter Mishler, Brookston Hummel and Garret Shoup, who play the one-, two- and four-man roles, respectively, for Austin Kaufman's crew.
"There were real tears from these guys," Kaufman said of his players. "I know how much work they have put into this game and how important getting back to state and defending their title meant to them. It was heartbreaking."
The trio was forced to sit at home and wait, an agonizing wait, as their inexperienced teammates were asked to step into the spotlight and keep their hopes alive.
All those reserves did was step up and grab the runner-up spot with a score of 359, easily making it into district play.
Led by Kenny Weaver's medalist round of 73, the young Hawks played their way into districts. With the quarantine expected to be lifted on Monday, Oct. 5, the trio of Hawks are expected to return to play in districts at full strength as they receive the expected bill of clean health.
Joining Weaver, who usually plays number three, on the course in Cambridge were usual five-man Nathan Kline, six-man Lucas Yoder, and junior varsity players Monty Coblentz and Christian Miller.
Kline fashioned an 89 while Yoder's 99 and Coblentz's 98 stabilized the team score and pushed the Hawks to a runner-up spot.
Kaufman said watching all of the players step up and face the pressure they were under was amazing, and it all began with Weaver, who played number five on last year's team.
If anyone was wondering about his resolve to play under pressure, they need not wonder any more.
"That kind of score, under that kind of pressure and with the wind blowing like it was, was absolutely phenomenal," Kaufman said of Weaver, who was one of only two players to post a score in the 70s. "That's such a big score and showed all kinds of guts and leadership on Kenny's part."
In true Weaver fashion, Kaufman said his medalist was calm, cool and collected all day and even after it was all over and the team had advanced.
"You could tell he was feeling the weight being lifted afterward," Kaufman said. "He was all smiles, but he wasn't emotional, and that is Kenny."
As for the youngsters, Kaufman couldn't have asked for more than what they gave.
Kline has been improving all year and has posted consistently solid numbers as the Hawks' five-man. He did what was expected.
Yoder has played in a couple of tournaments that saw six players allowed to play, so it wasn't new to him. As for Coblentz, who is basically in his first full year of competitive play, it was an inspiring effort.
"This was his first varsity experience, his first real test under this kind of pressure," Kaufman said of Coblentz, a junior. "To play an 18-hole varsity tournament with all of the sectional pressure on and knowing we aren't moving on if he doesn't shoot well, that's a lot of pressure to face."
Kaufman said Coblentz has been shooting a tick under 49 during his JV matches, so the pressure didn't change anything in his game.
While none of the understudies will likely see action again this season and there will be no postseason awards for them, they know their role in the team surviving to play again, and so too do the trio of players who sat at home and waited for the results.
Kaufman said the trio of quarantined players know they have been presented with a golden opportunity thanks to their teammates, and he said they are ecstatic to be able to play again after sitting on pins and needles all day.
"Carter called me, and I could tell he was beaming," Kaufman said. "They understand what these guys did for the team today. All of these kids have put so much effort into this game and have worked incredibly hard on their games. It would have been tough to see it slip away without getting an opportunity, but these guys made sure we had that opportunity by stepping up when we needed them to. I'm sure it's something they won't forget any time soon."