Wooster High AD now has 'great feel' for district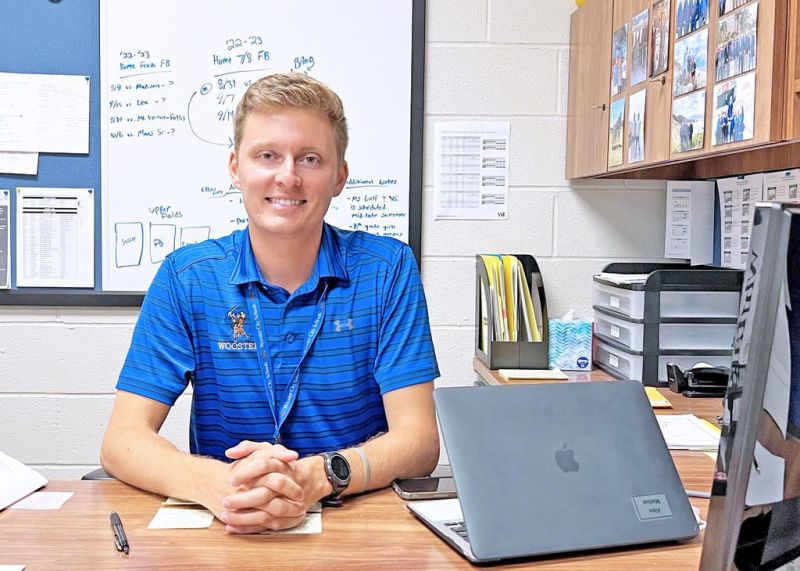 The Wooster athletic department is in a good place entering the 2022-23 school year.
The Generals are coming off winning the Ohio Cardinal Conference All-Sports championship for just the third time since the league debuted in 2003-04.
The head coaches for all 27 varsity teams will return except for cheerleading, providing continuity and clear expectations. Erika Lemmon was hired as the new cheer coach.
And leading those coaches and overseeing the entire operation is recently named Athletic Director Alex Mallue, who's beaming with energy and enthusiasm.
Mallue, 27, is young to serve as the AD of a school the size of Wooster, but this will mark his fifth year as a high school athletic administrator. He was hired as the Wooster assistant AD in January 2021 and was named interim AD on Nov. 29. This past April, Mallue had the interim tag removed.
"I was extremely excited to take over as athletic director at Wooster High School," said Mallue, a graduate of Massillon Jackson (2013) and Seton Hall University (2017), where he ran cross country and track for four years. "I feel that having been here 1 1/2 years now — both working and living in Wooster — I have a great feel for our systems that are in place within the athletic department and our district. Our goal is to ensure that our kids have the best possible experience they can as Wooster Generals."
Everyone knows the last few years have been extra tough for athletic programs due to the COVID-19 pandemic. ADs also have dealt with referee shortages and the rising costs of many essential items, all while working within a budget.
Mallue thanked the Wooster City Schools Board of Education, Superintendent Gabe Tudor and Assistant Superintendent Brian Madigan for their support, along with fellow administrators Joe Rubino (assistant principal, former AD), Nate Steiner (current WHS assistant principal) and Eric Vizzo (2021-22 WHS principal, heading back to Cornerstone Elementary as principal). He's also looking forward to working with new Principal Scott Musser.
"From Mr. Tudor and Mr. Madigan, to our high school administrative team, to our athletic department and coaches, we have people who are creative, kid-first and extremely intelligent," Mallue said. "With a group like that, together we can effectively tackle challenges that come our way.
"I especially want to thank Mr. Rubino, who was instrumental for me as a mentor when I was the assistant AD. We have many great things going on within the district, and it's an exciting time to be an employee or a student."
The athletic department also includes recently named assistant AD John Myers and athletics secretary Angie French.
"John is a great addition to our team and someone who has a lot of coaching and administrative experience," said Mallue, who's enjoyed some vacation time this summer but also has been preparing for the upcoming school year. "A fun fact is that he was the position coach for Cleveland Browns cornerback Denzel Ward when they were both at Nordonia High School.
"Angie French is a superstar. Her work ethic and attention to detail are what keeps our department moving forward."
Mallue praised the Generals' coaching staff at length.
"Our coaches all lead with student-athlete well-being at the forefront," said Mallue, who earned a master's degree in sport administration at the University of Cincinnati while working as the assistant AD at Cincinnati Western Hills. "They are fantastic to work with and are always looking for ways to better themselves as coaches, which ultimately helps our student-athletes."
Mallue, who worked as the AD at Riverview East for grades 7-12 in the Cincinnati Public Schools district and was the head boys and girls varsity track coach for 2 1/2 years before coming to Wooster, wants student-athletes to have the best possible experience.
"Our goal is to make sure that they're out there having fun," Mallue said. "We tell our coaches that if our kids want to come back each and every day, then we're doing something right."
Mallue knows there will be ups and downs along the way, but even in times of adversity, he wants growth to occur.
"We certainly want to win, but that's not our main goal," Mallue said. "The wins will come with everything else we're trying to do. At the end of the day, coaching is an extension of the classroom, and the wins and losses are teaching moments."
Wooster teams always seem to be in the hunt for OCC titles, but the Generals have struggled to make runs in the postseason. A big reason is Wooster is small in terms of numbers for being Div. I in most sports — and small for Div. II in football.
Mallue believes the Generals' coaches are on the right track to improve playoff results.
"A lot of our coaches do a great job of scheduling harder, getting our kids to go up against those schools that they might play in the postseason," Mallue said. "We played Massillon in football, right?
"We lost 31-0, but after the playoff run (Wooster became the second team in school history to win two postseason games), if you had asked any of those kids, they'd all point back to that game and say 'that made us better.'"