Knights battle until the end in regional semi loss to Cougars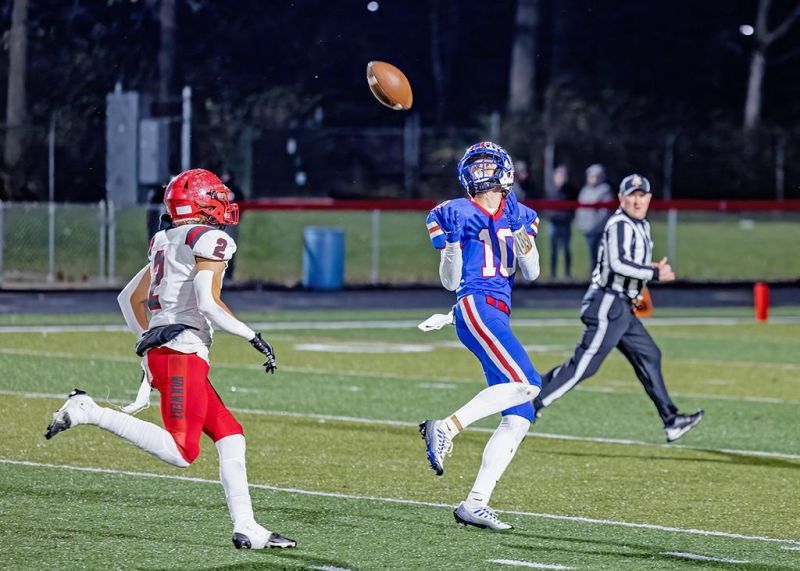 West Holmes found itself in some unfamiliar territory a few minutes into the second quarter of its Division IV regional semifinal football game.
The Knights trailed Van Wert by three touchdowns and had two choices at that moment: Keep fighting or give up.
They chose the latter and fought their way back to take the lead with just over five minutes left in the fourth quarter, but the Cougars responded with a touchdown of their own to pull out a 40-35 win on Nov. 12 at Harding Stadium in Marion.
"Our kids are never going to quit," Knights coach Zach Gardner said. "Obviously, we're not happy with a lot of the execution stuff that took place out here tonight, but never doubt our kids' resiliency and their toughness and willingness to keep on fighting.
"Being down 21-0 and then having the lead with five minutes to go in the game says a lot about our kids."
After falling behind by three touchdowns early in the game, West Holmes (12-1) faced an uphill climb the rest of the way. The Knights finally reached the top when Sam Williams-Dixon scored from a yard out. Their two-point conversion run failed, leaving them with a 35-34 lead with 5:11 left in the game.
Van Wert (12-1) started its ensuing drive on its own 21-yard line and quickly moved the ball down the field, as quarterback Aidan Pratt kept throwing quick passes to his receivers in the flats since West Holmes' defenders were playing off the ball. On the sixth play of the drive, Pratt threw a quick strike to Nate Phillips, who broke several tackles before racing down the left sideline for a 44-yard touchdown.
That gave the Cougars a 40-35 lead with just under four minutes remaining. They then opted to try a two-point conversion run but failed.
The Knights turned it over on downs on their ensuing possession, and Van Wert ran out the remaining time to secure the win.
Pratt paves the way for Van Wert
Pratt carried Van Wert's offense all game, making big play after big play.
The senior rushed for 106 yards and five touchdowns on 26 carries, with a lot of his carries coming between the tackles. He was also an efficient 30-of-39 passing for 283 yards and a touchdown with one interception.
Most of his passes were quick strikes to the flats. His receivers had plenty of room to operate after catching the ball because West Holmes played off coverage for most of the game. Cougars senior wideouts Maddix Crutchfield (11 catches, 81 yards), Phillips (9-129) and Garett Gunter (6-60) did most of the damage.
"We had a lot of execution mistakes," Gardner said of his team allowing Van Wert's receivers so much space to make easy catches.
Van Wert's 40 points were the most allowed by West Holmes' defense this season.
Mistakes prove costly
The Knights were their own worst enemy at times against Van Wert.
They had great field position late in the first quarter when Williams-Dixon intercepted a tipped pass and returned it to the Cougars 35. After picking up a first down, their drive stalled thanks to two penalties and a sack.
West Holmes had some momentum after scoring to make it 21-14 Van Wert midway through the second quarter. Its defense forced a punt on the Cougars' next drive, but Wolfe was intercepted around midfield on the Knights' first play of their ensuing possession. Van Wert took advantage of the miscue, as Pratt rushed for a 10-yard touchdown to extend their lead to 27-14 with a minute left until halftime.
West Holmes scored to start the second half, then forced a Cougars punt. That momentum was quickly erased, though, as the Knights fumbled the ball deep in their own territory on the first play of their ensuing drive. Pratt scored his fifth rushing touchdown of the game four plays later to make the score 34-22 Van Wert midway through the third quarter.
"I think a little bit (of this loss) is us," West Holmes junior Kyle Maltarich said. "I think we kind of beat ourselves. We had a bunch of turnovers and mistakes that we made. If passes are caught — I dropped a touchdown. If we hold onto the ball.
"Some things can be controlled by us. I think some of the turn out of the 35-40 them is on us."
Maltarich paces Knights' offense
Whenever West Holmes needed a big play, Maltarich rose to the occasion.
He finished with 12 catches for 209 yards and two touchdowns. His second touchdown catch was one of his most impressive catches of the season, as he ripped an underthrown ball out of the defender's hands in the end zone.
He ended the season with a single-season school record 21 touchdown catches. He also broke the single-season program record for receiving yards, finishing with an unofficial total of 1,344. The previous record was 1,182 yards, set by Brady Taylor in 2020.
Williams-Dixon paced the Knights on the ground with 83 yards and three scores on 27 carries, adding three catches for 47 yards, including an impressive 29-yard diving catch.
Wolfe completed 19 of 26 passes for 279 yards and two touchdowns with two interceptions.