Patrons can be creative at new Be Unique Studios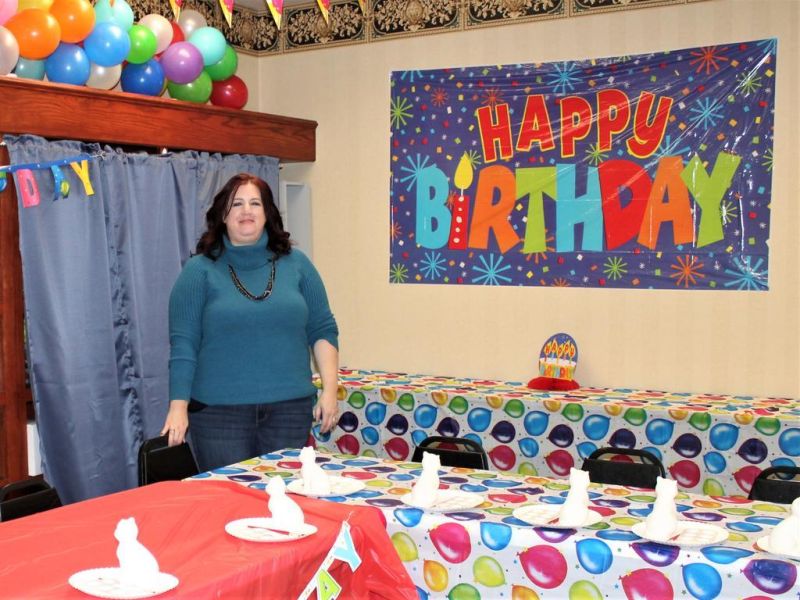 Be Unique Studios in downtown New Philadelphia is a place for everyone from children to adults.
"We offer a unique experience where you can come in and pick different things that you want to make," said Allison Mann of New Philadelphia, who owns the shop along with her mother, Pam Sitzlar of Dover. "We have tables that you can sit with friends and make things. Everything that we offer here, if you don't want to come in and do it, you can take it home. That's everything from ceramics to candles."
They also have many items suitable for wedding decorations and gifts.
The business opened in 2019 prior to moving to its current location at 123 W. High Ave. in New Philadelphia in the late 2020s. Sitzlar has been making candles for over 40 years. Her father, Ferrell Knotts, owned the Der Candlemaker shop. Mann worked for 20 years in banking but was a stay-at-home mom when they decided to start Be Unique Studios.
"We fell in love with (the business), the people, the kids. It's just so much fun. We go to a party every day, and we've made some really great friendships over the last couple of years with a lot of different families," Mann said.
They also love being in New Philadelphia.
"I had started working with a couple of the business owners downtown. Just the camaraderie has been amazing the last six months or so," Mann said. "I wanted a storefront where people could actually drive by, see us and find us. It's just been such a good move."
One of their most popular services is birthday parties for children. Parents can enjoy the party when they have it at the business.
"We do the party, and when it's done, they get to go home. We clean up the mess, so it's good for moms because as a mom I understand how much time and effort go into it," Mann said.
Be Unique can arrange for party food, usually pizza and cupcakes from local vendors, for the party, or customers can choose to bring their own food.
The cost of holding parties is based on the cost of the project selected. At a recent birthday party, the young guests painted ceramic cat figurines.
"We try to keep it in all price ranges. There are things that parents can come in and do with their kids for $5," Mann said, adding most kids' projects range from $5-$20. "We know how it can be, and we want you to be able to go do things with your kids."
Girls Night Out crafting events are popular, and another group has held Bible study while they are crafting.
Parties are usually booked a month in advance and can be booked on their Facebook page or by calling the studio at 330-340-3852.
Many customers enjoy the candle bar, which features everything you need to make your own personalized candle.
"It's been popular for the holidays," Mann said.
At the candle bar, customers have their choice of bases, more than 50 scents. Once candles are poured, they need to sit for an hour, but there are a lot of options while you wait including creating another project.
"We always encourage everybody to shop around downtown and go to the different stores while they wait as well. I love it; it's just really taken off," Mann said of the downtown area.
Mann is always amazed at individuality displayed by their customers.
"You can take 10 people, and the base project starts out the same, like the sleigh, and by the time it's done, you have 10 completely different projects. Everybody has their own vision, and I love seeing that," Mann said.
Crafts have made a big comeback over the last few years.
"I think people are just looking for an experience that they can get their hands on and do but not necessarily have to go out and buy all the different things that it takes to put a craft together," Mann said. "This way they get just what they need, and they can make it, be proud of it and show it off to their friends."
Mann thinks Pinterest has had a hand in the resurgence of arts and crafts because there are so many ideas to be found. If anyone would like to do a particular project, Be Unique can put it together for them.
Be Unique can easily supply you with art and craft kits to get you through this long winter season.
"That's the best thing about our to-go kits: you can order online, and we can deliver locally in Tuscarawas County for free," Mann said.
Curbside pickup also is available.
Some of the popular kits for kids are canvas art with the templates already done, tie dye masks and a large selection of ceramic pieces. They also offer bath bombs and bath salts, a winter fairy garden, and cloth animals that kids can stuff themselves. They also make collars for their new stuffed pets and even clothing.
Mann said the stuffed animals are as big and just as nice quality-wise as another popular stuffed toy store. "We can get costumes for them, and they can make shirts. They can stay right here in Tuscarawas County and not have to go anywhere else," she said.
Slime is extremely popular with children.
"We do slime with different themes for Christmas, Fourth of July and Valentine's Day. We're always making slime on different holidays," Mann said.
The studio also holds a summer day camp every Wednesday throughout the season with a different theme each week. Children can be dropped off for a half or whole day.
Be Unique Studio's hours vary. For January they are open Fridays from noon to 6 p.m. and Saturday from 11 a.m. to 3 p.m.
"As long as you're here by 6, you can craft until you're done, and the same thing for Saturday — as long as you're here by 3, you can craft until you're done," Mann said. "Any other time Monday through Saturday, we set up private appointments. If you message us or call us, we can meet you here at the scheduled appointment time. There's no minimum purchase that you have to buy to set that up, but we schedule you for at least an hour. It makes it easier for us to sanitize between people too."
For more information find Be Unique Studios on Facebook or online at www.beuniquestudios.com.