A delicious option: Tusky Deli is thriving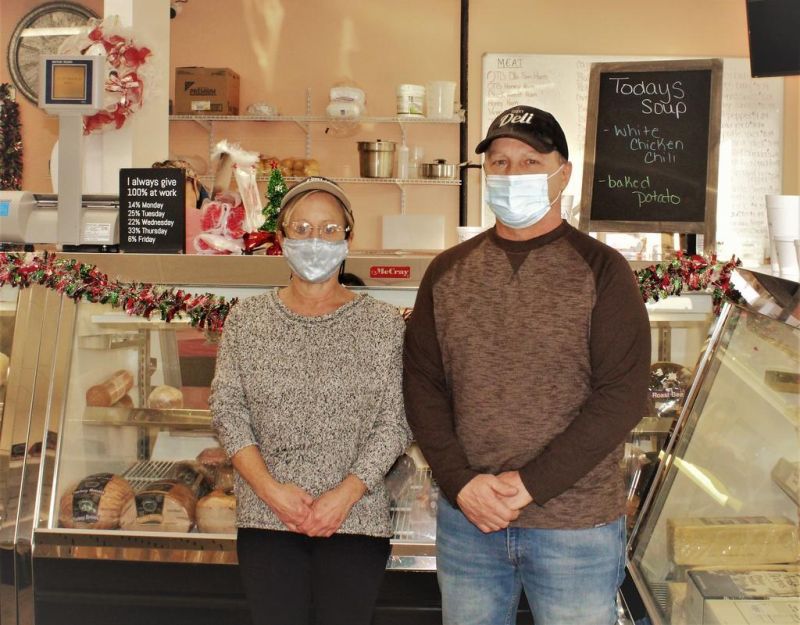 Owners Sherry and Tom Wallace always wanted to own their own business. They thought they would build a drive-thru in the Tappan Lake area, and then they discovered an empty building on Main Street in the village of Tuscarawas.
"Our realtor thought it had potential and wanted us to look at it," Sherry Wallace said. The building had formerly served as a restaurant and then an office.
The couple decided to open a deli based on one they enjoyed visiting in Amish country, and the work began. It was not easy and took a couple of years to get the building remodeled, get permits and be ready to open.
When the Tusky Deli opened in August 2019, it proved the community of Tuscarawas was a great place to do business.
"Everyone is so appreciative," Sherry Wallace said, adding they get many out-of-town customers as well.
"We have around 500 regular customers," Tom Wallace said.
Some have their standard orders that the staff members recognize when a customer walks through the door.
The Wallaces and their staff are happy when they can help others. The business provided supplies for the Indian Valley bag lunch program last spring and summer when the school was having trouble sourcing the items they needed. They also are a supplier for a popular burger restaurant in Uhrichsville.
Though business has evened out since the pandemic began, in March the Tusky Deli saw a huge increase in shoppers as people reduced their out-of-town shopping trips. It is easy to see why as the store carries many items that can easily be put together for a quick lunch or dinner. They also offer made-to-order or grab-and-go sub sandwiches, hot soups and salads.
The business carries items from Walnut Creek Foods. They offer meat and cheese trays and have a variety of frozen meats available from Sugar Valley Meats. They carry baked items from the Village Bakery and D'Orazio's and homemade Pies by April.
They also have unexpected off-the-shelf items like Weaver's Dutch Country Seasonings and jarred Walnut Creek sweet, pickled garlic and hot eggs. They carry a variety of canned goods and other items like pancake mix and pancake syrup, sugar, spaghetti and spaghetti sauce, noodles, crackers, and canned broth. They even have candles and homemade soaps.
Customers can feel safe shopping at the Tusky Deli; they pride themselves on keeping the store clean.
"We've always gotten 100% ratings from the health department," said Miranda Christmas, one of the Wallace's two daughters who works at the store. "It makes you feel good when the health inspector comes here for lunch."
They also keep the store well-stocked.
"We work hard at keeping this place filled," Tom Wallace said. "If we have to drive out for one thing, we'll do it."
The store is always trying new items. This year they are offering turkeys and spiral-cut hams for the holidays. All orders for new items they want to carry must be placed well in advance of the holidays. With specialty candies, they have already placed their orders for Valentine's Day and Easter.
"It's preorder, and if you don't order ahead, you don't get it," Sherry Wallace said.
They often ask their customers if they would be interested in a certain new product before they order it.
They track their inventory to make sure it is always fresh. "We try to keep our prices low, and we sell so much," Sherry Wallace said.
Usually, their orders come in on Monday, but some weeks they are so busy they need an additional delivery before the week is over.
Customer orders come in throughout the day.
"This place can really get crazy," Tom Wallace said just as the store phone rang again with another large order. The staff members were already working to prepare meat and cheese tray orders for the day. They prefer a 24-hour notice on meat and cheese trays if possible.
Also working at the store is the Wallace's other daughter, Danielle Wallace, as well as Missy Riley, Samantha Leddy and Deanna Blunt, who was hired shortly after the store opened.
The Wallaces are appreciative of their customers and the path that led them to open the deli.
"God blessed us, and we are very thankful for the community and our customers," Tom Wallace said, adding it is hard to keep a business going with all the overhead and day-to-day needs that must be looked after.
The couple has short- and long-range goals for the business. In January the Tusky Deli plans to start selling hand-dipped, old-fashioned homestyle ice cream. Customers will be able to order cones, milkshakes, sundaes, banana splits and flurries. They may add gelato too.
A long-range goal is to add on to the building and have more room to make their own home-cooked foods to sell.
The Tusky Deli is located at 200 N. Main St. in Tuscarawas. They can be called at 740-561-4062. The store is open daily except for Sunday, and they are currently operating on their winter hours, which are Monday from 10 a.m. to 6 p.m. and Tuesday through Saturday from 9 a.m. to 6 p.m. Follow them on Facebook for more information about the store.