Aultman honors women's board with sculpture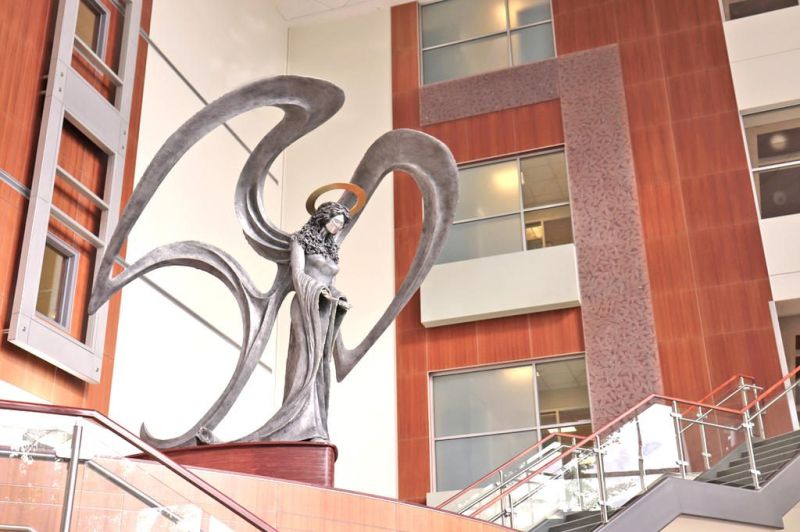 Aultman Hospital recently unveiled the latest addition to its Bedford lobby – an 8-foot angel sculpture – in honor of the Women's Board and its 50 years of fundraising efforts for Aultman Health Foundation.
Designed and created by renowned local artist David Jared McDowell, the sculpture is 8-feet tall with a wingspan that is 10-feet across. The angel's core is a welded steel armature surrounded by a high-density hand-carved foam, which was then coated in a special polymer shell. The final polished coating was brushed on as a liquid polymer mixed with pulverized aluminum metal powder. Accents on the face, hands and halo are 23K gold and silver aluminum leaf.
The sculpture is dedicated to the Women's Board of Aultman Hospital, which celebrated its golden anniversary in 2019. Founded in 1969, the Women's Board has led the fundraising efforts for Aultman Hospital, raising more than $28 million to date to support major projects for Aultman and the patients it serves.
The nearly 300 members of the Women's Board of Aultman Hospital raise funds through two annual major events: the Angel Auction and the Fashion Show, and through other third-party fundraisers. This outstanding group of women has helped to improve many areas within Aultman Hospital, not only providing new equipment to a variety of programs, but also developing new infrastructure.
McDowell spent more than a year designing and creating the sculpture. He is a visual multi-medium artist and owner of Burnt Marshwiggle Studio LLC, specializing in sculpture and leaded stained glass. He has a bachelor's degree in ceramics from Indiana Wesleyan University, with special independent study in sculpture and stained glass, and has undergone post-graduate studies in art education, as well as studies overseas in art history and photography through Kent State University. His studio at the Hub Art Factory is located in the Downtown Canton Arts District, where he has worked and resided for 10 years.
"I was thrilled to be asked to create this wonderful sculpture," McDowell said. "I hope that it contributes to an uplifting atmosphere in the hospital. A few people became very emotional upon her installation, and that was about as high of a compliment as I could ask for."