Deco-Crete recognized with Community Impact Award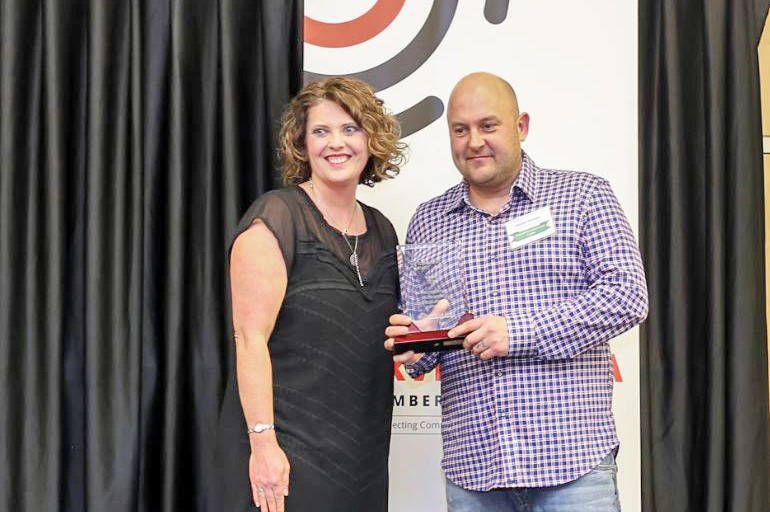 The Orrville Area Chamber of Commerce's Vince Tricomi, 2019 chamber board chairman, introduced the Community Impact Award at the 103rd annual dinner and awards program on March 28.
"The Community Impact Award recognizes the outstanding contributions made by chamber member businesses that make our community a great place to work and to live," Tricomi said.
Three finalists were presented to the audience with an explanation of the community contribution for which they were nominated.
Finalist number one was Deco-Crete Supply, a concrete contractor supply store located in Dalton, Cleveland and Columbus. Deco-Crete Supply made an impact through its involvement with Patios for Patriots.
Patios for Patriots is a nonprofit organization that gives back to those who have given their all by donating materials and labor to design an outdoor living area for veterans.
Deco-Crete encourages their employees, contractors and business partners to volunteer on patio projects.
The University of Akron Wayne College was recognized as finalist number two for its involvement with hosting and coordinating the Wayne County Mini Maker Faire.
The Wayne County Mini Maker Faire has been described as "the greatest show and tell on Earth." It is part science fair, part county fair and part something entirely new. It is a celebration of the Maker Movement that gathers together tech enthusiasts, crafters, educators, tinkerers, food artisans, hobbyists, engineers and artists.
In 2018, 100 makers came to show their creations and share what they have learned with more than 1,300 attendees of all ages. UA Wayne College faculty, staff and students along with community members volunteered to coordinate the free community event.
The third finalist was Venture Products, a tractor manufacturing company in Orrville. They manufactured the Ventrac and Tilmor product lines.
Venture Products was recognized for its involvement with Orrville Firefighters Fire in the Sky Softball Tournament.
Venture Products donated a vast array of tractors, ball groomers, turbine blowers, front-end loaders and other equipment to maintain 11 ball fields for the seven-day tournament. The tournament also benefited from Venture Products expertise for developing an equipment plan for next-level playing fields.
"Because of the great support the tournament receives from Venture Products, our tournament has grown to be one of the top destination tournaments in the country," said Chris Bishop, Orrville Firefighters Association. "The economic impact of the tournament is estimated at $4-6 million each year."
Deco-Crete Supply was selected as the Community Impact Award winner by a live vote from the audience.
The chamber recognized Deco-Crete Supply with a trophy and a cash prize of $250 to be donated to Patios for Patriots on their behalf.
The Orrville Area Chamber of Commerce is an essential resource for its members and the community. By promoting active engagement, the chamber's network empowers members to achieve their goals.