Tignor's does it best for hardware, handyman services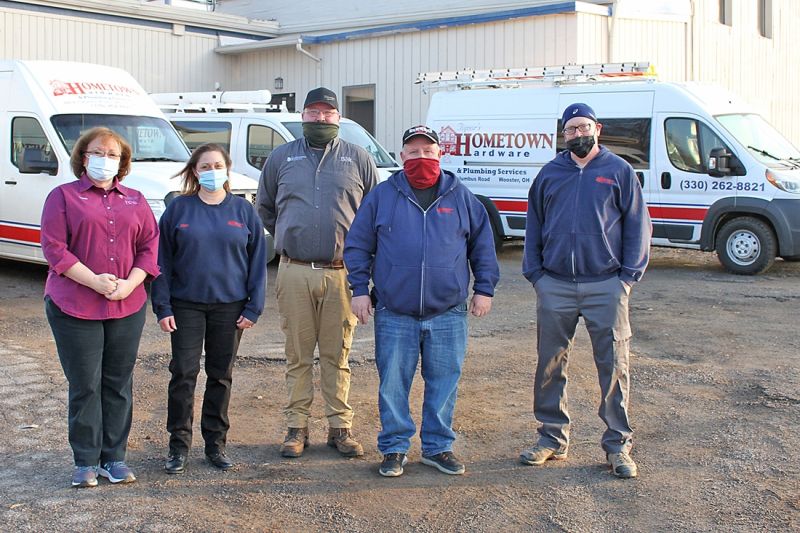 At the family-owned Tignor's Hometown Hardware and Plumbing Service in Wooster, "Customer service is not a department; it's a philosophy," said Matt Tignor, co-owner.
The Tignor family has offered top-quality customer service to the Wooster area community since Matt's mother, Lorrie, and her late husband, Michael, purchased the store 18 years ago.
"We've been here for a long time, and we're going to be here for a long time to come," Lorrie Tignor said. "We are here to help the people in our community."
Along with the retail hardware store, Tignor's offers plumbing and convenient handyman services that cover anything from painting to installing ceiling fans and light fixtures to patching drywall to outdoor power washing.
"We've gone out to change light bulbs in high places and have moved furniture," Matt Tignor said. "We handle just about anything that somebody may not be able to do by themselves. If we can't do it, we can refer you to another trustworthy local family business."
Tignor's plumbing service — which includes four plumbers with more than 90 years of combined experience — is licensed, bonded and insured, said Matt Tignor, a licensed plumber. "We do everything from commercial work to residential water heater installation, service line repair and simple leaking faucets and toilets and everything in between. With many people wisely investing stimulus checks into their homes, we've been doing bathroom remodels —installing new tubs, showers and fixtures."
Matt Tignor said he learned the trade by working with Jim Retzler, a master plumber whose family sold the business to the Tignor's.
"Including the Retzlers, we've been plumbing in this community since the early '80s," Lorrie Tignor said. "Jim stayed on with us after we acquired the store. Matt worked underneath him and was able to sit and pass his license to become a licensed technician soon afterward."
Because of its large inventory of hardware in the store, Tignor's offers a wide variety of parts and accessories — and it can save customers a significant amount of money.
"There are no additional mark-ups on parts when we come to your home," Matt Tignor said. "The price on the shelf is the price you pay. Our philosophy is to be completely transparent about our pricing and service rates. There are no surprises with us."
Tignor's membership in the Do it Best buying cooperative also provides a price advantage.
"If you're looking for something special or you're doing a larger project, I can go right to the manufacturer and with the all the buying power of Do it Best behind us," Matt Tignor said. "We carry a large inventory at the store, but the Do it Best catalog gives us access to more than 76,000 items. The Do it Best regional warehouse is located a half-hour away in Medina, so we can get special orders very quickly."
In the store, Lorrie Tignor said, the personable and knowledgeable sales staff is part of what makes Tignor's stand out from national home-improvement chains.
"We strive to greet you when you come in the door and offer assistance on products and services that will make your life easier," she said. "And even though we're only 5,000 square feet, we carry most of what you would need. If we don't have it on the floor, we will order it for you. Or you can go on our website and order from there 24 hours a day, pick up your order at the store, and you won't have to pay for shipping. We have a lot of convenient options."
Customers who are wary about shopping in person can phone in their list and a friendly Tignor's team member will bring it out to their car, Lorrie Tignor said.
You can request plumbing or handyman services online at HometownHardware.DoItBest.com or by calling 330-262-8821. Tignor's Hometown Hardware is located at 160 S. Columbus Road in Wooster. Store hours are Monday through Friday from 8 a.m. to 5:30 p.m., Saturday from 8 a.m. to 4 p.m. and Sunday from 11 a.m. to 3 p.m. You can visit Tignor's on Facebook @hometownhdw. This story has been underwritten by Tignor's Hometown Hardware.