It's ok to talk about it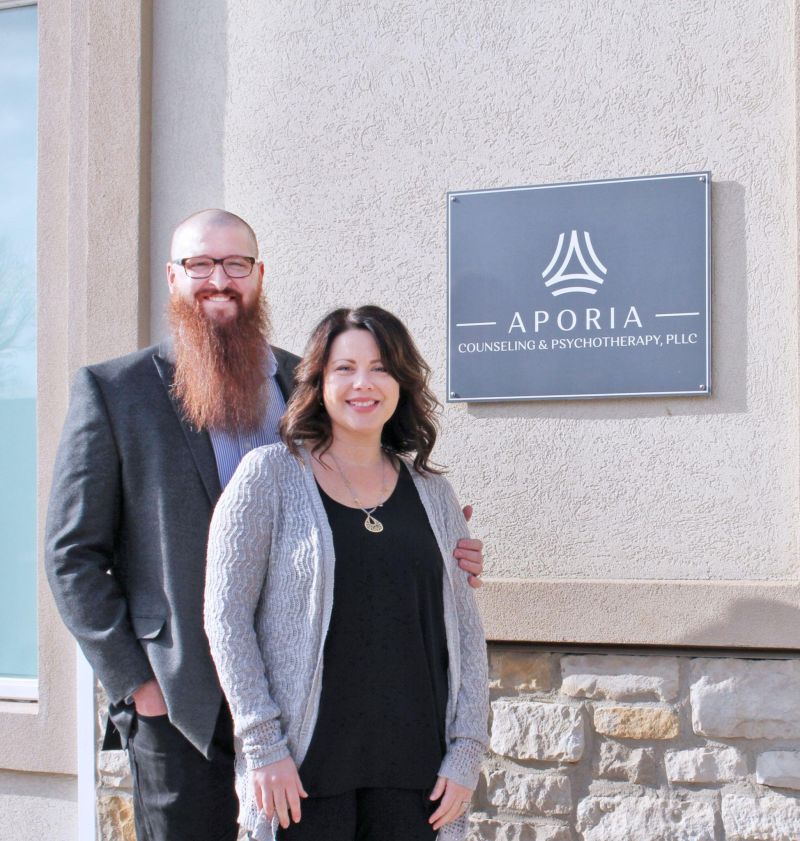 While living in Virginia, Drs. Nate and Kristy Koser often received phone calls from their hometown friends and family in Holmes County, seeking referrals for local counseling services.
Now they don't have to call long distance. They can just make an appointment at the couples Aporia Counseling & Psychotherapy PLLC.
"We're happy to be home," said Kristy, who, like her husband, is a Licensed Professional Clinical Counselor.
The Kosers, natives of Holmes County and graduates of Hiland High School, returned in June, bringing their practice with them to Sugarcreek. They opened their new Berlin office on Jan. 1.
Nate Koser counsels patients dealing with a wide range of clinical issues including, but not limited to addiction, trauma and severe mental illness.
"Working with veterans has become an important part of my work," Nate Koser said. "Another unique aspect of my work has been offering treatment to those suffering from psychosis in an outpatient setting. People with psychoses are generally treated in inpatient facilities or state hospitals, but I have had the opportunity of working with them one-on-one in settings, which do not require these individuals to be transported from their own communities."
Kristy Koser specializes in couples' therapy and fertility counseling. She was Ohio's first practitioner of Emotionally Focused Therapy and is now the only certified EFT supervisor in the state.
Kristy Koser said EFT is a theory that focuses on the deeper emotional causes of marital distress, rather than only treating outward behaviors.
"EFT is basically a way of working with couples that focuses on creating stronger bonds," she said. "Most couples therapy models focus on the idea of better communication, but what I have found to be most effective is to actually identify and talk about the emotions that cause certain behaviors instead of only focusing on the behaviors themselves. When we identify the emotions that fuel behaviors, we can help couples create better connection and feel closer in new ways. It's a very well-researched modality that I have found to be tremendously effective."
Kristy Koser has presented on EFT at numerous professional conferences around the world and has been a trusted consultant to other therapists wanting to know more about EFT. She also hosts couples retreats, presents on the interplay between attachment theory and emerging leaders in the workplace.
Even while the couple dated in high school, Kristy Koser knew she wanted to study psychology. Nate grew fond of the profession while he and Kristy Koser studied at Eastern Mennonite University in Virginia's Shenandoah Valley.
"Growing up in a family business, I was always weighing whether to major in business or major in psychology," Kristy Koser said. "I decided to take classes in both, and I really liked psychology. So I went the psychology route and minored in business. From there I knew I wanted to do counseling and clinical work."
Nate Koser started off as an English major. "I decided to take a couple of psychology courses and began to realize that I really liked it," he said.
Nate Koser later went into a graduate program associated with EMU. Upon graduation, he began and later finished his doctoral degree in psychology from Saybrook University. While in doctoral school, Nate Koser also began his training in psychoanalysis, and after the past decade, he continues this training today.
Since graduation, the Kosers have spent a busy 11 years practicing in Virginia. While practicing, Nate Koser served as a graduate faculty member at EMU, training future mental health clinicians. He has also contributed to the field through scholarly writing, professional presentations both domestically and internationally, and in inter-professional collaboration regarding supervision and consultation.
While in practice with her husband, Kristy Koser found herself gravitating toward couples' therapy. After training in EFT, she pursued her doctorate degree, receiving it in 2018 from James Madison University in Virginia.
Meanwhile, the birth of their daughter stoked their desire to move back home.
"We really missed our family and wanted our daughter to grow up around her cousins," Kristy Koser said. "Coming home has allowed us to return to a slower pace of life and come back to our roots."
Nate Koser said they also came to realize from talking with family and friends that Holmes County residents were under served in counseling services.
"There are some agencies that do great work, but there is a large need in this area," he said. "We felt that being reunited with our families and also being able to be a beneficial resource for our community made moving back a very easy decision."
Aporia Counseling and Psychotherapy's new office is located at 5555 County Road 203 in Berlin. You can make an appointment by calling 330-231-7280. You can find more information about Drs. Nate and Kristy Koser at AporiaCounseling.com.