Making the connection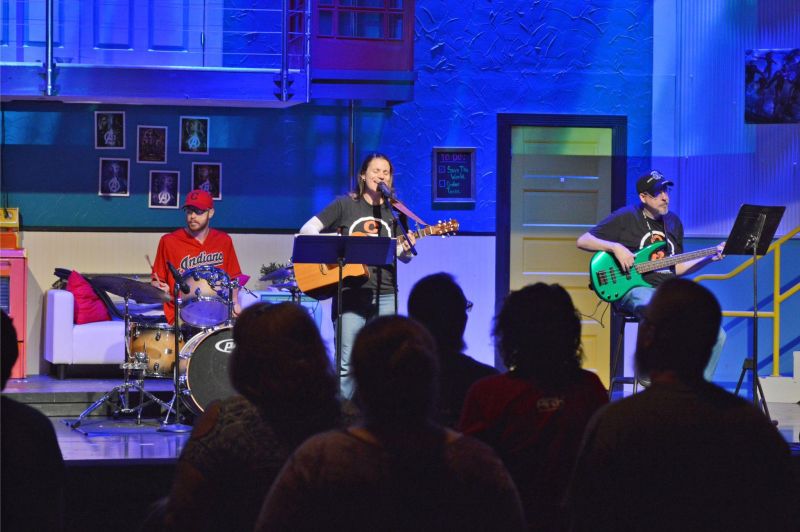 People want church life to be relevant to their everyday life," said Elizabeth Lauber, the Care Network Director at NewPointe Community Church. "In everyday life, we are faced with challenges — it doesn't matter who you are. As a church, we want to be supportive."
That's why NewPointe has a number of support groups available to help people cope with the obstacles life throws at them. As a nondenominational Christian church, NewPointe's focus is on leading people to realize and reach their full potential in Jesus Christ. Its groups, Lauber said, are open to the entire community.
GriefShare
"People who have experienced loss, whether it's the death of a spouse, a child or a loved one, experience deep hurt. It doesn't matter if the loss was recent or some time ago. Anyone struggling with grief from the death of someone who was important to them needs help overcoming that grief," Lauber said. "It can negatively impact their life."
Lauber leads this particular support group, having experienced loss herself. "The church offers the hope that you might be able to see your loved one again," she said.
DivorceCare
This group offers help for people who have become single without children or have become single and are parenting. "We offer help, hope and survival tips for navigating the unique challenges of being single again," Lauber said.
DivorceCare 4 Kids
Open to children age 5-12, this group helps children navigate the complexities divorce can bring. Whether it's living in two different households or feeling the loss of the parent who is no longer in residence, DivorceCare 4 Kids can help them cope with their emotions.
FASN (Foster, Adopt, Special Needs)
This group is for any parent who fits into one of the above-mentioned categories. "Foster parents, adoptive parents and parents of special needs children can feel very isolated," Lauber said. "This group offers the opportunity to connect and feel encouraged."
Single and Parenting
Whether you've always been a single parent, your spouse has died or you've divorced, this group offers practical support for navigating the challenges of single parenting.
Post-Abortion Support Group
This confidential group offers women the opportunity to heal from their emotional pain. "They may never have dealt with it," Lauber said. "Some feel tremendous guilt. There is no judgement about whether abortion is right or wrong. A lot of times it's a painful secret. We're here to help people let go of that pain."
Celebrate Recovery
For any habit or hurt you have, Celebrate Recovery can help with anything you want to overcome. "People see this as a drug and alcohol addiction group, but it's much bigger than that," Lauber said. "Any obstacle preventing you from living fully is addressed here. Come as you are and we'll walk alongside you."
Celebration Place
Celebration Place is for children of parents participating in Celebrate Recovery. It is a Pre-Covery program to break the cycle of dysfunction. Children learn healthy coping skills for life's tough issues.
Mentoring
NewPointe also offers mentoring to people in need of financial, marriage or spiritual guidance. You can be mentored alone or with your spouse. "It's another form of care we provide at no charge," Lauber said.
And while all of the support groups are free of charge, some have a nominal materials fee — but that shouldn't stop you from seeking help. "We would never turn someone away over the cost of a book," Lauber said.
In addition to interactive discussion time and video learning from experts, adults spend time on workbooks going through exercises and learning principles. Kids might be involved in art projects or games to help them explore their emotions. The idea, Lauber said, is to have those attending the support groups be in an environment where the obstacles have been removed and they can get the help they need.
Support groups at NewPointe Community Church are typically held on Wednesdays between 5 and 8 p.m. A donation dinner is from 5-6 p.m. with programs running from 6-8 p.m. Childcare is available. The address is 3950 State Route 39 NW in Dover. The phone number is 330-365-2287. For more information on programs and other campus locations, visit NewPointe.org. If you are interested in being of service to the church community, you can contact Lauber to find out where your talents are needed.