Mary Zifer's gets a facelift ... and wings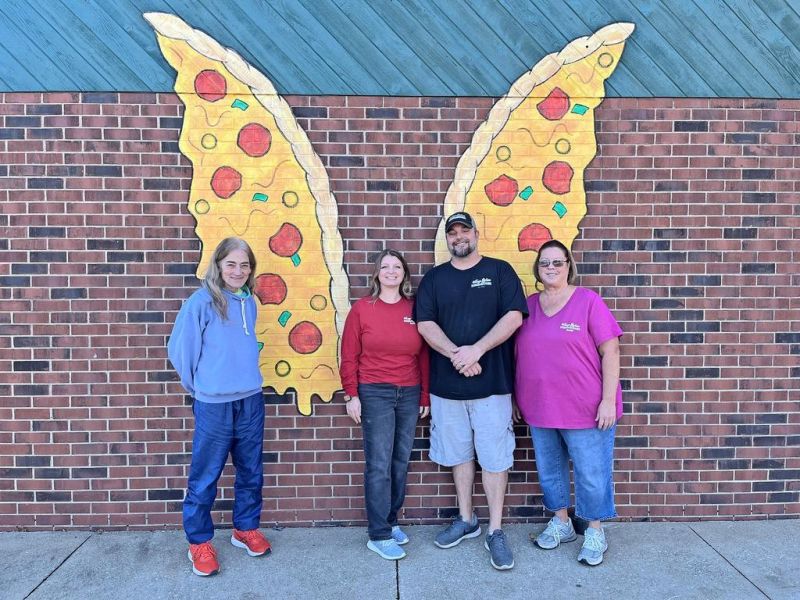 It has become commonplace for many pizza shops to offer wings, but they're nothing like these. Local artist Teresa Prince recently painted a set of pizza wings on the side of the Mary Zifer's building in Dover, and people have been flocking there to take photos.
Prince, who also repainted the exterior of the shop on Fourth Street, designed the set of wings in a way that encourages people to stop by and snap photos of friends and family members sporting the wings.
"It's definitely been a conversation maker," said Patty Gintz, who co-owns the business with her son Josh Gintz. "It's funny because I'll be somewhere and run into somebody and they'll comment to me about the wings."
The idea for painting wings came from Kelly Gintz, who is married to Josh Gintz and also helps run the pizza shop.
"We wanted something outside to add some color and get attention," Kelly Gintz said. "We also wanted something we hadn't seen around here before, and wings are really popular in social media."
There was just one catch, which would pose a challenge to the artist. "We also wanted to tie in a pizza theme," Kelly Gintz said.
Prince uses latex house paint for her outdoor murals, saving and repurposing leftover paint from her house painting jobs. She said it took about a week to complete the design after updating the building's look with green and gold tones.
"Unfortunately, my dining room table's covered in paint cans, because with the murals, you need small amounts of a lot of colors," Prince said. "So you don't want to be buying gallons of red and gallons of green when you only need maybe a spoonful for parts of the mural."
Preserving the Zifer's tradition
When the Gintz family learned the pizza shop was up for sale, they jumped on the opportunity.
"Mary Zifer's was just such a staple in our area. We were definitely interested in buying it," Patty Gintz said.
"We were afraid if it was sold to someone else, they wouldn't keep it as it was, and it was our favorite pizza," Kelly Gintz said.
"Mary Zifer's pizza has been in our lives all of our lives because we grew up with it," Patty Gintz said. "I first started getting Mary Zifer's pizza when she was still working out of her house on Tuscarawas Avenue. We'd even walk down from school, get our pizzas and walk back to school. My kids grew up on Mary's pizza."
Josh Gintz said he came to the Mary Zifer's shop for his school lunches as well. "They used to have specials, and this was quite a while ago, so I think it was $2.50 for a pizza sub, a breadstick and a can of soda. So for us in high school, it was a fantastic place for us to get lunch."
When the Gintz family bought the business five years ago, they also bought the recipes and went through a month of training under former Zifer's employees to learn how to properly cook and bake the Mary Zifer's way.
"Everything's made from scratch," Kelly Gintz said, "the sauce, the crust, the meatballs. So we had to learn how to do that."
Mary Zifer's Pizza is a tradition among many area families including Prince. "It's always our Christmas Eve celebration," she said. "My brother Ron comes in and gets all the ingredients and the crust, and then we bake it at home."
Prince is referring to the unassembled and unbaked pizzas offered at the shop. "Our pizzas travel all over because of that," Patty Gintz said. "We have one couple that winters down south, and they will get a pizza for every month, all unassembled, and then take it down south."
New memories
Kelly Gintz said the wings mural represents a new opportunity. "It's a great photo opportunity so families can come in and enjoy their food and then make memories. We've seen kids coming here and taking homecoming photos, birthday photos."
"They'll even stop by and take photos when we're not open," Patty Gintz said.
The Gintz family invites the community to stop by and snap photos, then share them to the Mary Zifer's Pizza Facebook page or on other social media. "We like to see what they take," Patty Gintz said.
The Dover Mary Zifer's Pizza is located at 110 W. Fourth St. The menu includes pizza, pasta, salads, breadsticks, pizza subs and other sandwiches.