Local mushroom farm is blooming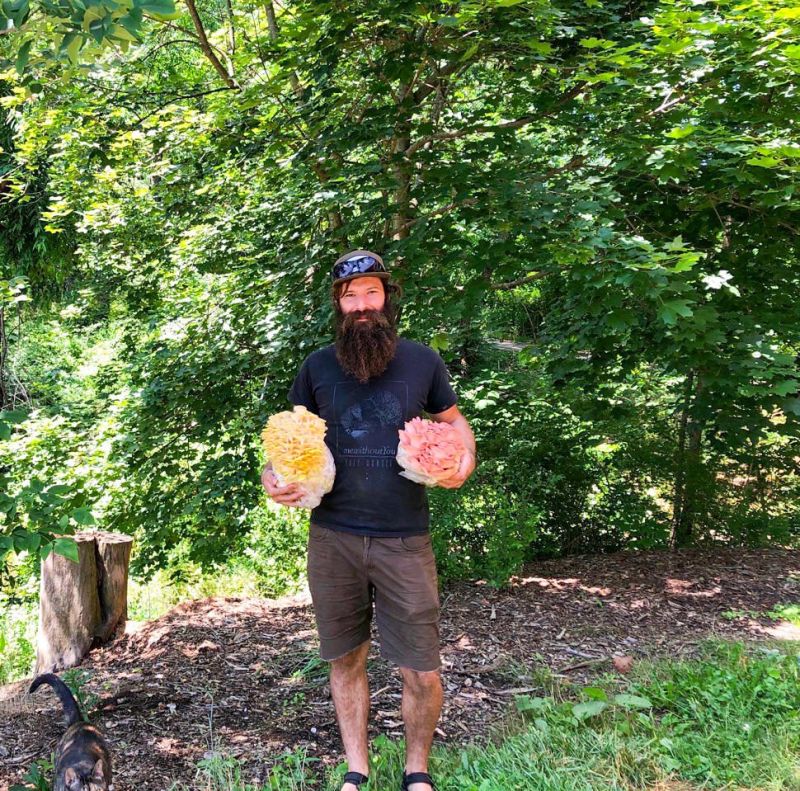 Brent Miller said he had no idea how huge the demand would be when he started mushroom farming in his basement two years ago. The Sugarcreek native and owner of Miller's Mushrooms on Faircrest Avenue in Canton said he simply loved mushrooms and was looking to perhaps fill a niche in the local farm market.
"I just started growing them and going to one farmers market, and I couldn't grow enough to meet the demand," Miller said. "My business just kept doubling and doubling, and then I ended up quitting my job."
That job was working as a landscaper and tree trimmer and as an operations manager at Zoe Farms next door to his house.
"I actually started growing the mushrooms in logs outside," Miller said. "But there were too many variables to get good quality consistency, so I moved indoors."
"Indoors" is still Miller's basement, although he is on the lookout for a larger location to accommodate his burgeoning business. And "basement" is not as primitive as the word implies. Miller's operation is intricate, clean and very scientific.
Miller makes his own six-pound fruiting blocks out of hardwood sawdust and soybean hulls. "I use all agricultural by-products that don't have much use anywhere else, and we can grow really nutrient-dense food on them," he said.
The blocks are injected with mycelium, the part of the mushroom that grows underground, similar to roots on other plants. Before that, however, the blocks undergo a two-hour steam sterilization process to create a clean environment for growth.
Miller works directly in front of a laminar flow hood containing a HEPA filter that sterilizes the air to inject the mycelium. The blocks are then placed in sealed plastic bags and taken to the incubation space, which mimics an underground environment.
When it's time, the blocks go into the high-humidity fruiting room where lights are programmed in 12-hour on and off cycles.
"Unlike plants, mushrooms are like people," Miller said. "They breathe oxygen and release carbon dioxide, so I've got fans in here to bring in the oxygen and release the CO2.
Timing is everything
Miller said he has to harvest two to three times a day with some varieties. "They can look fine in the morning, but by two in the afternoon, they can be over-mature already." This means he has to harvest at just the right time.
Miller does get some help from his wife, Lindsay, even though she has a full-time job. Lindsay helps him cover the various farm markets where he sells his products.
Nutritional benefits
Miller said mushrooms are not only delicious but also nutritious.
"There is a lot of information out there about the nutritional benefits of mushrooms," he said. "For instance Lion's Mane is a nootropic that helps regrow brain cells. A lot of people are familiar with it as a supplement because it's good for mental clarity, can help stimulate nerve growth and it just so happens to be a gourmet culinary mushroom."
According to Miller, all mushrooms have health benefits of some sort and are full of important vitamins and minerals. They also are low in fat and high in fiber.
Regenerating the land
Miller believes in regenerative agriculture and uses methods of farming that increase the life of the soil. He even uses his spent fruiting blocks to filter waste water running into the gully in his back yard.
"The storm water from all the neighborhoods here runs into the gulley and ends up in a pond," Miller said. "It's eroding the land and dumping lawn fertilizer and other chemicals into the pond."
Miller said the mycelium left in the spent blocks can break down some of the chemicals and prevent them from polluting the pond. The blocks, along with logs and wood chips, also are helping to slow down the water.
Where to get Miller's Mushrooms
In addition to being sold online at www.millersmushrooms.com, Miller said his products currently are available at the Tuscarawas Valley Farmers Market, North Canton Farmers Market and Canton Farmers Market. They also are sold at Zoe Farms, the Raisin Rack, Fischer's Foods on Fulton Drive and Fresh the Market in New Philadelphia.
In-home grow kits also are available on the website. "They're a lot of fun for kids," Miller said. "They double in size every day, so you can watch the process right on your kitchen counter."