Orrville Cycling and Fitness looks to transfer ownership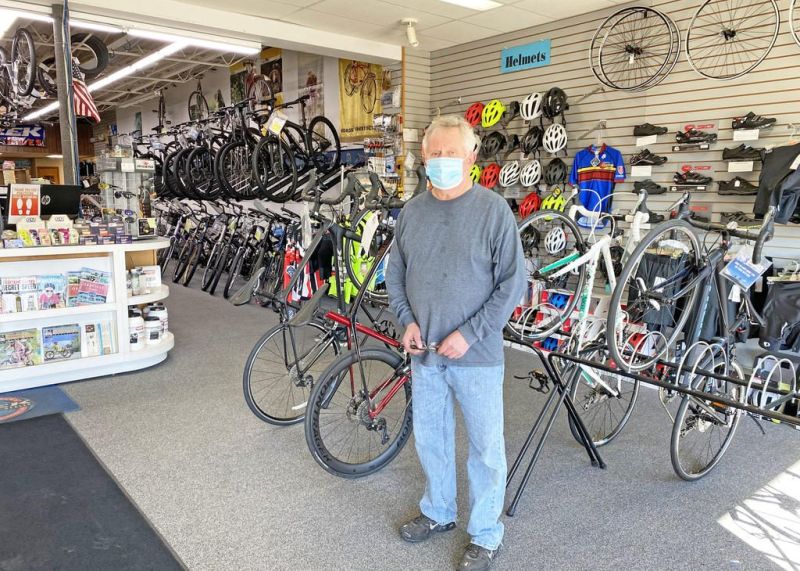 For more than 60 years, Orrville Cycling and Fitness has provided the area with bikes and every accessory one could imagine to support anyone from beginner to seasoned enthusiast.
Orrville Cycling and Fitness is a well-established bike shop that has been serving Wayne and surrounding counties since 1957. In addition to the sales of new bikes, it carries a selection of cycling and fitness accessories including apparel, components, tools, racks and more.
Owner Roger Amstutz, who is now approaching retirement, is looking for a new owner who would carry on the shop's long-established tradition as a successful small business. "This is really the only job I've ever had," he said, "and I sure have loved it."
Amstutz has owned the business since he was just out of high school and his father sold it to him and his brother.
Back in 1957 his father, Leo Amstutz, had rekindled the interest and passion he had as a boy for tinkering on bicycles, and his father began refurbishing old bicycles for resale. Also at that time he ordered five new Schwinns from a distributor in Columbus to include in the inventory of his new store, Kidron Cycle & Toy, which was located on his 80-acre farm just south of Kidron. As the name reflects, Leo Amstutz also carried numerous other nonbicycle products. While those other products eventually faded away over time, his passion for bicycles did not.
After selling the farm in 1965, Leo Amstutz moved his fledgling business to Orrville. He primarily focused his attention on bicycle sales and service, and at that time he changed the store's name to Orrville Schwinn Cyclery. It was located between Buehler's and Bennett's Appliances.
After his five-year lease expired in 1970, Leo Amstutz moved his business to its current location at 9658 W. High St. He remodeled the existing building that stood next to his home and transformed it into his bicycle shop.
Leo Amstutz continued in the bicycle business until his retirement in 1974, at which time sons Earl and Roger assumed ownership. Having both grown up in the family business, they were well-equipped to successfully carry on the tradition started by their father. For the next 11 years, Earl and Roger Amstutz saw the business grow.
Earl Amstutz retired from the bicycle industry in 1985, leaving Roger to run the family business. About that same time, Roger expanded the size of the shop to include a new service and storage area. In 1996 he again remodeled and increased the size of the showroom, which is now more than 6,000 square feet. That year the store's name was changed to Orrville Cycling & Fitness in order to better reflect the broad scope of bicycle brands that were in the store's inventory. Many locals and longtime customers still refer to it as "the Schwinn shop on the hill."
Over the years the shop has come to feature bikes ranging anywhere from children's bikes to tandems and BMX professional road bikes. The shop sells several lines, but its main line is the Trek brand.
In support of its products, the shop offers expert repair and maintenance services, as well as warranty work.
"Sometimes it helps keep us busy in the slower season," Amstutz said.
The Orrville Cycling Club is a United States Cycling Federation sanctioned club of about 35 riders, which began with the bike shop. A staple of the club is Wednesday night group rides throughout the area, and the club also frequently rides the Rails-to-Trails and participates in other events. Amstutz himself is an avid cyclist and estimates he's covered more than 110,000 miles over 40 years.
Amstutz said competition with the big box stores over the years hasn't really been too much of an issue. "We have a reputation as a 'mom and pop' type of operation that has a very dedicated customer base," he said.
This niche has allowed the business to prosper, even in light of the global pandemic.
"We had a period there last year where the supply of bikes and parts from China came to a standstill for a bit because of COVID-19, and that was disappointing, but you don't expect anything like that to ever happen again," Amstutz said.
Even then, the business was still profitable last year.
Amstutz said a benefit of COVID-19 was that more new customers than ever looked to cycling as a healthy escape. "That's created a new customer base we expect to be around well into the future," he said.
A possible plus to acquiring the shop is that it is adjacent to the Amstutz's four-bedroom house, which also could be part of the purchase if desired.
"I like to joke that I can just fall out of bed and be at work," Amstutz said.
If someone has ever wanted to own their own business and maybe even operate from their home, nothing would be more perfect than this long-established bicycle shop.