Sugarcreek business celebrates music and makers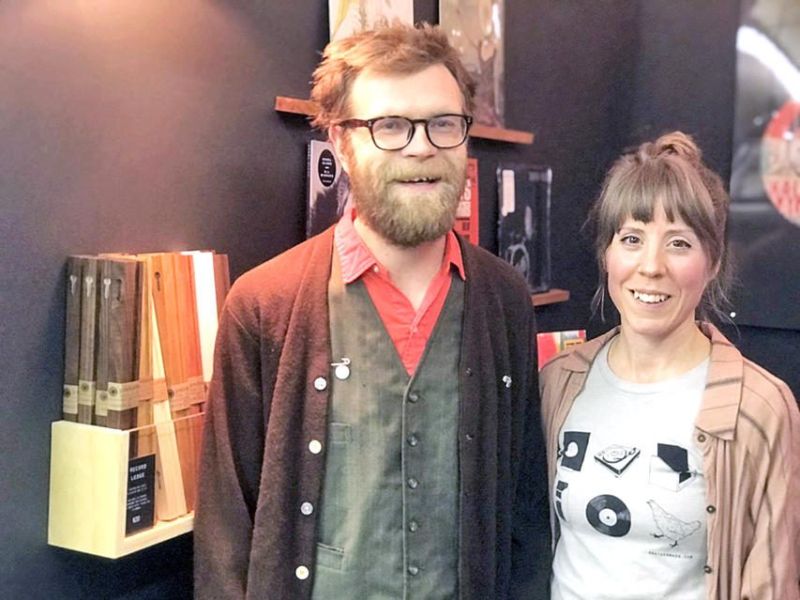 Prathermade, a small company in Sugarcreek, has been designing and building purpose-made record-storage solutions since 2016.
The firm is owned by husband and wife team, Jason and Brit Prather, and the pair hosted an open house to kick off their retail space, Listening Lobby, on Friday, Nov. 1.
Attendance quickly swelled after the doors opened at 6 p.m. with both hipsters and grandmothers lining up for snacks and buying record stands and vinyl records from the store's small offering of new and used music.
Brit Prather said the couple has been collecting records for the better part of 10 years. Several years ago the couple was asked to draw on their woodworking and creative skills to come up with some designated storage for a record-collecting client.
"So we said, 'Sure, we'll create something for your records.' Then based on that first model, we've created record storage in different sizes to accommodate any size collection," Brit Prather said.
The company now boasts a catalogue of offerings in several wood species and metal accents, covering displays for single records to solutions for housing collections in the hundreds.
Prathermade is riding a considerable, if unexpected wave. Collecting recorded music had always been a space-hogging endeavor, from 78 rpm two-song recordings to multi-track 33 1/3 rpm records, not to mention the space required for hit-boosting 45s. With the coming of the compact disk in the 1980s, the problem was greatly relieved and then completely resolved with the arrival of widely available digital recordings.
So why then have vinyl records seen such a surge in popularity? It is as inexplicable as the newly growing market for expensive Polaroid cameras. But the numbers are hard to quibble with.
In September of this year, CNBC reported sales of vinyl albums have exploded in the last decade, just as prices for new record pressings have increased by more than 400 percent, from an average $4.80 in 2007 to nearly $30 in 2017. This year sales of the bulky records are on track to surpass CD sales, which have fallen 34 percent over the same period.
The result is a whole new generation of record devotees rediscovering the problem of their parents and grandparents: where to put them? The answer is most often the same one arrived at in previous times: ugly plastic milk crates, stuffed to capacity and shoved into a closet.
"You can't stack milk crates," Prather said. "We're providing a much more attractive and workable solution."
The couple used to create their woodworking products in a tiny shed. They moved production to their own three-bay garage soon after. Then a property adjacent to their home became available, offering a large space for machinery, finishing and shipment. "It's right in our backyard," Prather said.
"We have single record displays for the record that you're currently spinning," Prather said. "We have wall displays, which are very popular. We're working on further developing the console storage we offer, which will make space for turntables along with storage."
Up to this point Prathermade has sold its storage solutions via the web, chiefly through etsy.com, along with a website. The retail space is a new idea for this year. They also do custom work.
"We deliver over a wide area, to Cleveland or Columbus or Pittsburgh, around Ohio," Prather said.
The address is at 110B Buckeye St., but finding Listening Lobby will frustrate most GPS systems. In Sugarcreek, from Buckeye Street, turn off the road to the right of the Sugarcreek Livestock Auction barn and continue to the back of the property to find the building.
They're on the web at www.prathermade.com. They also can be found on Facebook. Holiday hours are 10 a.m. to 3 p.m. Nov. 15-16, Nov. 29-30 and Dec. 13-14.