Taqueria Lopez offers street tacos and more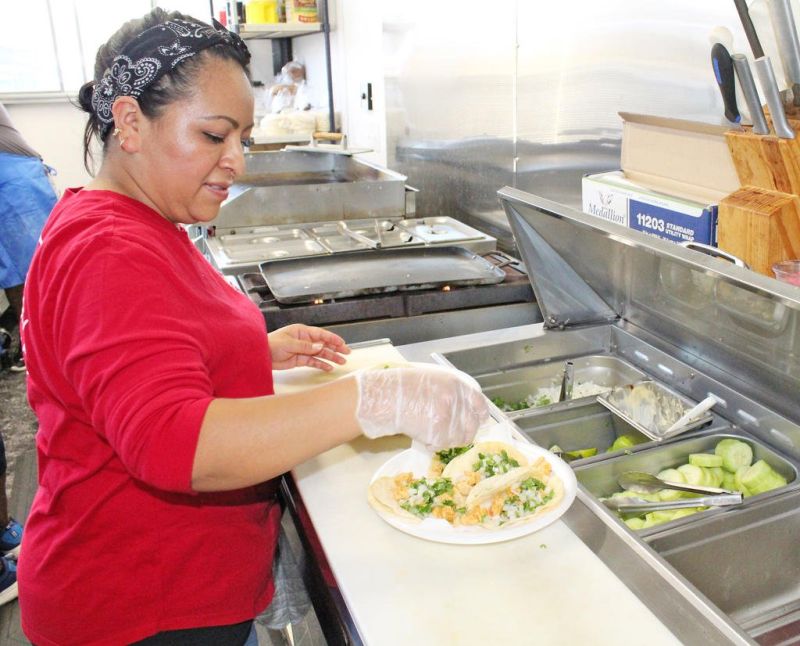 Taqueria Lopez has only been in operation for 1 1/2 years, but the story behind this popular Dover food trailer, which adds diversity to the cuisine available in the area, goes back years.
"We started selling our tacos here in Dover about 12 years ago and delivered them from house to house to our customers," said Carlos Lopez, who owns the business. He also developed the recipes the family uses.
The seven children of Carlos and his wife, Maria, have helped with the business.
"My brothers are the ones who helped us first," said Maria Lopez, daughter of Carlos and Maria. "Eddie and Edgar and me, we are the first three to start helping my dad selling the food and delivering."
Soon the family tried another venue.
"We met a lot of people, and that gave us the chance to start selling our tacos at the soccer field that was located at the First Baptist Church in New Philadelphia," Carlos Lopez said.
The first time they sold tacos at the field went well, so they continued to sell them there during the entire soccer season, although they later realized selling tacos at the soccer field was not enough to keep the business going.
Soon people who were buying their food were pushing them to start a restaurant. "We were thinking about it, but it is harder to start a restaurant than a food trailer," Maria Lopez said.
They started out with a small white trailer they didn't keep because it didn't allow for the room needed to work. Later, Carlos Lopez designed his own food truck and had it made to his specifications to allow for the space and storage they needed.
The family had set up the trailer at an area poultry-processing plant to sell food to the employees, but their customers there said they wanted the Dover location so they could get food after work.
This influenced the family's decision to add a second trailer. Carlos and his wife, Maria Lopez, will continue operating Taqueria Lopez at the Dover Flea Market while their daughter, Maria Lopez, and her husband, Enrique Velasquez, will operate a new identical food trailer that will move around to other locations.
Their most popular item is street tacos, but going mainstream with street tacos wasn't easy in the beginning. People more familiar with fast-food tacos or the taco kits sold in grocery stores weren't as willing to try something new.
"It was a bit hard for us to have them taste our food," said Maria Lopez, Carlos' daughter, although they are pleased when customers tell them they are eating street tacos for the first time.
Tacos are the most popular item on the menu, which includes tacos that are served with a variety of meats including beef, beef tongue, barbecued beef, chicken, pork and steak, in addition to torta, quesadillas and burritos. A variety of toppings can be added including onion, lettuce, tomato and two kinds of homemade sauces.
"Now things are good. People like them, and they are enjoying them and the other food we have," Carlos Lopez said.
They get a lot of repeat business from regular customers.
The Taqueria Lopez also sells a variety of unique drinks from Mexico and Guatemala to complement their menu.
The family enjoys working with people, and that is what they like best about the food truck business.
"We like seeing our customers every day and making them happy with whatever food they are taking out from here," Maria Lopez said. "I've been seeing some comments from people who have had a bad day, but when they come here, we always greet them with a smile. We want them to feel good about coming here. We like to see those comments because we do try to make our customers happy."
Homemade food is the main reason the Taqueria Lopez customers are so happy.
"We cut everything fresh in the morning. We want our customers to know how fresh everything is that is given to them," Carlos Lopez said.
Maria Lopez makes the sauces available at Taqueria Lopez.
"My mother makes our salsa, the hot sauce and the green sauce because everything is homemade. We don't have anything to sell that comes from the store already made," their daughter Maria said. "Our customers like it because they can taste the difference. We are trying to do our best to serve them."
Now that the business has two trailers, customers can look for the same bright-yellow Taqueria Lopez trailer out in the community and know they are getting the same food and service.
Taqueria Lopez is planning to remain open throughout the season as long as the weather cooperates.
"We are thankful for our customers," Carlos Lopez said, adding the business has customers from all races and backgrounds who enjoy their food. "We appreciate their support."
The business is open Tuesday through Sunday each week at 120 N. Tuscarawas Ave. in Dover beside the Dover Flea Market. For more information find them on Facebook at Taqueria Lopez.