Tent your event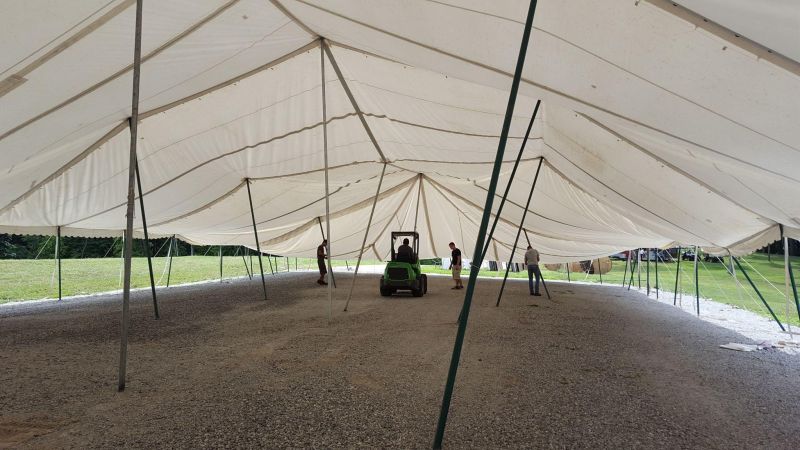 Arise Tents & Events gets its customers ready for whatever the day holds. From backyard barbeques to state fairs, the tent-rental company rises to any occasion, and it even has the tables, chairs and linens covered.
For the first time since setting up camp nearly 20 years ago, Arise owners, brothers Bryan and David Graber, are expanding the borders of their tent outside the Sugarcreek area with outposts in Canton and Newark.
"We were getting requests from customers to deliver across the state — in Cleveland, Columbus and all the way down to Marietta — so we decided to meet them halfway and open warehouses in Canton and Newark," Bryan Graber said. "Now we can deliver to most of Ohio without a hefty delivery fee."
The Grabers and their crew crisscross the state for county fairs, weddings and other events"Our biggest event is the Wayne County Fair. They use between 90 and 100 tents every year," Graber said. "It takes us up to three days to set up and then another two days to take it down, but we can set a small 30-by-30 tent for a wedding or a graduation in under an hour and take it down in a half hour."
For many, Arise Tents & Events is the go-to for its large selection of tent, table and chair styles and an extensive inventory of accessories like dance floors, fans, air-conditioners, heaters and lighting options.
"In 2015 we partnered with Choice Party Linens," Graber said. "There's almost no limit to the number of different linen styles and colors available to our customers."
Aside from the finishing touches, Arise brings considerable expertise to the table. "We keep a size chart on our website, but there are a lot of other considerations," Graber said. "Between dance floors and food lines and round tables or square tables, event planning can be daunting, so we're happy to take the time to walk each of our customers through it."
From day one, Arise has packed a big tent. When the family business began to sag in 2001, Bryan and David Graber's father, Reuben Graber, a tarp maker by trade, purchased a 40-by-200-foot pole tent to rent out on the side. Soon, there were more tents. The family's stake in the business grew. Since then Arise has become one of the region's top tent-rental companies.
In 2005 the tent manufacturer that met the Grabers' personal standards for quality ceased production, and when they couldn't find anything comparable to meet demand, they raised the stakes again and started manufacturing their own tents.
"We were able to go to the manufacturer and get the drawings and specs," Graber said.
From that point on, the Grabers began making, renting and selling frame, canopy, clear top and high peak tents that hold up to their personal standards — come rain or shine.
Arise builds tents to stand up to the elements. All tents are wind rated, and some frame tents can take on moderate amounts of snow. Arise ensures its tents are correctly installed. Otherwise, even a small gust can leave guests out in the cold. Arise is committed to quality and uses heat welded seams for a better and stronger seam, which also protects thread from dry rotting and is 100 percent waterproof.
"We have an outlet for new and used tents," Graber said.
Arise will soon offer waste disposal and recycling to its roster of services.
According to Graber, he and his brother are committed to expanding the reach of their services to deliver tents that meet their high personal standards because the tents they build make their customers' day.
Arise Tents & Events is headquartered at 7461 Old Route 39 NW in Sugarcreek, 330-852-7000. Hours are Monday through Friday from 8 a.m. to 4 p.m. Rise to the occasion anytime, anywhere, online at AriseTentsAndEvents.com.