The Kline Advantage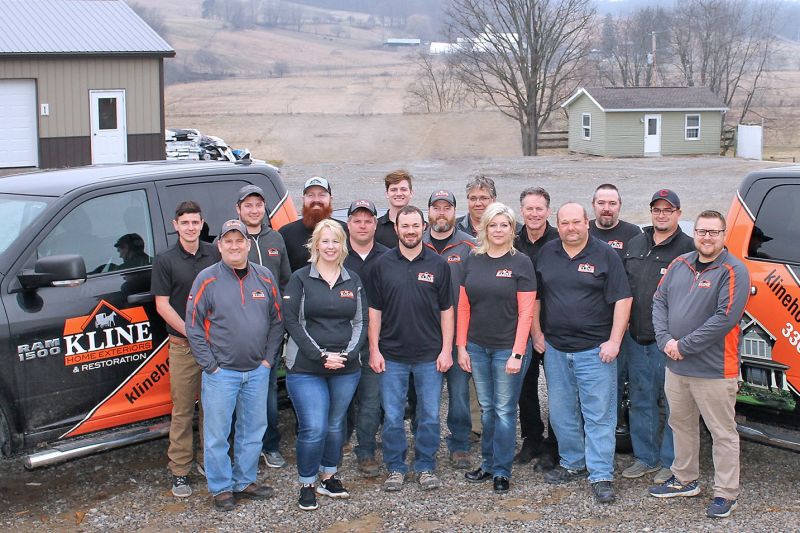 Typically at a locally owned business, one person leads the charge with years of experience in a particular field and a passion for sharing his or her passion with the masses. At Kline Home Exteriors & Restoration, there are five people who bring time and talent to the table.
James Yoder, Dan Yoder, Scott Wengerd, Duane Shetler and Ken Troyer back their 10-year-old home exterior renovations company with an impressive 25-year track record in the industry.
"It's rare to find a team like this," said Lindsey Chupp, marketing director for the company. "Each owner has his area of expertise and unique experience in the industry, and all five are dedicated to providing customers with service and workmanship that goes above and beyond."
The way the team does it, she said, is by paying close attention to the details on every job. "We show up when we say we're going to show up, we call back, we provide estimates in a timely manner and we perform all work to our customers' satisfaction," Chupp said, noting that many people have set their expectations low after negative experiences elsewhere. "We get told all the time that a homeowner put a deposit down on a job and the company never finished the work. We're determined to change the stereotype by delighting our customers at every turn."
Kline Home Exteriors does exactly that by strictly adhering to a process that results in a better customer experience. For example, Chupp said when the Kline team quotes a roofing job, they don't just use aerial tools and call it a day. They climb up on the roof to give it a thorough inspection, checking the ventilation and accounting for every detail of the job.
"During each aspect of the process, we try to meet the customer where they need us to be," Chupp said. "We take our time, keep our customers informed and do quality work. When we clean up after a project, our customers' homes look as good or better than before we showed up. For roofing jobs, we protect the landscaping by covering it. We pick up all the nails, remove all debris, use a shingle buggy and make sure no clean-up detail has been missed."
In addition to specializing in roofs, Kline Home Exteriors also installs vinyl siding, decks, gutters, gutter guards, windows and doors. Chupp said at this time of year most of the calls are for roofs and decks.
How can you tell if it's time for a new roof?
If your shingles are peeling or cracking or your gutters are full of roof grit after a storm, it might be time to give Kline a call. "We are a GAF Master Elite Contractor, which means we not only offer the best shingles in the industry, we also have the highest level of training," Chupp said.
In fact, in addition to the 50-year warranty on all GAF shingles, Kline one-ups by including a 10-year workmanship warranty or you can upgrade to a 25-year with purchase of an extended warranty plan.
But if your taste and budget lean more toward metal than asphalt, Kline can install a premium metal roof instead.
Hit the Deck
"We are a Trex Pro Contractor," Chupp said. "We design and install gorgeous composite decks that are maintenance free and don't require as much babysitting as a wood deck."
Kline will create a drawing so you can see exactly how your new deck will look once it's finished and provide color samples. Chupp said the entire process takes about four to six weeks, so the time to get on Kline's schedule is right now.
"If your dream is to host a party or special event on your deck this summer, it's a good time to call us so you aren't trying to navigate an install during our busiest time."
ProVia siding is the vinyl of choice for Kline, and they can accent your home's new look with cultured stone for high-end appeal.
Do you need a new roof?

Schedule a free 90-point inspection with the team at Kline Home Exteriors to find out. They'll even throw in a free energy efficiency attic assessment with the mention of this story.
Kline Home Exteriors & Restoration can be called at 330-601-2749. The web address is KlineHomeExteriors.com.