Bolivar Jass club to celebrate 90th anniversary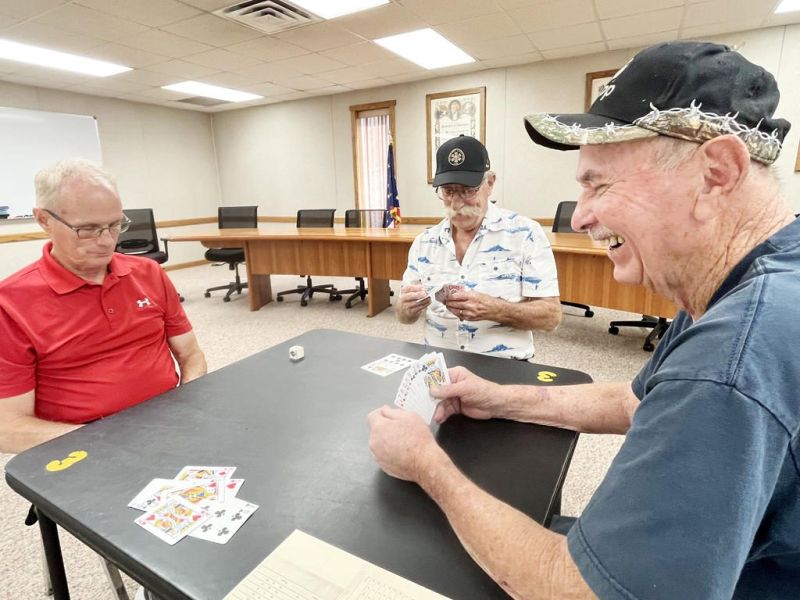 Aclub dedicated to keeping the card game Jass (pronounced Yoss) alive is celebrating its 90th anniversary this year. Club members meet to play twice a month at the Lawrence Township hall on the Industrial Parkway just outside of Bolivar, and they are actively looking for younger players and substitutes.
The late Charles Lundenberger, whose name is on the township building, brought the club there sometime around 1990. Lundenberger subbed for the club but never became a member.
"A long time ago, you could play Jass everywhere — the Sportsman's Club, the legion hall, the barber shop," club member Bill Wasem said. "But anybody north of Bolivar had never heard of it."
That statement appears to be backed up by a Wikipedia entry stating the game is played in very few places outside of Switzerland, but those places include "Wisconsin and Tuscarawas County, Ohio."
Chalk it up to the Swiss and German heritage shared by so many Tuscarawas Countians, as well as a game being handed down from generation to generation.
Wasem's family hails from Ragersville. "When I was little, we'd go to family reunions, and all the women were sitting around holding babies, but all the guys were playing Jass," he said.
Don Vrsan is the longest-serving club member. "I started playing at the Zoar Tavern in the 1960s," he said, adding he was a sub several times before he joined the club.
Randy Levengood, the club's current president, was drawn into the club by relatives who also taught him to play. "I learned to play when I was 14 years old. The Widder side of my family played it at all the family reunions and holidays."
Levengood's cousin Mike Widder nominated him for membership in the club that also included three uncles. He was accepted and was elected club president soon after he joined in 1994.
That's 33 years serving as president, which is not unusual, according to Levengood. "Supreme Court justices are appointed more often."
One of the club's newest members also is its oldest. Bolivar native Jim Robbins, 87, returned to Bolivar in 2001 after spending four decades building a successful avocado business in Southern California. He said he joined the club about four years ago.
Robbins moved back to Ohio in 2001 after reconnecting with Sally Jo Swank, the daughter of the late Ralph and Edith Swank, who happened to be co-owners of the Zoar Tavern until sometime in the 1970s — and where Jass just happened to be played on a regular basis.
So history comes full circle.
The Sixteen Jass Club
Formed in 1933 as the Sixteen Jass Club due to the game being played with four tables of four players each, the club now plays with just three tables of four.
"Back when the club started, 99% of the players were farmers," Vrsan said. "Each member had to host a game once a year at their home and provide a meal. The meal could only be three things or you got fined. That kept everybody from competing for who could host the best dinner."
According to Vrsan, most of the wives in the early days knew how to play. "So at the last minute, someone's spouse could sit in if a player had to leave. I remember Ronnie Widder worked midnights, and if the game went late, his wife Dorothy would finish his game for him."
Things are much simpler these days at the Township Hall. Whoever the host is for the evening brings finger foods, soda and water. Club dues are $10 a year.
There are prizes for winning. The winner gets $3, payable as a $2 bill and a $1 bill. The person who comes in second gets a $2 bill. Even the person with the lowest score, called the booby, gets a prize: a gold presidential dollar.
Anyone interested in subbing is welcome, even if they haven't played before. "We're really trying to get some younger players involved," Levengood said. "They're welcome to come in and watch a few games first before signing up to sub."
Those interested can call Levengood at 330-323-3493 or simply show up at the Township Hall on game night to observe. Games begin at 7 p.m. the first and third Thursday of each month.
Lawrence Township Charles E. Lundenberger Hall is located at 10867 Industrial Parkway, Bolivar.