Nashville Farmers 4-H club meets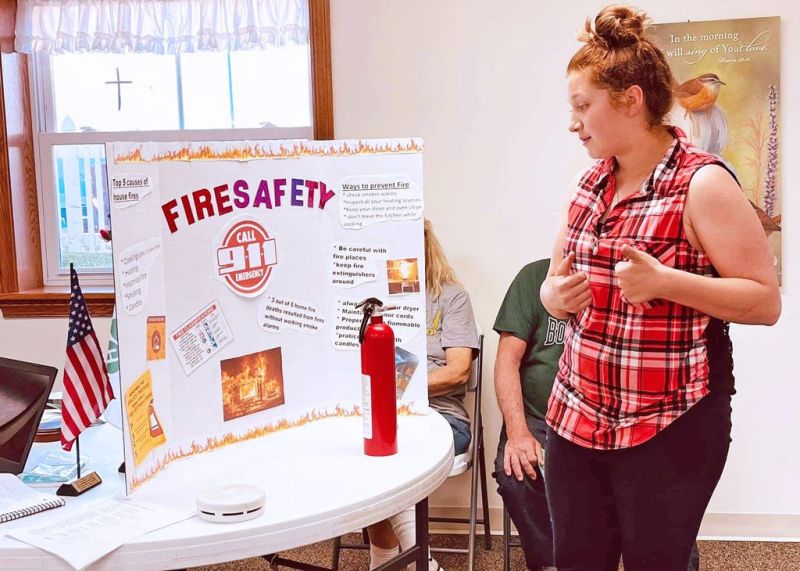 The fifth meeting of the Nashville Jolly Farmers 4-H club was held May 10 at the Nashville United Methodist Church. Gabby Fowler led the Pledge of Allegiance, and Cassidy Hawkins led the 4-H Pledge.
The new business consisted of information about completing record books and discussing Memorial Day Parade float ideas. Various dates about upcoming events also were presented including painting sheep pens on July 11, life skills book judging on July 15, livestock judging nights on July 20 and 29, and chicken hatch dates between June 15-30.
The club voted to plant flowers in the town of Nashville on May 21 for a community-service project. Malia Lennington made a motion to adjourn the meeting, which was seconded by Aubree Haas. Demonstrations were then presented by Brant Burgett, who showed how to pitch a baseball; Gabby Fowler, who demonstrated pitching a softball with Payson Dial catching; and Lucas Bailey, who showed how to cast a fishing rod.
Cloverbuds listened to the story, "The Rainbow Fish," by Marcus Pfister and made their own rainbow fish out of paper plates.
The next meeting was May 24, also at Nashville United Methodist Church. The Pledge of Allegiance was led by Gracie Manges, and Delani Vaughn led the 4-H Pledge.
Old business was discussed, and new business included the idea of passing out freezer pops at the parade for a community-service project, themes for the fair booth and purchasing new club shirts.
Safety leader Malia Lennington gave a talk on fire safety and showed how to properly use a fire extinguisher. Demonstrations were then given by Alexis Lang, who discussed how to drive a tractor; Sarah Irwin, who bottle-fed a baby goat; Jayvyn Cabbell, who displayed the science behind making a volcano; Lennington, who provided information about her pen of rabbits; Garrett Fowler, who showed the proper way to putt a golf ball; and Jake Lennington, who demonstrated how to use a circular saw. Cloverbuds Camden Heiks and Colton Heiks joined in the fun with Camden sharing his posters about sharks and Colton telling facts about dinosaurs.
Cloverbuds planted flower pots and colored special pictures for their moms.
The meeting was adjourned by a motion from Cameron Hinton and seconded by Malia Lennington.