Students help community through Teen Leadership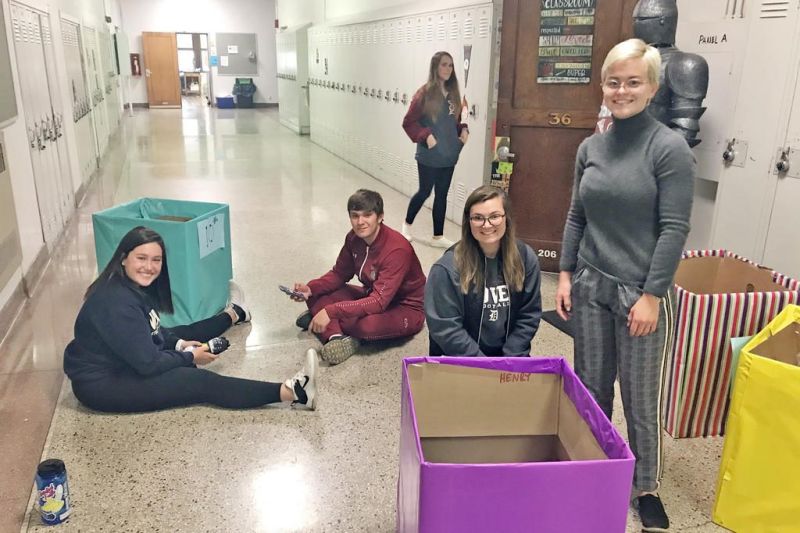 Dover High School students in Kaitlyn Dunlap's Teen Leadership program are getting out and working to make their community a better place to live.
Dunlap, a language arts instructor, brings the Teen Leadership Corps together in her corner of the oldest wing of Dover High — soon to be demolished. Outside the classroom windows, she and her students have watched as the new Dover High has risen brick by brick over the last year. She stays in close communication with her students, emailing and texting updated instructions.
"Teen Leadership is a program across Ohio schools," said Dunlap, who has a master's degree in counseling. "This is the second year we've had the class at Dover High, and Newcomerstown is the only other school with the program in Tuscarawas County."
There may be a misperception that 21st-century teens are forever buried in their device screens, but the Teen Leadership class students are aware of the need to balance screen time with real-life experiences.
"I challenge them," Dunlap said. "I told them they have to serve in some way for at least an hour a week, and they are far surpassing that. And I've made the One Book, One Community reading project, 'How to Break Up With Your Cell Phone,' required reading for the class, and they've been very transparent about their phone use. I think their desire to serve is innate, something they're born with. I feel very blessed to be leading this group and helping them see what service to their community looks like."
Socktober, a project the class has undertaken in which they've gathered new socks for donation to Friends of the Homeless Shelter in New Philadelphia, has succeeded beyond what they believed would be a modest goal of 1,000 socks. Stefanie Miller and Phylicia Christmas, both Dover seniors, said the group spent a few hours at Wal-Mart on a recent weekend, handing out fliers about the Teen Leadership program and asking shoppers to buy a pair of socks to be collected as they left the store.
"We set a goal of 1,000 pairs," Christmas said, "and we already have 2,000 pairs."
Another such collection was scheduled for a second Sunday, even though the program had officially ended. The number is especially surprising given the same effort last year realized just 24 pairs.
"We did a lot more publicity this year," Miller said, "and we put out collection boxes at several locations."
Both said they signed up for the class because of a desire to give back to the community. "It's a way to get out in the community and help people in a different way," Christmas said.
Miller said she appreciated the opportunity to actively make a difference in her own community.
Teen Leadership Corps is a nonprofit organization that is funded by the state Team Leadership Corps and local contributions. Kevin Korns of the Dover Exchange Club delivered a check for $500 to the students on Oct. 25, saying the club was pleased to be able to support the students' efforts with sponsorship.
"The Socktober drive has helped them to see the good in the community, and it also helps to build skills and resilience," Dunlap said. "It wasn't easy for them to speak to people at Wal-Mart for example, and they had to work with a few people who were less than receptive. But nine times out of 10, people were very supportive and donated socks."
Find out more about the larger organization at www.teenleadershipcorps.org.