Big Latch On creates a lasting support network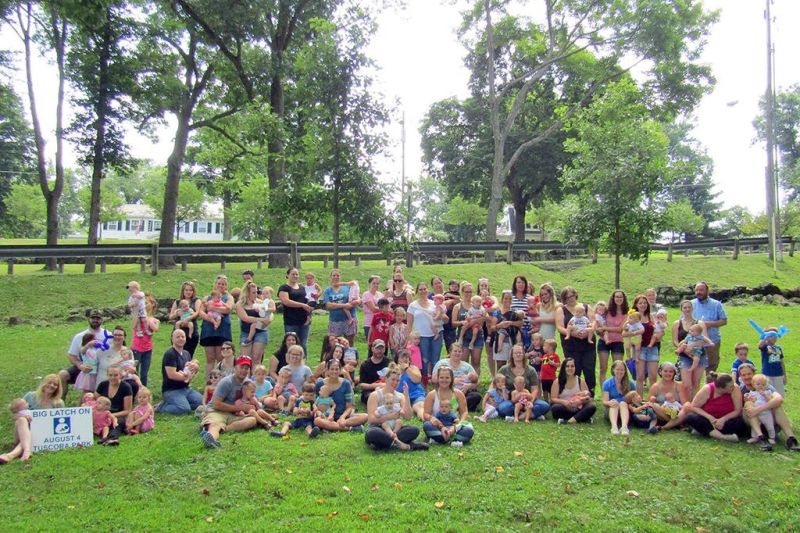 Breastfeeding mothers have greater success with their babies if they feel they have the support of the people around them. The seventh annual Big Latch On in Tuscarawas County is all about offering that kind of exchange of support between moms of all ages. The Big Latch On is scheduled for Saturday, Aug. 3 from 9 a.m. to noon at Tuscora Park, 161 Tuscora Ave. NW, New Philadelphia.
Though this is the seventh Big Latch On for the area, it is the 10th such event worldwide. Globally it represents the coming together of thousands of mothers and their nursing children. The first week of August is World Breastfeeding Week, which then extends throughout the month of August: Breastfeeding Awareness Month.
Jackie Hall is the breastfeeding coordinator and WIC dietitian at the Tuscarawas County Health Department. She also is the president of the Breastfeeding Coalition of Tuscarawas County. Hall said the Big Latch On is open to mothers who are currently breastfeeding, those who have done so in the past and expectant moms.
"The attendance is usually pretty high," Hall said. "We see about 150-200 people come out for it each year."
Participation in the Big Latch On is free, but registration is needed. "You can register at the event," Hall said, "but it will save time to do it in advance at the national website."
Register at www.biglatchon.org. Choose "Participate" and search for the New Philadelphia location. Overall registration at the site is needed. Each registered mom will receive a gift at the event.
The gathering location has changed for this year, Hall noted, and is now at the Hilltop Pavilions one and two at the park.
Participating moms are urged to bring family members for support. The national website explains moms attending the Big Latch On should expect a lot of counting. At 10:30 a.m. the global latch occurs, and moms who are nursing their child at that time will be counted, along with overall attendance.
The international organization tracks the number of nursing mothers who are present and nursing their child, all at the same time, worldwide, in a show of support and closeness spread around the world. Last year was a record of global participation with more than 22,000 breastfeeding women participating amid an overall attendance of 60,000.
"The benefits of breastfeeding a child are becoming more clear with each day," Hall said. "We're learning more from current research every day. The benefit of skin-to-skin contact for babies and mothers is tremendous, and the nutritional and immune-boosting value is also. And mothers do seem to do better with support from other moms and their families, friends, and the community. The Big Latch On shows that kind of support and can help moms feel more comfortable. They plainly see they are not alone."
Last year the Breastfeeding Coalition of Tuscarawas County began a Breastfeeding Award, which continues this year. "People nominate a mother in their lives by sending us an email sharing a little of their story, and then the entries are posted at the Breastfeeding Coalition Facebook page. People vote for their favorite, and awards are given out," Hall said.
Entries were received through July 23. Voting closed on Aug. 1, and winners will be announced at the Big Latch On Aug. 3.
Hall said a lactation consultant will be available at the Big Latch On to answer specific questions from breastfeeding and pregnant mothers. Car seat safety checks will be offered.
"The main focus of the day is to get moms together to meet others who share this common experience in their own way," Hall said. "They can share, get support and find answers to any questions they may have."
The local Big Latch On is sponsored by Tuscarawas County WIC and the County Breastfeeding Coalition. The Big Latch On began in New Zealand in 2005, becoming global in 2009. The organization's mission is to "protect, promote and support breastfeeding families."