Ohio's Amish Country Quilt Festival built on tradition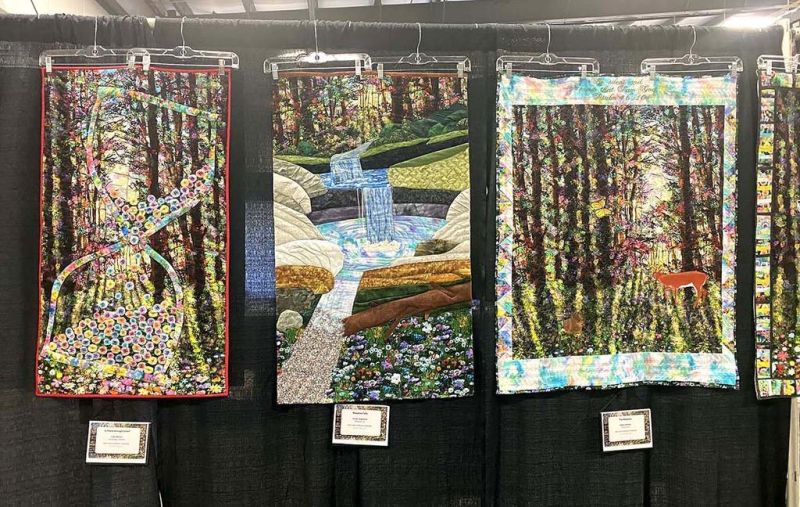 A group of women sat together quietly in the middle of the Mt. Hope Event Center, putting needle to thread and working their magic on a quilt, their hands moving easily, their chatter only adding to the picturesque moment that was a small part of a much bigger undertaking.
Row upon row of hanging quilts adorned the inside of the Mt. Hope Event Center, along with vendors, teaching sessions and a pair of national quilting-related shows that helped make up the annual Ohio's Amish Country Quilt Festival Sept. 8-10.
The idea of the show is to inspire quilters of all levels of competency to challenge themselves in their work, to ignite a greater passion in the hobby they share, and to provide insight into new techniques and ideas they can use to develop their passion for sewing and quilting.
"The creativity here is off the charts," event coordinator Joanne Hubbard said. "From local quilters to national speakers, we have a show that is unique in many ways."
In offering plenty of educational opportunities along with the vendors, some nationally renowned experts showed up for the classes and trunk shows. Teri Tope is an internationally recognized teacher and lecturer who loves all types of applique. Her trunk show exhibited the life and flair her pieces bring, and she talked shop with those on hand.
Moda Fabric designer and author Corey Yoder showcased how to make a Sweetcake block from her new book, "Oh, Happy Day!"
There were classes featuring embroidery greeting cards, English paper piecing techniques, thread painting with Joyce Hughes, free motion quilting and more.
Hubbard has helped present this show for years, and she said the event provides an avenue for personal growth in a quilter's life, as well as an outlet to connect with like-minded people who share the same passion.
"The idea is to bring in creative minds who can present a wide variety of different techniques," Hubbard said. "All of our speakers are incredibly gifted at their work and have extensive experience speaking to the public in ways that makes learning fun and simple.
"Everyone here loves what they do, and they enjoy doing it together. They share a common bond and passion for sewing and quilting, and it is our hope that they leave here having learned some valuable techniques they can use while having made some new friends."
One section of the event center was dedicated to the quilts and creations of local Holmes County quilters.
In another section was the 2022 Hoffman Quilt Challenge exhibit, with this year's title being "Into the Meadows."
Hoffman Fabrics is a large company located in California that created this challenge several years ago. The idea was to have participants follow a set of guidelines in creating sewn pieces ranging from quilts to jackets, wall hangings or anything the mind can create.
"They get so many entries from people who have sewn these beautiful pieces, and they narrow it down and put them into the show that travels around the country," Hubbard said. "It's a fun way to inspire and challenge people to sew something creative when they are using the same few materials."
Yet another large section of the event center was dedicated to "Sew We Never Forget," a 300-quilt tribute to the victims of the 9/11 terrorist attack on the United States. Those 300 quilts were created from pieces sewn by people all over the world.
"We were setting this display up, and it was touching as we looked at all of the quilts and the names of those who passed away during 9/11 written on them," Hubbard said. "It's a beautiful exhibit that we felt proud to have connected with our show."
Hubbard said the show remains consistent in what it offers to patrons, who come hoping to find new and inventive techniques from the teachers and items to purchase from the vendors.
The show also introduces new growth in sewing machines, and the technology there continues to develop quickly.
"These aren't your grandmother's sewing machines anymore," Hubbard said. "We can do things with a sewing machine that our grandmothers would never imagine."
The quilt show continues to be an innovative showcase while maintaining the old-school techniques and joys of quilting and sewing.
Hubbard said the challenge now is to figure out how they can up the ante for next year's show while maintaining the focal points of the annual event.
The show continues to be sponsored by a trio of local sewing companies: Chestnut Ridge Sewing, Lone Star Quilt Shop and Miller's Dry Goods.
While the quilt show was created for people everywhere to enjoy, there is a meaningful tie to Holmes County and Amish Country that exemplifies the community's joy for gathering together for quilting.