Ohio Haiti Auction creates opportunity for people to share their many blessings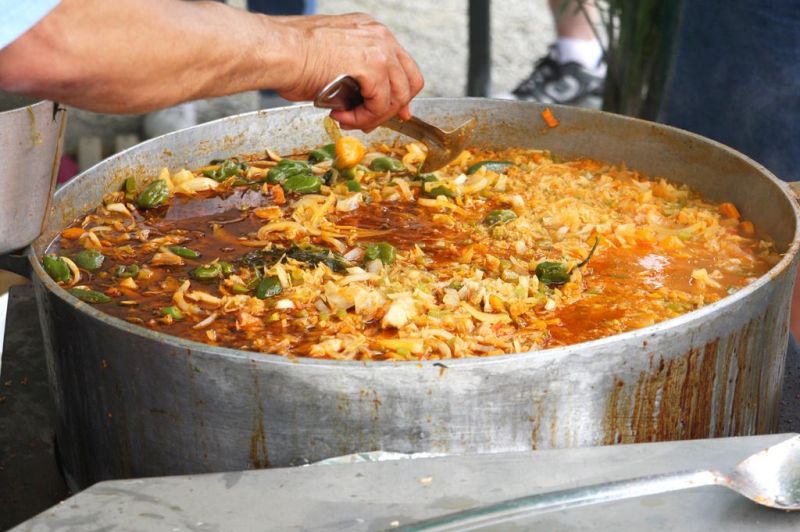 The 33rd annual Ohio Haiti Benefit Auction will take place at Mt. Hope Auction Event Center, 8076 state Route 241, on Friday, Aug. 30 and Saturday, Aug. 31. The auction is a cooperative effort of churches from all over the area that come together to relieve hunger, sickness and homelessness in Haiti as well as to provide clean drinking water and aid wherever possible.
"I think one of the biggest reasons we see this connection between here and Haiti is that we have so many people who want to share their blessings with people who are less fortunate," said Daniel Miller, new president of Ohio Haiti Auction. "There is a definite reflection present of people knowing that they have received much from God, and they want to pass those blessings along."
Over the years this auction has been an enormous blessing to Haiti and its people in many ways, from finances to food, water, education, employment and health.
On Friday, Aug. 30 all of the quilts that will be on the auction block the next day will be available for viewing. The evening also will include an authentic Haitian rice and bean meal, along with barbecue chicken, homemade noodles and dressing, fish and shrimp, homemade pies, dessert ice cream and more.
From 7-9 p.m. there will be a capella singing by the group, Garments of Praise, from Pennsylvania.
On Saturday, Aug. 31 the auction will begin with a breakfast at 6 a.m. The meal will include pancakes, whole hog sausage, fried mush, scrambled eggs, hash browns, sausage gravy, homemade doughnuts, cream sticks and fry pies. The day's lunch will include a line-up very similar to the one to be featured on Friday evening.
The auction itself will be filled with all kinds of items. Dozens of hand-stitched quilts, a 32-by-50-foot garage building, buggies, multiple outdoor structures, tractors and lawn mowers, all kinds of Amish handcrafted furniture and more will be available for purchase.
Each year there are lines waiting for the various types of food vendors, especially the authentic Haitian food venue where a huge, boiling cauldron heats up Haitian beans and rice.
One of the most unique aspects to the auction is the number of mission efforts that will be represented during the weekend, where organizations will be set up in one area so people can visit them, chat with team members and learn more about the many ways the Ohio Haiti Auction is helping to benefit the people of Haiti.
In recent years a record number of mission booths representing a variety of Haiti support organizations showed how these organizations are changing lives for the better in Haiti.
Among the organizations represented are Open Hands, which provides Christian teaching about finances; Gospel to Haiti, an organization that operates a medical clinic in the mountains of Haiti; Life Literature, which provides Creole Bibles and Christian literature to the people of Haiti; New Horizons Haiti Children's Home; Redeemed Vocational School, which teaches mechanics, computer classes, sewing and English to young people of Haiti; and International Faith Missions, which helps alleviate suffering people in Haiti through its clinic, ambulatory care and disaster-relief efforts.
Those are only a few of the organizations represented as the connection between Haiti and Amish and Mennonite communities grows stronger each year.
"People can gain some better understanding of what is taking place through these organizations simply by stopping by the mission booths and talking to representatives of each mission to see what kind of strides are taking place in Haiti," Miller said. "It is exciting to us to see that kind of growth and commitment as new missions continue to pop up."
Miller said one exciting movement has been toward mission groups' efforts to emphasize a self-help culture that not only gives to the people of Haiti, but also teaches them how to cultivate, raise their own food, create their own water and other advancements in that nation.
"These are missions that are helping the people of Haiti learn to help themselves while sharing God's word at the same time," Miller said. "I think for us at the Ohio Haiti Auction, that has been one of the most gratifying parts about watching the number of missions to Haiti grow as they continue to help the people of Haiti learn to care for themselves."
The Ohio Haiti Auction raises hundreds of thousands of dollars annually, and it all goes back to supporting the people of Haiti and the many missions that provide support, love and compassion for the people of a country in need.
"Many people would love to go to Haiti to help people there but simply can't," Miller said. "The Ohio Haiti Auction is one way for them to make a positive impact through their donations that will allow others to go down and do the work, so it does give people a chance to give to the cause right here at home."
The Ohio Haiti Benefit Auction was created in 1987 by brethren who had compassion on the poor people in Haiti. They are a channel through which people can contribute with auction items or by helping. All labor is donated, and all workers and board members are expected to pay for what they eat. There are no salaries and no commissions.
All auction proceeds go 100 percent to the many missions in Haiti, which are required to give a financial report, meet certain standards and show proper use of funds in the past.