Akron Children's Hospital opens new Wooster facility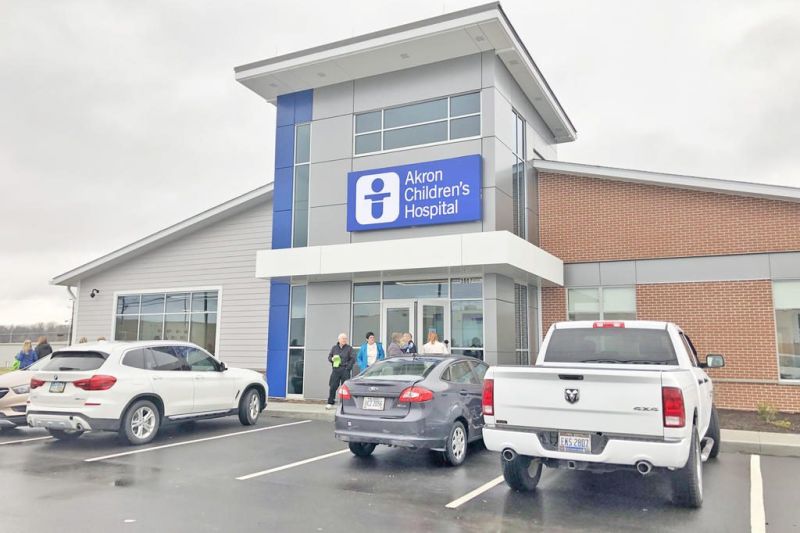 Akron Children's Hospital held an open house and ribbon-cutting on Saturday, Jan. 25 at its new multi-million-dollar facility, Akron Children's Health Center, Wooster.
The 15,000-square-foot building on Friendsville Road between Healthpoint and Acres of Fun will consolidate more pediatric services into one location, closer to home, for local families.
"We're very excited to be an integral part of the community," said Norman Christopher, M.D., chairman of the department of pediatrics at Akron Children's Hospital.
Christopher said the new facility will help Akron Children's provide care in a "more meaningful way" because it will help eliminate the need for local patients to travel to Akron for many of the hospital's services.
"With this facility we'll be able to support families with cardiology, gastroenterology and primary care services for babies, kids and teens," Christopher said.
Although Akron Children's has been providing services in the community for 20 years at locations at Wooster Community Hospital and in the Milltown Professional Building, it didn't have the most recognized presence in the local health-care field.
"We're so excited about the ability to become more of a visible presence in the community," said Heather Bauders, senior public-relations specialist for Akron Children's.
The cardiology practice will include a specialist who can provide evaluation and treatment for children with cardiac concerns such as heart murmurs, chest pain, palpitations, congenital heart disease, dizziness and fainting. Onsite electrocardiograms, arrhythmia monitoring and echocardiograms will now be available.
Board-certified pediatric gastroenterologists will care for children with gastroenterology disorders including abdominal pain, celiac disease, constipation, Crohn's and colitis, gastroesophageal reflux, and feeding difficulties for babies.
Primary care will provide a variety of care ranging from immunizations and preventive checkups to treatment of chronic health conditions by board-certified pediatricians, nurse practitioners and pediatric nurses, as well as a behavioral-health specialist.
The new facility includes 21 exam rooms including three assessment rooms, dedicated space for specialities such as a cardiac echo lab, a blood-draw lab, designated charting areas, two audio-visual exam rooms and a community room, as well as ample space for patient check-in and services.
"We're so excited to be here; it's an amazing space," Dr. Louise Miller said. "The increase in space will allow us to get patients into the rooms quicker, give them more privacy checking in and more privacy for doctors."
Dr. Kathy Helmuth said the staff started dreaming about an expansion about 10 years ago. "It just took a while to come together," she said. "But once the ball got rolling, it was a very collaborative process. We doctors met with the architects and construction companies to help develop the plans."
Helmuth, who is set to retire just as the new center opens, said while she'll miss the opportunity to work in the new setting, she is excited for her colleagues.
"It will be great for more parents to be able to get the services they need right here in Wooster," said Rose Graves, whose 1-year-old son Corbett has been a patient of Helmuth.
Graves said her son had a hole in one of his blood vessels, which was caught by Helmuth in an early examination. "They've monitored it with ultrasounds and tests, and now he's been cleared," she said.
With its new Wooster health center, Akron Children's will be better situated than ever to provide a continuity of expert care to the children of the Wooster community.