Mental health initiative caters specifically to farmer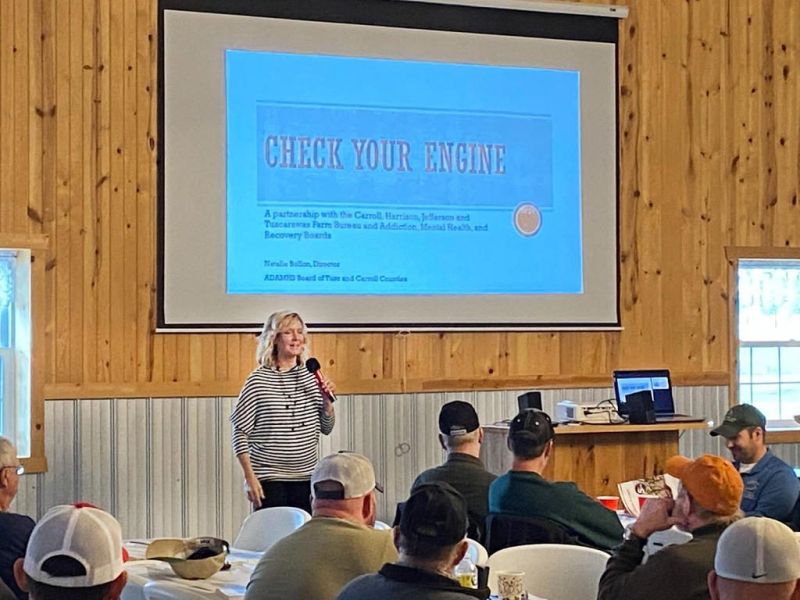 Fifty-nine percent of rural adults say there is at least some stigma around stress and mental health in the agriculture community, including 63% of farmers/farm workers, according to a 2021 American Farm Bureau national poll.
The Check Your Engine mental health awareness project is a four-county initiative that caters specifically to the farmer. This project is in collaboration with the Alcohol, Drug Addiction & Mental Health Services Board of Tuscarawas and Carroll Counties; Jefferson County Prevention and Recovery Board; the Mental Health Recovery Board of Harrison County; and the Farm Bureaus of Carroll, Harrison, Jefferson and Tuscarawas counties and the Ohio State University Extension agents of those counties.
The tagline for this project is "What do you do when your check engine light comes on?" Farmers are so used to caring for crops, equipment and livestock, but what if the farmer needs a tune-up of their own?
The Check Your Engine project addresses a priority issue of which the Ohio Farm Bureau focuses on providing access to mental health services to rural communities. It is the mission to provide training to the employees of local businesses who interact with producers every day.
An example would be a Check Your Engine trained individual who's an employee of an agricultural service that fills feed bins pulls onto a farm to drop off feed for a producer he's known for many years. Every time feed is delivered, the producer comes out to talk while the bin is being filled.
Typically, the producer is chipper and quick to joke with the worker, not to mention the farm is clean and trimmed to perfection. On this particular day, the feed mill worker notices the fence lines are overgrown and trash is starting to collect outside of the barn. The producer slowly makes his way to the feed truck to talk.
In conversation the producer says he just can't do it anymore: Feed prices are too high, the weather stinks, he doesn't have help and he is done. The trained feed mill employee knows these are all signs of depression and are out of character for this individual. He remembers what he heard in training, and being a listening ear often really helps those in need.
By the end of the conversation, the producer already feels a little less burdened by talking. Feed will need to be delivered again, and a casual check-up at the next delivery is promised by the feed mill employee.
This example shows the possibilities of the Check Your Engine project. Even though those who have been trained are equipped to identify key concerns, they are frequently reminded these volunteers are not counselors. Instead, they simply serve as a listening ear.
In efforts to bridge the gap for those who need support, the Check Your Engine committee hopes to provide training to individuals who relate to the everyday stressors specific to agriculture.
This farm stress supporter will learn to be aware of the signs and verbal cues that might arise in a conversation with producers and agriculturists in the community. This person also will be able to guide those who need additional support to a professional clinician.
So far the Check Your Engine training was presented at the annual meeting of a large agricultural service provider in the area. The presentation was presented by one of the mental health professionals to approximately 100 individuals.
This project was recently awarded a County Activity of Excellence from the American Farm Bureau Federation. This was one of 24 in the country selected to be represented at the American Farm Bureau Federation Convention in Puerto Rico Jan. 5-10.
To become a farm stress supporter or for employees interested in being trained on the Check Your Engine program, call Natalie Bollon at the ADAMHS Board of Tuscarawas and Carroll Counties at 330-364-6488 or 330-627-7912.
If in need of support, text the Crisis Text Line at 741 741 using keyword "4hope" to be connected to a crisis counselor. This is a free service that will not include your number on a phone bill or mobile service provider.
Calling 988 has been designated as the new three-digit dialing code that will route callers to the National Suicide Prevention Lifeline.