Nurse practitioner brings self-pay medical care to area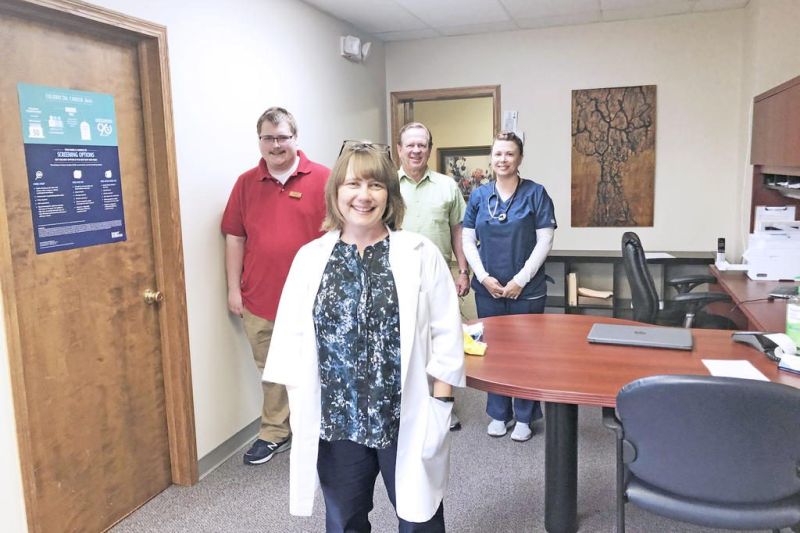 Nurse practitioner Krista Michener had lost faith in the traditional model of healthcare — then decided to do something about it.
To that end, the APRN-CNP opened Affordable Health Care Partners in Wooster this past spring.
"There are so many barriers to accessing adequate medical care, my goal is to remove those barriers where possible to increase positive outcomes for patients," she said.
The Triway graduate, who has a bachelor's degree in nursing and who has been a registered nurse for 15 years, had worked as a nurse practitioner in Canton where she said she saw too many people who put off something until it was too late, which then became something catastrophic.
"We can treat things like high blood pressure, diabetes, and chronic illnesses, as well as acute care," Michener said.
Michener said she espouses a holistic approach to medicine — one where body, mind, and spirit must be considered together for long-term health.
"I remember one patient who was suffering due to severe heachaches. The doctor who treated her implied that her symptoms were all in her mind, due to her diagnosis of depression," Michener said. "It's this lack of compassionate, holistic care I hope to change."
One of the simplest changes Michener is making is to provide care at hours that might be more accessible to working people.
"We're open two nights a week until 7 p.m. and Saturday mornings. That should allow us to see people that otherwise might not be able to get off work for an appointment," she said.
Michener characterizes the type of medicine she'll practice as primary care for patients 13 and older.
"This doesn't mean the same thing as a family doctor, but the nursing equivalent of it," she said.
Michener works with a "collaborating physician" who reviews her charts and prescriptions, but she is qualified to handle a full spectrum of healthcare needs on her own.
"I originally wanted to specialize in mental healthcare but I see a shortage of care across multiple types of problems that needs to be addressed in this area," she said.
One area Michener sees as challenging for patients are the financial aspects of healthcare.
"In an ideal world, the costs of medical care shouldn't be a barrier to getting quality care," she said.
Michener said healthcare costs today are not exactly transparent to patients.
She said there's a significant amount of charges that are due to billing and coding costs associated with the large insurance companies and other aspects of care that are negotiated in insurance coverage contracts between doctors, hospitals, and medical associations.
Unreasonable requirements for various licensures and certifications also affect costs, according to Michener.
"We have to have special designations just to provide a breathing treatment or perform urine tests," she said.
"We are up front with our patients as far as what our services will cost; there will be no unpleasant surprises or unreasonable charges," she said.
Michener said an office visit is $80 for in-person care and $60 for telehealth. DOT physicals are $120 due to their complexity. Finally, one unique service is house calls — which are $120 plus mileage in Wooster, and $150 plus mileage for outside of Wooster.
"I worked four years in home healthcare and learned to appreciate the challenges faced by people who find it difficult or nearly impossible to leave home to go out to the doctor. As a nurse, I was there by their bedside and can appreciate what it means," she said.
Michener said she sees patients who have high deductible insurance and would prefer to self pay, and others who are without insurance. "There are several reasons our service might make more sense for patients in financial terms, in addition to the high quality of care we provide," she said.
Affordable Health Care Partners is a family venture. Michener's father, George Dean, serves as the office manager while her son, Daniel, is the administrative assistant. Angela Ross is an LPN.
Further down the road, Michener said she'd like to see her practice thriving by serving the needs of the community from the unique perspective a nurse practitioner can provide.
And she hopes to further her education to contribute to a movement that empowers nurse practitioners to remove challenges and barriers for more patients.
Affordable Health Care Partners is located at 2056 Portage Rd., Suite 6, across from Hawkins Plaza.