Council asks mayor to resign or retire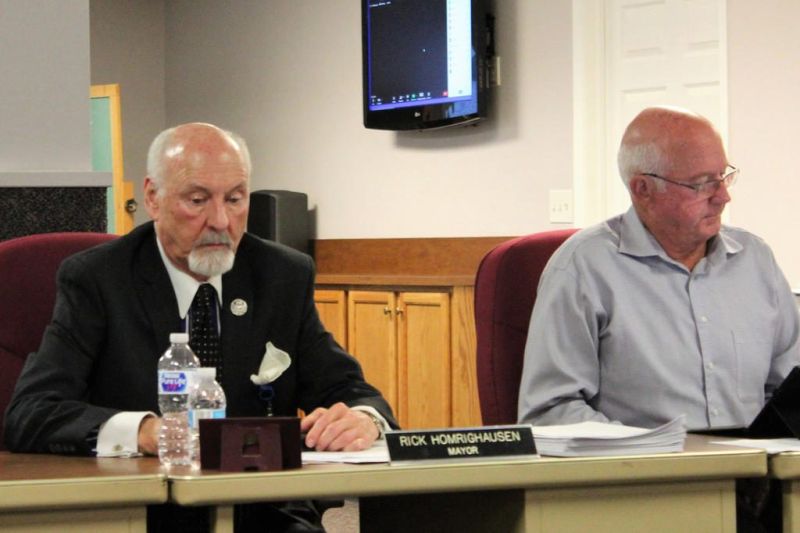 Council took care of city business first, and then near the end of the Dover City Council meeting on Aug. 2, Mayor Richard Homrighausen was again asked to resign or retire, this time with one council member proposing council take action if the mayor does not.
Near the end of the meeting, Council President Shane Gunnoe asked if there was any unfinished business.
"Yes, Mr. President. I have a question for the mayor," Ward III Rep. Sandy Moss said. "At the last council meeting, (the mayor) made a statement to the media that he is at the office on a regular basis. I would like to know what his definition of a regular basis is. Is it 40 hours, 30 hours, 10 hours?
"10 hours," Homrighausen said.
Moss continued with a report of the mayor's actual work time at the office for the past two weeks.
"The week of July 19, 20, 21 and 22, Monday through Thursday, you were in the office 15 minutes each day. That comes up to an hour," Moss said. "Last week, July 26 and 27, you were in the office for a half-hour, the 29th 15 minutes and Friday the 30th a half hour. It doesn't come close to 10 hours."
The mayor looked at a sheet of paper as he responded.
"I answered your questions during the last council meeting, and I will not do so again tonight," Homrighausen said. "Your decision to continue discussing or attempting to discuss this topic only distracts from legitimate city business, which our residents deserve."
Ward IV councilman Bob Mueller took issue with this statement.
"Mr. Mayor this is pertinent to the city of Dover when you're not in the office what most people would consider a reasonable length of time," Mueller said. "We do understand you're not well. We do understand, and we had hoped that you would consider resigning, retiring, whatever you want to call it. This is the business of the council when the mayor becomes impaired to the point where others are doing his job, and that is what is happening."
Council-at-large member Don Maurer asked Homrighausen about questions council members had submitted in writing to him in the past.
"I was just curious if given the time and circumstances if he had gone over those questions and then did he prepare to answer some of them in front of council," Maurer said. "I echo what Bob (Mueller) said, the concern there is for the condition of the mayor and the condition of council and the condition of the city so we can move forward. Did you look at them?"
"Yes," Homrighausen said.
Council-at-large member John Correll then asked the mayor if he had any comment he wanted to make on the questions.
"Not at this time," Homrighausen said.
Shane Gunnoe said he had several questions council members had asked him to relay that were part of the resolution 3-21. The questions included have you ever delegated or allowed family members to requisition city property or access locked facilities and have you ever allowed a noncity employee to answer email on your behalf, among many other questions.
"Shane, I will not answer your questions," Homrighausen said.
"That's OK. I'm putting them on record," Gunnoe said.
Maurer was frustrated that at the last meeting all council got from the mayor in response to their questions was yes or no answers. "All we wanted to have is a conversation and a few explanations. Obviously, we're not getting that."
Moss took her comments a step further.
"I would just like to suggest to council members we have gone this far. I suggest we do not wait on the state's decision and we proceed forward with our plans. And yes, it's going to cost more money, but I'd rather pay that extra money than pay someone $98,000 a year that can only be in the office for an hour a week or an hour and 45 minutes," Moss said.
Moss consulted with law director Douglas O'Meara before declining to provide more information about the plans when questioned after the meeting.
At the meeting Homrighausen reported the GE building is set to be demolished this month, and he congratulated the city's Olympic medal winner.
"I can't begin to tell you how proud I am, along with the rest of the city of Dover, of Hunter Armstrong's performance in the 2020 year Olympics, and he is receiving a gold medal in the 4-by-100-meter relay," Homrighausen said.
Nicole Stoldt, auditor, reported the city is in the process of organizing a recognition ceremony for Armstrong in conjunction with the end of summer celebration. More information will be announced soon.
Dave Douglas reported the city's paving program is going well, and they anticipate having extra money to add streets that weren't on the list.
Greg Bair reported donations were received from the Vietnam veterans group of $500 and $100 from a private citizen for the proposed memorial in downtown Dover for veterans.
In other action council voted to suspend the rules and then passed emergency ordinance No. 29-21 authorizing the Dover Police Department and the City of Dover to dispose of certain property at public auction or sale. The property would have a limited or probable value below $1,000.
Council also suspended the rules and voted to authorize emergency resolution 16-21 approving the distribution of bed tax money in the amount of $5,000 to the Kiwanis Club for replacing playground equipment at the top of Deis Hill.
Also approved was emergency resolution 17-21 authorizing the distribution of bed tax money in the amount of $4,721.25 to the Dover Community Garden. Russ Volkert attended a committee of the whole meeting held on bed tax disbursement prior to the regular meeting and reported people are using the garden but deer and other animals are a problem. It was decided a 6-foot-high fence would be needed to stop the deer.
Council passed resolution 11-21 commending retired fire department Capt. Bryan German on his years of dedicated service as a fireman and captain with the Dover Fire Department. German attended the meeting and thanked city officials for the opportunity to serve.
Council voted to hold resolution 13-21 congratulating Dover resident Hunter Armstrong for making the USA Men's Olympic Swim Team for the 2020 Tokyo Olympics. It was noted that the resolution needed to be amended to include Armstrong had won a gold medal.
Council will hold a special session on Monday, Aug. 9 at 7 p.m. to discuss the proposed opioid settlement with the State of Ohio. Ohio's settlement is currently $829 million.
A finance committee meeting will be held before the next regularly scheduled council meeting on Aug. 16 at 7:15 p.m.