Wooster gymnast 'committed' to earning repeat state berth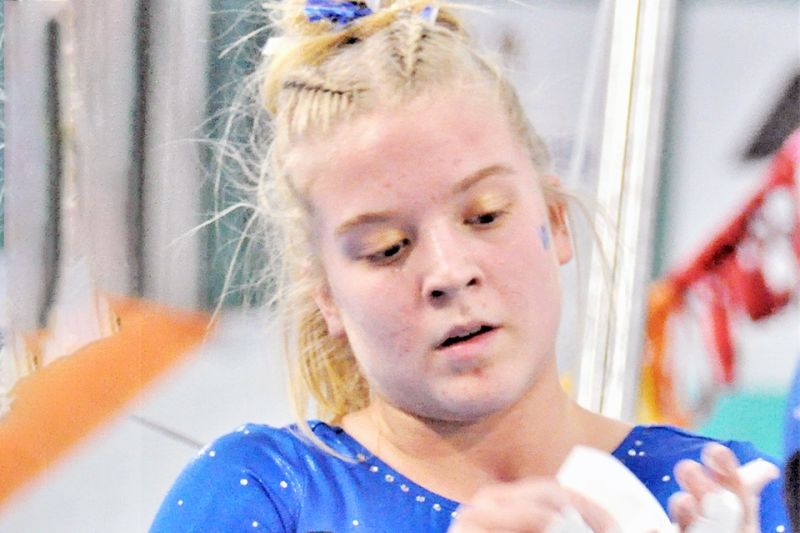 Refined through workouts far too abundant to tabulate, her movements are as precise as a Swiss timepiece, her passion as pure as an early morning snowfall, her competitive ferocity even more mighty than the Terrytoons mouse himself.
"Here she comes to save the day! That means that Rachel Furlong is on the way!"
It could be the battle cry of the members of the Wooster High gymnastics team, whose every fight seems subject to rescue by their seemingly fearless junior hero.
"I'm definitely scared of certain skills, but because of all the repetition we do, it just kind of becomes second nature," Furlong said after finishing first in her balance beam and floor routines, also capturing all-around honors in a recent meet against McKinley at the local YMCA gymnastics center on Mechanicsburg Road.
Now the time has come for Furlong to flex her muscles yet again, to try to improve upon last year's fifth-place finish on the beam in the Ohio High School Athletic Association state tournament. The first challenge is to survive a lethal district that produces the vast majority of state placers.
"Two years ago the statistic came out that 258 out of the 300 state placings came out of the Northeast Ohio district," said Wooster High head coach Debbie Knapic, in her 11th year. "That tells you just how strong Northeast Ohio is. So Rachel making it to state last year absolutely was a huge accomplishment."
Unlike many other OHSAA sports, all gymnasts — regardless of a school's enrollment figures — compete in just one division. That makes the task of garnering state laurels all the more rigorous. A total of 97 schools take part in the OHSAA gymnastics ranks.
Yet Furlong's goals go well beyond just matching her state finish on the beam. She said she's worked hard — training 20 hours a week — to improve at the sport's other disciplines. She would like to place in more than one event and even challenge for a podium spot among the top all-around performers.
"Personally I want to make it to state again and hit all four events and hopefully place even higher than I did last year," she said, adding she feels her biggest area of growth has come in the form of a creative, energetic floor exercise.
"It's great because you can just smile and have fun," Furlong said of the movements choreographed by Medina's Dominique Moceanu, a former Olympian and current gymnastics center owner with a wealth of knowledge and experience to offer her club-team members.
Leading up to the 1996 Summer Olympics in Atlanta, Moceanu suffered a painful stress fracture in her tibia, resulting in a disappointing U.S. Nationals finish. Despite the fact that Moceanu's limited-by-injury Olympic performance resulted in no individual medals, she fought through the pain and contributed significantly to the women's team's history-making result. In fact her vault score in the team finals mathematically solidified the U.S. women's team victory. The 1996 U.S. Gymnastics team was the first American women's gymnastics team to win the Olympic team gold medal. The dynamic squad was dubbed the "Magnificent 7" by the media.
Moceanu also has emerged as one of the sport's most vocal advocates against athlete abuse, for safety and protection, even participating in hearings in front of the U.S. Senate, helping get much-needed legislation passed.
Furlong, whose gymnastics roots date back to age 4 with Parks and Recreation classes and then YMCA sessions when in first grade, spends the majority of her time these days training at Moceanu's facility, which opened in 2018.
Of course she also enjoys displaying her talent for the Generals in high school action. Wooster this past Monday finished off the 2019-20 regular season with an undefeated record in the eight-team Northeast Gymnastics Conference, prevailing on the road at Wadsworth. Furlong won in the beam, uneven bars and floor exercise categories, once again landing all-around kudos.
Sectional competition looms Feb. 15-16 at West Geauga High School with the district the following weekend at that same venue. Ultimately the state tournament will be at Hilliard Bradley High Feb. 28-29.
When not involved in gymnastics, Furlong tries to fit in time to be a "normal" teenager. She does not participate in other sports yet is an avid member of Wooster High's "Front Line" student spirit group that cheers on the Generals at football and basketball games.
The Furlongs originally lived in Loudonville but moved to Wooster when Rachel started fifth grade.
Having been involved with gymnastics for 30 years locally, the YMCA's Christy Pamer was perhaps the one who played the biggest role in recognizing the young Furlong's potential.
"I saw her as a little kid, and now she's a junior in high school," Pamer said. "I told her mom it would be good to have Rachel come in twice a week instead of just once a week. It was her strength and the fact that she picked up everything so quickly. We used to run open gyms, and Rachel would come in and work and condition. We had some kids who just came and played at open gym. Some of the girls who came in would condition with her. She's very committed, very committed."
Furlong has even taught some gymnastics classes at the Y during the summer.
Steve Furlong, Rachel's father and a former wrestling coach at Loudonville High, is happy to provide whatever type of support is needed. But neither he nor wife, Becky, need to push their self-motivated daughter.
"It takes a lot of her time and effort. She's a teenager and wants to be a kid too," he said. "But she works very hard at what she does because she wants to be successful. Since she was 9 or 10, she always wanted to go to the gym, and she still looks forward to it."
The "fear factor" is always present, but Furlong never lets that aspect show.
"A lot of girls are afraid of the beam," Furlong's mom said. "It's only 4 inches wide, and you're up there flipping up in the air and then landing."
Knapic said her role with Furlong now is to serve more as the student's mentor and cheerleader.
"She came to me with a lot of talent," Knapic said. "She's always at the top of the class, has always been a hard worker, and I think it shows in everything she does."